Attorneys Testify to Gulani RK Correction
Attorneys testify to Dr. Gulani's world supremacy in correcting Radial Keratotomy complications by themselves undergoing his proprietary, custom-designed techniques.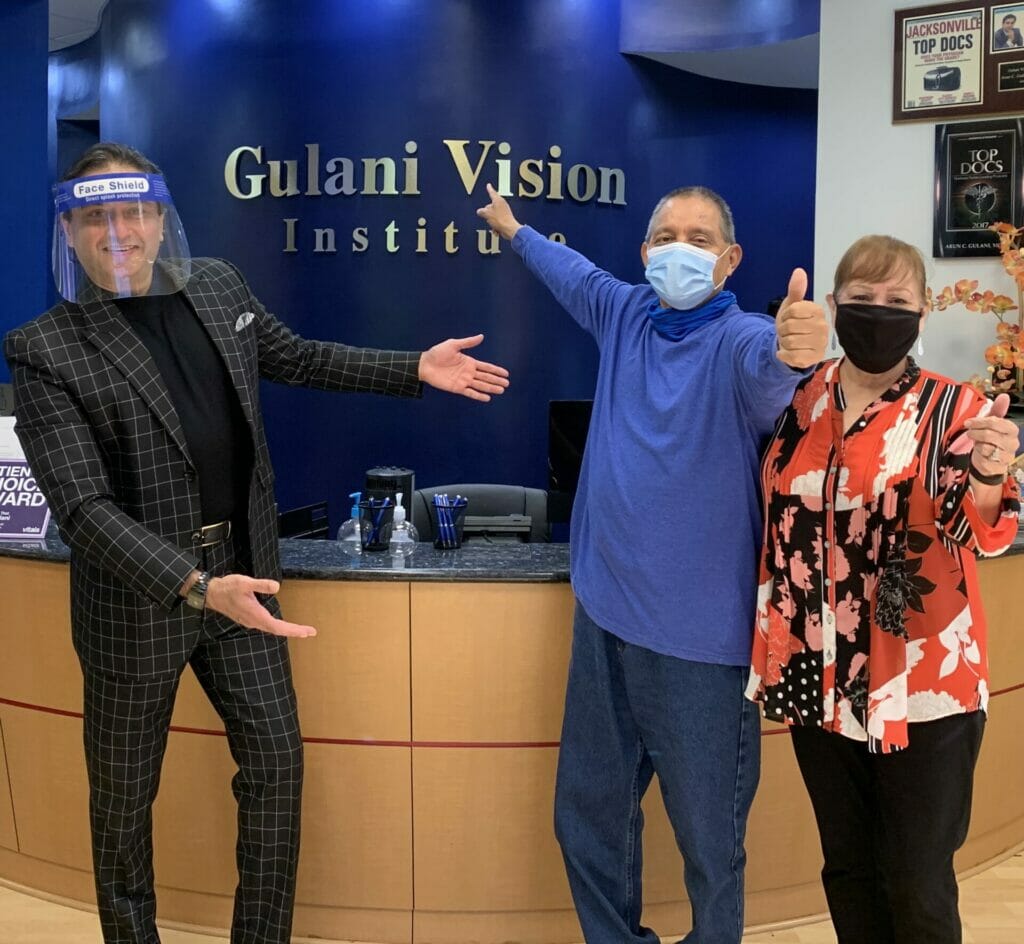 "Accepts, Performs and Delivers; for the WORLD:
Being an Attorney, I did my research (Reviewed Dr.Gulani's website over 8 times) traveled from El Paso, TX all the way to him in Florida since no surgeon I saw felt confident in correcting my vision due to extensive Radial Keratotomy cuts and scars along with high irregular astigmatism and Advanced Cataracts. I heard of Dr.Gulani from one of our Attorney friends in Texas whose RK (Radial Keratotomy)complication he had successfully corrected.
What an experience it has been with Dr.Gulani! Just one wow to another. Not only did he accept my complexity with empathy, but cared for me like family while performing an exquisitely complex surgery using his artistic skills in his SPA like surgical suite with no pain or injections and as I walked out of surgery (yes, not on a stretcher), I was further surprised by a birthday cake staff had arranged for me which we enjoyed. Later, staff calls to check on me at our hotel and then Dr.Gulani himself calls to check on us at night.
Amazing, next day morning we see him and I am seeing nearly 20/20 and ready to fly back home to TEXAS. Cant wait to come back for my second eye in a month.
Dr. Gulani is unique and one amazing person.My wife and I just didn't want to leave his office. A man of great stature, but yet so humble.
My trust and confidence in Dr. Gulani is such that I would put myself in his capable hands again.
Thank you Dr. Gulani you gave me the freedom to see without glasses. My biggest experience was when I took my eye exam at the TEXAS Department of Safety passed the eye exam and have no restrictions on my drivers license. Thank you Dr. Gulani you are one amazing doctor, truly is one of a kind.
Thank you to his staff who help us from day one over the phone, from making contact with Dr. Gulani to travel arrangements. Great group of ladies. Yes, we are part of your family.
We are now part of the GulaniVision Family; Truly Out of this World!" – Lupe V. (Texas)
---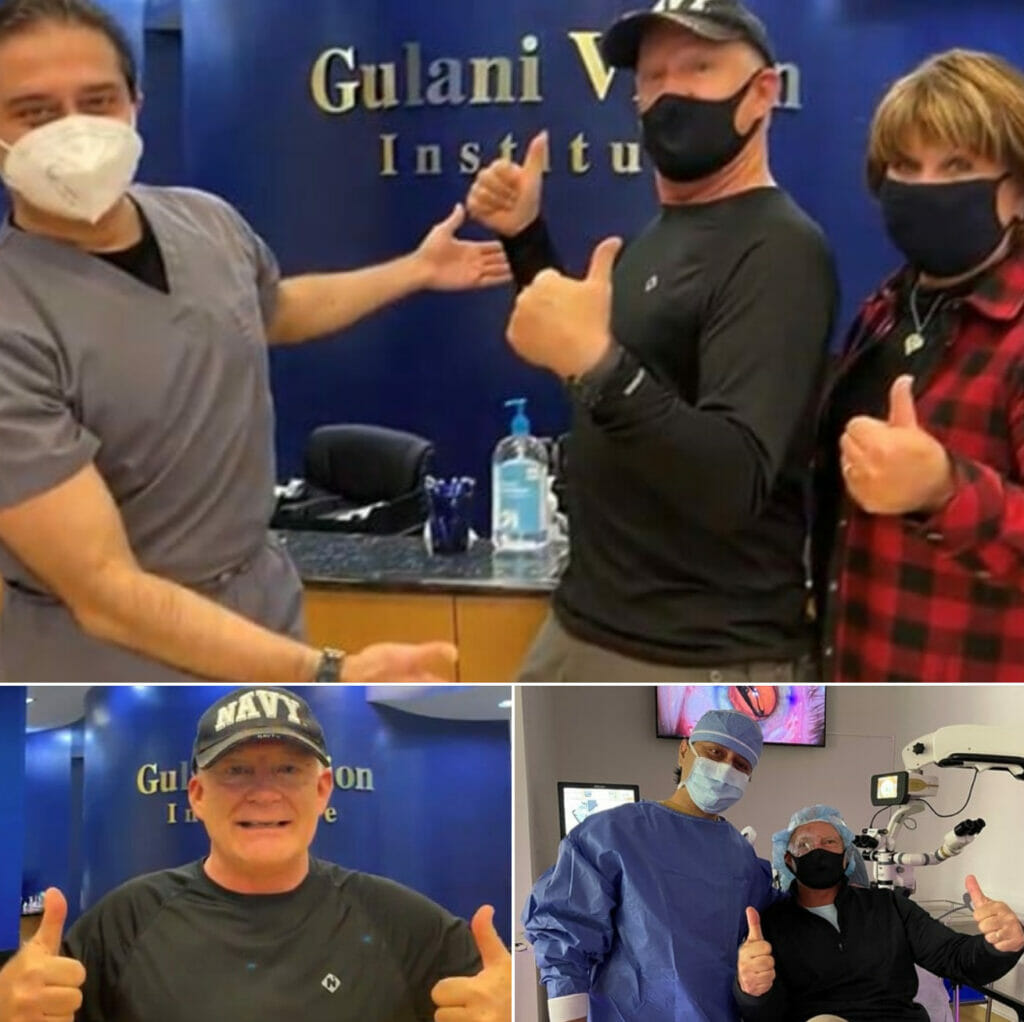 "THE GIFT OF VISION
It has been over a week since my second eye operation. Quite frankly, I never dreamed I would have near perfect vision again. Slowly but surely that doubt is evaporating – I have not worn glasses for near and far vision since my first eye was operated on over a month ago!
My vision deteriorated while I was in law school. I was confined to glasses until I had RK surgery while serving with the Navy JAG Corp in the early 90s. While RK temporarily restored my vision, tens years later it started failing, causing major problems.
I was told by many other eye surgeons that there was not much they could do for my Radial Keratotomy eyes with irregular astigmatism, abnormal vision and complex cataracts. My nationwide search resulted in little hope.
But my research eventually led me to the one doctor who seemed to offer hope. I read all of his reviews and testimonials. Not only did he routinely do RK correction and complex cataract surgeries, he was consulted world-wide on advanced and innovative procedures.
We traveled to Jacksonville from Pensacola Beach to meet with him. The Gulani Vision Institute is like no other. Unlike most medical offices, where it takes forever to check in and then you wait like sheep in a corral for an hour or more to see the doctor or nurse for five or ten minutes, at the Gulani Institute you are treated like family from the minute you walk through the door. And we were met by the good doctor himself!
I have already spent more time with Dr. Gulani than I have spent with all of my doctors over the past five years combined. Besides going over the most comprehensive eye exam you will ever receive, he takes time to get to know you as a person, including what your plans after surgery are (ours is traveling for a year). After explaining in detail his findings and recommendations, he not only takes questions but encourages them. The consummate teacher!
I have met few, if any, doctors with his combination of passion, care, skill, artistry and professionalism. It is no wonder that visiting his state-of -the-art Vision Spa is akin to the Tower of Babel – people from all over the world are flying in to reap the benefits of his unparalleled success in extremely complicated surgeries.
Based on what the other eye surgeons had told me, I was a big skeptic. Not any more. My surgeries could not have gone better – pain free, no stitches, and in the most calming operating room I have ever been in. I never needed so much as an aspirin or tylenol during my recovery period.
No doubt I was truly in the hands of a master vision artist from start to finish. It is no wonder that he is the surgeon of choice for doctors, nurses and other medical professionals!
Vision is truly a blessing. And Dr. Gulani has been blessed in spades with the ability to restore it in even the most complicated of cases. I consider myself very lucky to have found him, his amazing staff and his one-of-a-kind-out-of-this world surgical spa. He has given me a gift I could not possibly pay back.
All I can do is thank him profusely, and spread the word of the amazing things he is doing in Jacksonville. If you have any complicated eye problems do yourself a big favor – drop what you are doing right now and make an appointment to see him. I could not possibly recommend Dr. Gulani highly enough, and you will be so glad that you did!" – Bill S. (Montana)

---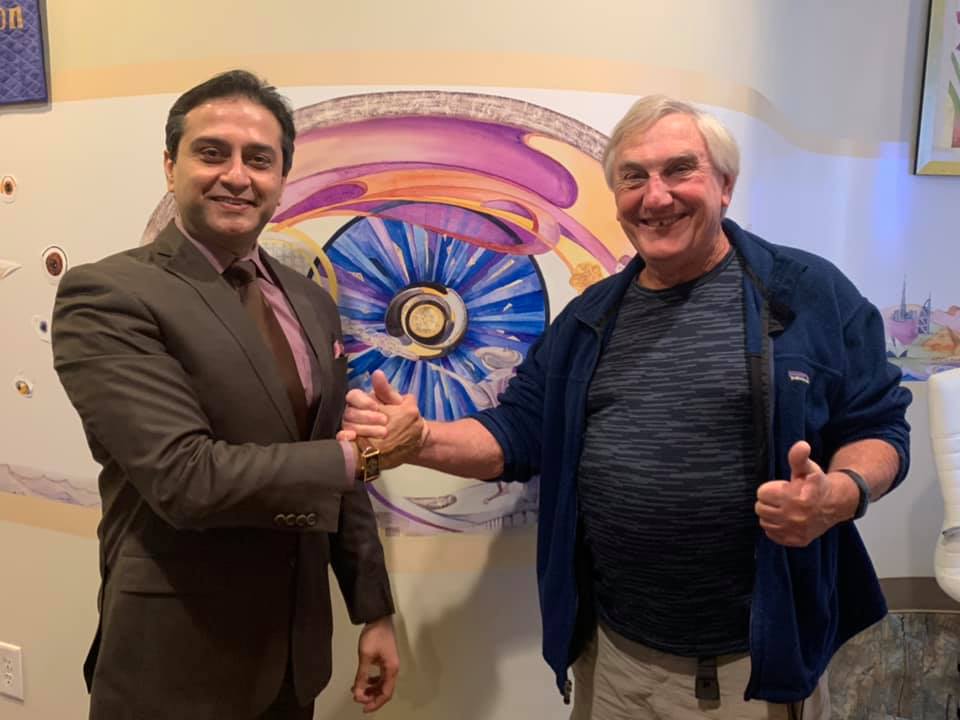 "After consulting with a local ophthalmologist in Tampa I was given a low prognosis for my former RK and Cataracts surgery. Being a lawyer, I researched and located a renowned ophthalmologist in Beverly Hills, California. Early on a Saturday morning I emailed the California doctor who recommended Dr. Gulani for my Cataract Surgery. He also forwarded the email of his recommendation to Dr. Gulani's office. Within two hours I had received a return email from Dr. Gulani's office offering to schedule an appointment. I came and met Dr. Gulani and his staff at my consultation. I was initially impressed with the friendliness of the staff and their relative happiness that they showed working with Dr. Gulani. Dr. Gulani has a passion for his work and exhibited the type of confidence that you would expect from someone who is exceptional. After the consultation I was convinced that although my surgery would be difficult and quite possibly not completely successful, that my best chances at having the results that I desired would be accomplished by having Dr. Gulani do the surgery. I have been pleased with the whole process and the time and the care that has been spent by Dr. Gulani through this entire process. From my research it appeared Dr. Gulani's surgical methods were well above his peers. I am quite happy with the results so far." – Jon T. (Tampa, FL)
---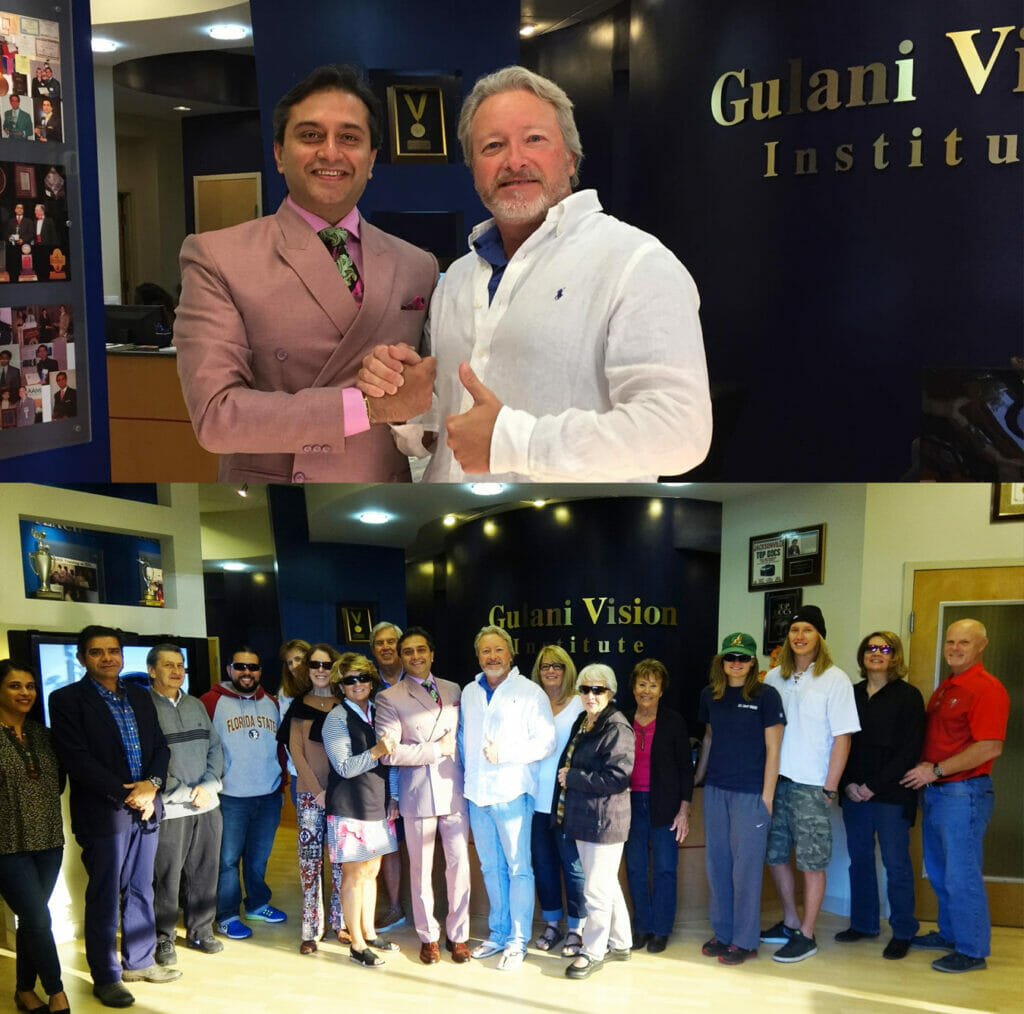 "Gulani Vision Institute I have practiced law for almost 30 years. I've represented medical professionals and sued them for negligent care of patients. Until I found the Gulani Vision Center while researching a treatment for my own vision problems I never met a more professional and personal man than Dr. Gulani. Have you ever heard of your Dr sharing breakfast cake and coffee with you at his office? An amazing man and genuine master in his field. But more than that he cares deeply for his patients health and well being." – Jim M. (Oklahoma)
---
For over Three decades, worldwide patients have had their vision corrected by Dr. Gulani's innovative techniques which range from 20 different Laser (LASIK is just one among them) and Lens implant techniques (including custom Cataract Surgery) based approaches including combinations. For more information about Vision corrective Surgeries to decrease your dependence and see without glasses and contact lens, please contact us.
For over Three decades, worldwide patients have had their vision corrected by Dr. Gulani's innovative techniques which range from 20 different Laser (LASIK is just one among them) and Lens implant techniques (including custom Cataract Surgery) based approaches including combinations.
These are among the full range of techniques and technologies that Dr. Gulani offers to custom design your surgery for your best vision potential, namely; Lasik (Laser Vision Surgery/LASIK/NexGenLASIK/ LaZrPlastique®/PRK/Wavefront Lasik/Bladeless, Lasik/Lasek/PTK/Smile/Relex/SBK/EpiLasik/ Corneoplastique techniques etc.) to correct Myopia (Nearsightedness)/Hyperopia (Farsightedness)/ Astigmatism and Presbyopia (After 40 reading glasses/Readers/Cheaters/Progressive glasses/Kamra), Cataract surgery (Multifocal/Progressive lens implants/Panoptix/Trifocal/Synergy/ReStor/Crystalens/LAL/Tecnis/Symfony/Eyehance/Vivity/ Clarion Premium Cataract Surgery/ LenzOplastique™ or, Cataract surgery complication correction, Radial Keratotomy Correction/ Pinguecula/Pterygium/ Red Eye with No-Stitch Amniotic techniques and Keratoconus/Collagen Crosslinking /C3R/Intacs/Keraring/Ferrara Rings, ICL (Implantable Contact Lenses/Visian ICL) vision correction, Corneal Scar/ Lasik Complication (Glare/haloes/Ghosting) reversal, Dry Eye/MGP/m.o.i.s.t® for ocular surface stabilization and Corneoplastique® instead of invasive corneal transplants.