World Renowned
"Being a physician myself, I did my research and we traveled 40 thousand miles for the best Lasik surgeon in the world for my daughter." – Dr. Martin, Australia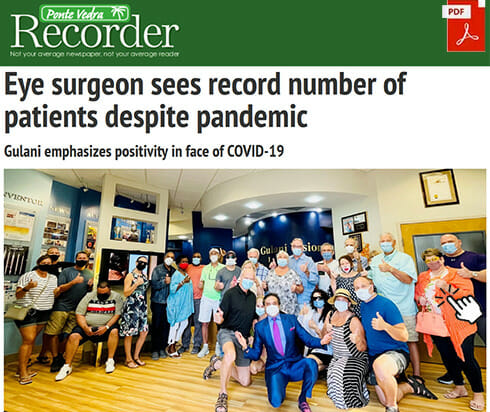 "World Renown" as a title for Dr. Gulani's reputation and ability takes this superlative to a higher dimension. Not a term to be used loosely, it is applicable in Dr. Gulani's case multi-dimensionally:
Dr. Gulani teaches Advanced Lasik and Cataract Surgery to eye surgeons worldwide.
He has turned Jacksonville, Florida into a world destination with his global clientele.
Dr. Gulani has International privileges & access to technology years ahead of his peers.
Consultant to patients, eye surgeons, and eye care industry globally.
"Dr. Gulani has been instrumental in turning Jacksonville into a vision destination for the world. I'm constantly blown away at the number of people that travel thousands of miles because they only trust Dr. Gulani with their difficult cases. We are very fortunate that the eye surgeries of the future are being performed daily in our backyard." – MAYOR Lenny Curry
Raising vision surgery to an ART, Dr. Gulani's innovative, advanced procedures are creating a global paradigm shift in vision correction. In order to successfully perform tomorrow's techniques today Dr. Gulani has invented many of the intricate surgical instruments now in use by LASIK & CATARACT Surgeons worldwide.
Former Chief of the Cornea Service and Assistant Professor at the University of Florida's School of Medicine, Dr. Gulani founded the Internationally Renowned, Gulani Vision Institute at Southpoint in Jacksonville, Florida.

Tireless innovation and implementation have led Dr. Gulani to develop several original next generation surgical techniques. His ground-breaking Corneoplastique concepts are raising the bar in Cataract & Lasik- Laser Vision Surgery and can not only address nearsightedness, farsightedness and astigmatism but also attempt to reverse previous LASIK and other eye surgeries for grateful patients worldwide, literally turning back the clock on vision.
Dr. Gulani is acknowledged by eye surgeons worldwide as a brilliant innovator, skilled surgeon, teacher and thought leader. Eye surgeons from around the world seek advanced training and fellowships at Gulani Vision Institute, where they can personally train in the most advanced surgeries of the 21st Century.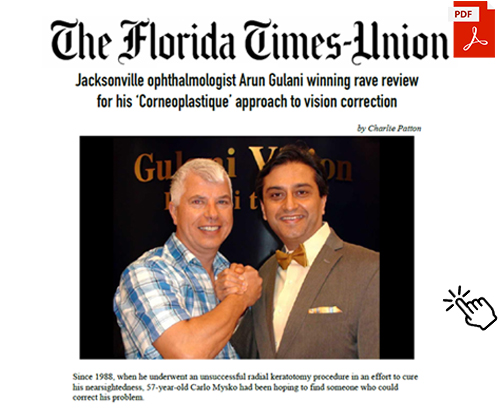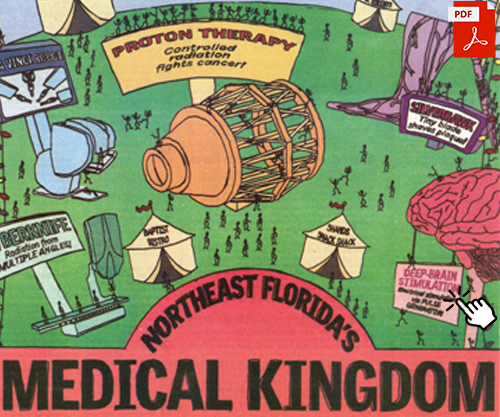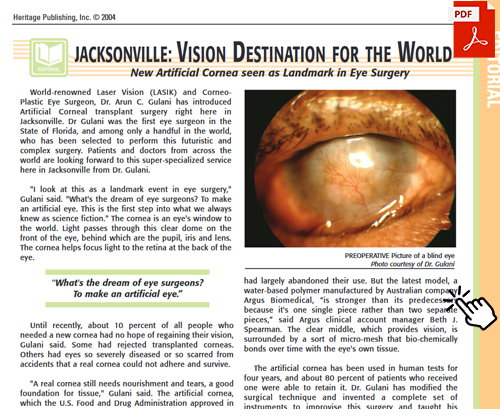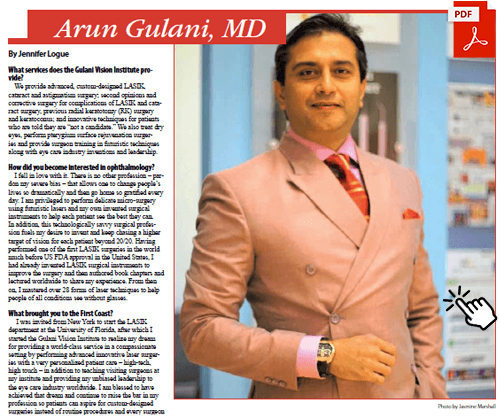 Patient-focused, professional and personable at all times, Dr. Gulani has earned a reputation as "the high touch, high tech doctor's doctor." Exuding confidence, warmth and compassion, Dr. Gulani insists on thorough patient education prior to surgery, involving the family as much as possible. In Jacksonville and beyond, he is the physician's surgeon of choice for LASIK & CATARACT and all other corrective eye surgeries.
Dr. Gulani's personal approach coupled with the vast array of advanced surgical options and diagnostic equipment at his fingertips guarantee a customized procedure to fit the unique needs of each patient.

The phenomenon of "Gulani Vision" is attracting global attention at www.gulanivision.com, as his widespread contributions to the field of ophthalmology and the smiling eyes and passionate testimonies of thousands of patients attest to his superb surgical skill.