INTACS®
Intacs® are one among many IntraCorneal Stromal (ICS) implant technology categories that Dr. Gulani is experienced with and successfully applied to patients with corneal ectasia (think herniation or protrusion of your cornea) over the last three decades. With his international privileges Dr. Gulani has used possibly every ICS including different categories of Intacs®, Kerarings, Ferrara rings, etc. to successfully help patients with corneal ectatic disorders which he classifies into:
Inherited corneal ectasia: keratoconus, keratoglobus, pellucid marginal degeneration, etc.
Surgical corneal ectasia: Lasik complication ectasia, hexagonal keratotomy ectasia, radial keratotomy ectasia, etc.

Intacs® are designed to be placed in the periphery of the patient's cornea about two-thirds (2/3) depth through a small radial incision. This way they do not impact the patient's central optical zone but are able to act like a "brace" and reduce the curve or flatten the cornea.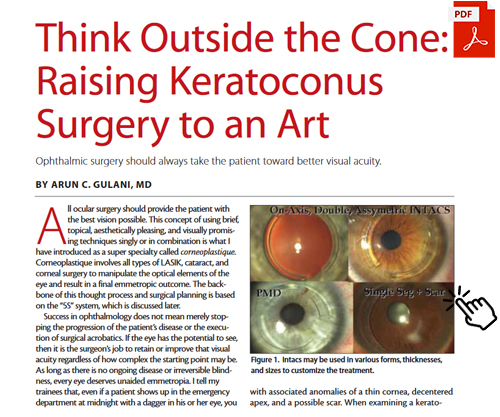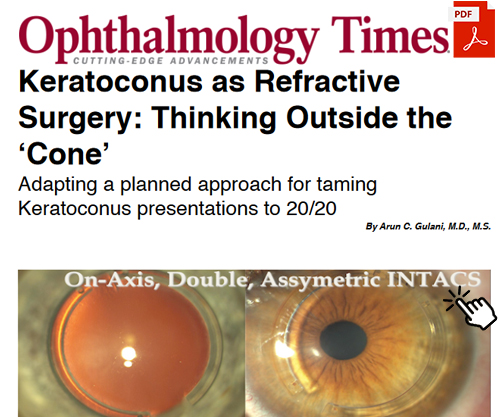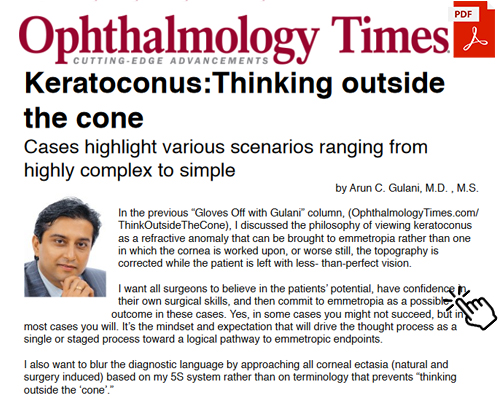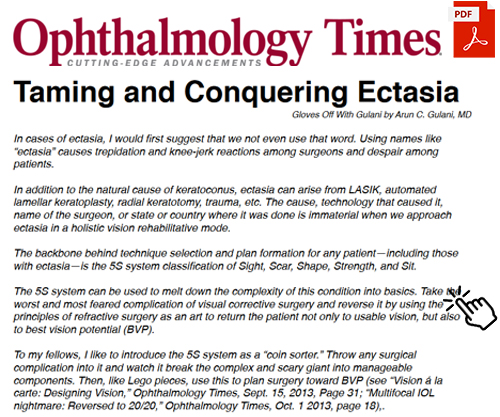 Dr. Gulani over three decades has honed Intacs® surgery to his proprietary no-stitch T-Intacs® technique (titratable Intacs® technique) where he custom designs the Intacs® surgery using his personalized Gulani 3 "T" Protocol as below:
Technique
a. Size of the ring matched to the patient's ectasia (i.e. 0.450 mm)
b. Number
i. Single segment
ii. Paired segments
c. Direction: "On" or "Off" the axis
d. Location: topo-guided or refraction guided
Technology
a. Manual: Lamellar channel technique
b. Laser: Femtosecond laser technology
Target
a. Visual: vision improvement
b. Topographic: regularizing corneal shape
c. Indices: i.e. decreasing keratometry, astigmatism, etc.
d. Structural: arresting the cone
Following his 3 "T" Protocol Dr. Gulani, depending on the severity of the patient's corneal ectasia, custom designs his surgery and goal in a wide range of unique situations.
Complex Intacs® Surgery
Having successfully corrected patients with corneal ectasia like in patients with keratoconus, Lasik complication ectasia, hexagonal keratotomy ectasia, radial keratotomy ectasia, using INTACS in a custom designed fashion Dr. Gulani has successfully addressed complex Intacs® cases to excellent outcomes.
Complex corneal ectasias cases can range from anatomical complexities (like extremely thin corneas, extremely high keratometry (shape), scars, or associated pathology that makes the surgery much more challenging for a routine Intacs® surgeon. Many a times using "off-label" applications of Intacs® in such complex patients, Dr. Gulani strives to save them from an invasive corneal transplant to the best of his capacity.

Combined Intacs® Surgery
Further, Dr. Gulani can use his vast experience and full range of surgical techniques and cutting-edge technology (Gulani KLEARTM system) to even combine Intacs® to "Repair" and/or "Prepare" (to proceed or succeed) a patient's eye for visual rehabilitation. For example, he can combine LaZrPlastiqueTM with Intacs®, premium cataract surgery with Intacs®, Visian ICL with Intacs®, collagen crosslinking with Intacs®, and even pterygium with Intacs® surgery using unique sequences (Gulani GPS) and simultaneous or staged in such unique, custom designed combination surgical techniques.
Intacs® Enhancement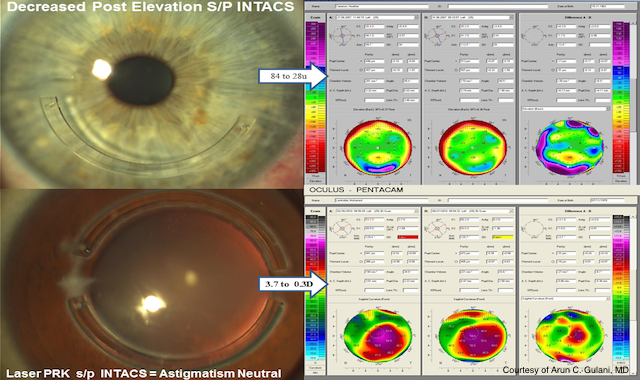 At Gulani Vision we are proud of Dr. Gulani's experience over three decades along with his diligence in personally measuring your eyes and artistically custom designing the surgery.
In cases where patients had previous Intacs® surgery with another surgeon and did not reach their vision goals, Dr. Gulani utilizes his entire spectrum of techniques and technology to take such patients of other surgeons with inadequate outcomes and bring them to the vision end-zone.
Intacs® Complication Management
As a master of ICS implant surgeries Dr. Gulani receives Intacs® surgery complication patients from all over the world and teaches these concepts to surgeons worldwide.
Dedicatedly approaching Intacs® complication patients with a goal to improve their vision Dr. Gulani classifies his approach into:
Revision: where he may remove the previous surgeon's Intacs® or replace them with the correctly optimized size and pairing
Compensatory: where he would leave the previous surgeon's Intacs® in place but compensating for the inadequate vision outcomes by applying LaZrPlastiqueTM or LenzOplastiqueTM techniques to enhance the patient's vision
Salvage: taking patients whose Intacs® surgeries have caused irreversible damage and salvaging their anatomy and vision by using his intricate corneal restorative surgical techniques
To find out if you're a candidate for Dr. Gulani's world renowned Intacs® surgical techniques contact our headquarters in Jacksonville, FL to start your Gulani Vision Experience.