Cataract Surgery in a SPA!
Dr. Gulani's over 3 decades of raising the bar on Cataract Surgery with pioneering innovations and proprietary surgical protocols, along with ground-breaking technologies led to creating the world's first Cataract Surgery SPA.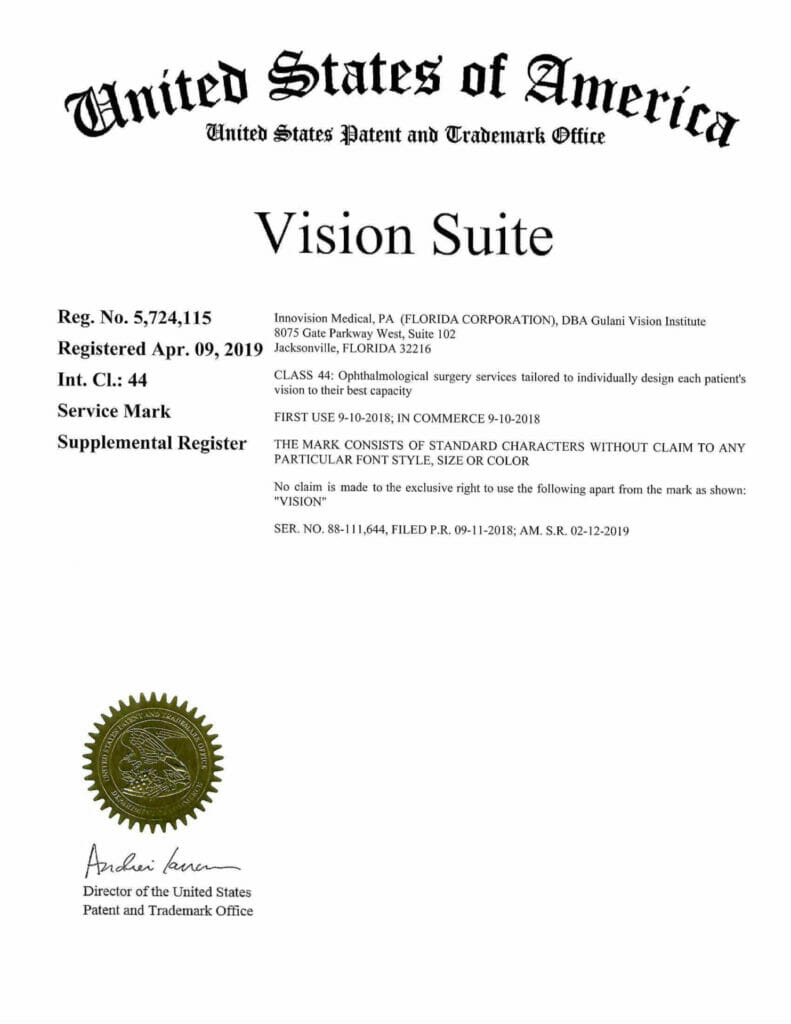 Trademarked by the USPTO (United States Patent Trademark Office) it signifies a surgical ambience of no pain, no needles, no injections, along with Dr. Gulani's custom-designed surgical artistry, which has resulted in world-wide patients describing their cataract surgery experience as having been to a SPA.
Raising Cataract and Refractive Lens Exchange (RLE) Surgery to an ART, Dr. Gulani's relentless pursuit to design vision and lend artistry, raises surgery itself to his proprietary LenzOplastique™ where he personally studies all the in-depth vision measurements/parameters of each patient using Advanced Diagnostic technologies to understand all factors including anatomy, physiology, optics, and vision potential to then diligently apply his vast array of lens based surgical technologies and techniques along with his "Vision A La Carte" concept to customize surgery in a holistic approach, individually tailored to each eye no matter how simple or complex it is and also in combination surgical concepts. This truly then is individually custom-designed Lens based surgery to address the optics, anatomy and physiology of each eye while optimizing for best vision potential.
Thus, using his Plastique™ principles, Dr. Gulani has raised surgery to a visual art by correcting vision errors caused by single or multiple dysfunctional anatomy (natural or post-surgical) with a least interventional approach while also correcting associated pathologies (anatomical and optical) and irregularities of low to higher order aberrations and vision disturbances.
With this desire, Dr. Gulani has innovated award-winning surgical instruments, protocols, including having pioneered the world's first LenzOplastique™ surgical SPA, raising the process of surgery to an Experience!
---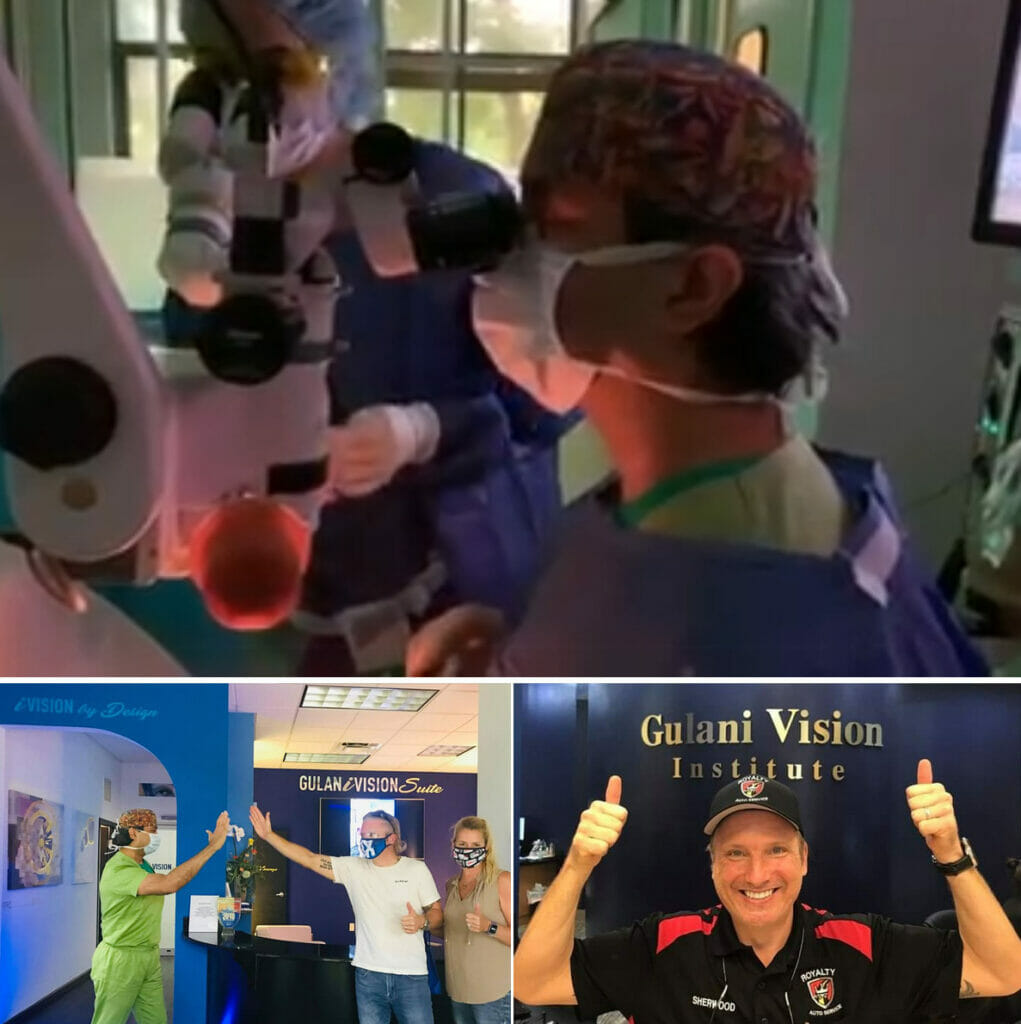 I don't post very often at all but I feel this requires a one.
If you have vision problems read this post!
Exceptionalism With Each Eye: The Gulani Difference!
LET ME TELL YOU!
Most of my friends know I'm a type A personality and know that I strive to be the best I can be at everything I do. This is how I live my life and how i have tailored my business. Well when I was finally tired of dealing with contact lenses and readers and just not being able to see I sought out someone who would treat my eyes the same way I treat our clients vehicles. I am truly blessed to have found Dr. Arun C. Gulani. This man has SO MUCH passion for what he does and for his patients! I truly felt like family when I came into his office. As he and I were talking (he was in no rush to get me in and out quickly) he spent so much time going through each and every problem he found and how he was going to fix each one. His professionalism was second to none and I could tell he truly cared about how I felt and wanted to address each and every concern I had. I was impressed by the fact that he loves to share his passion and techniques with his colleagues so that he can help not only his direct patients but patients of the doctors that he inspires. After going through what procedure he was going to perform, LenZoPlastique, we set up an appointment and were surprised he could get this taken care of quickly. When Elizabeth Cooke and I showed up for the surgery we were blown away by the "Cataract Spa". This was not like a normal surgical center. This is really like a spa. The procedure took only a few minutes, with two weeks between eyes, and the outcome is I NOW HAVE 20/20 VISION! Never had one second of pain and was awake with no drugs during the procedures. Absolutely Amazing!! If you have eye problems go here!!! – Sherwood C. (St. Marys, GA)
---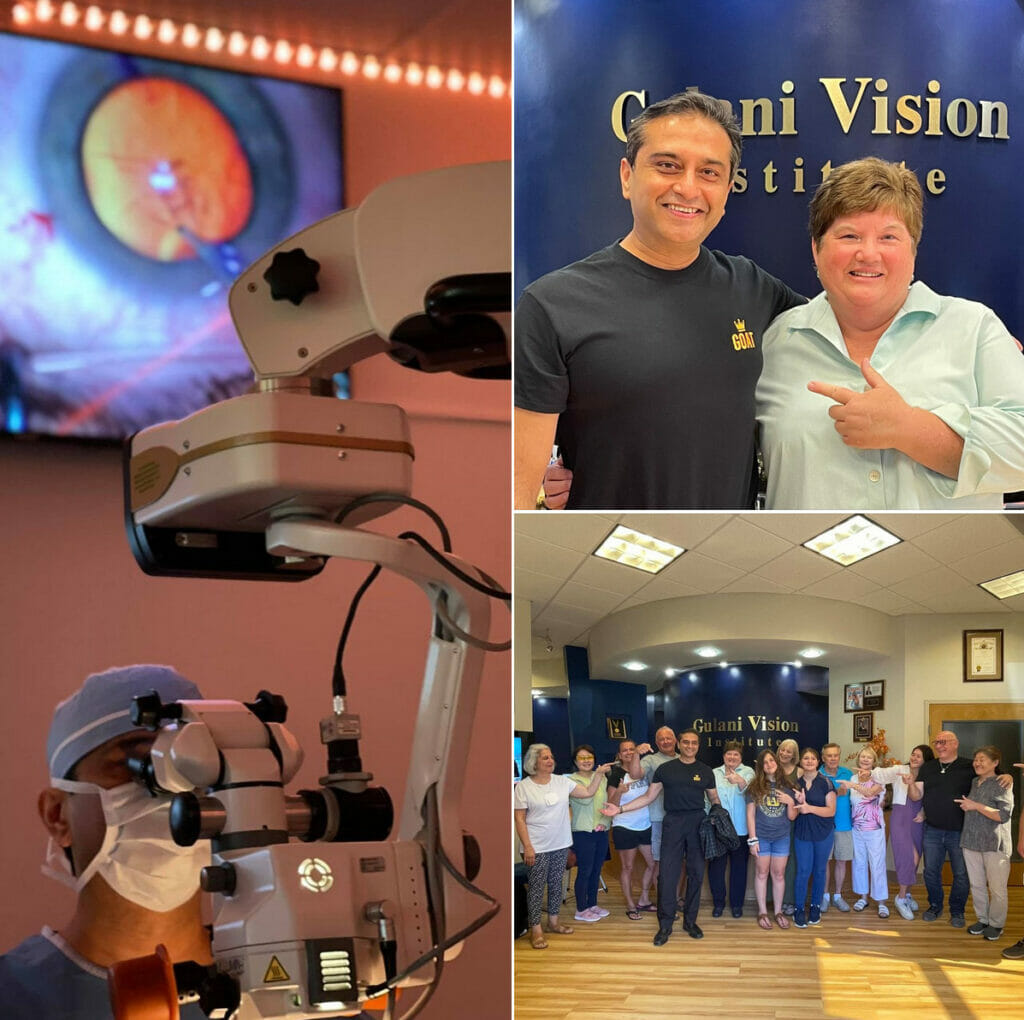 "Today is day 1 and here I am already seeing with my Gulani Vision and celebrating with the G.O.A.T.
I have had Radial Keratotomy surgery in the past with scarring and complex cataracts, and could not find a confident surgeon in the country who could help my complex eyes. I traveled to Dr. Gulani. I underwent his custom designed cataract surgery in his out of the world surgery spa. And with no pain, no injections, and no stitches here I am already seeing. I saw patients here from all over the world and yet received a personal level of care not available anywhere in the world of medicine today. Dr. Arun C. Gulani truly is the Greatest of All Time (G.O.A.T.)!" – Christina G. (Brooksville, FL)
---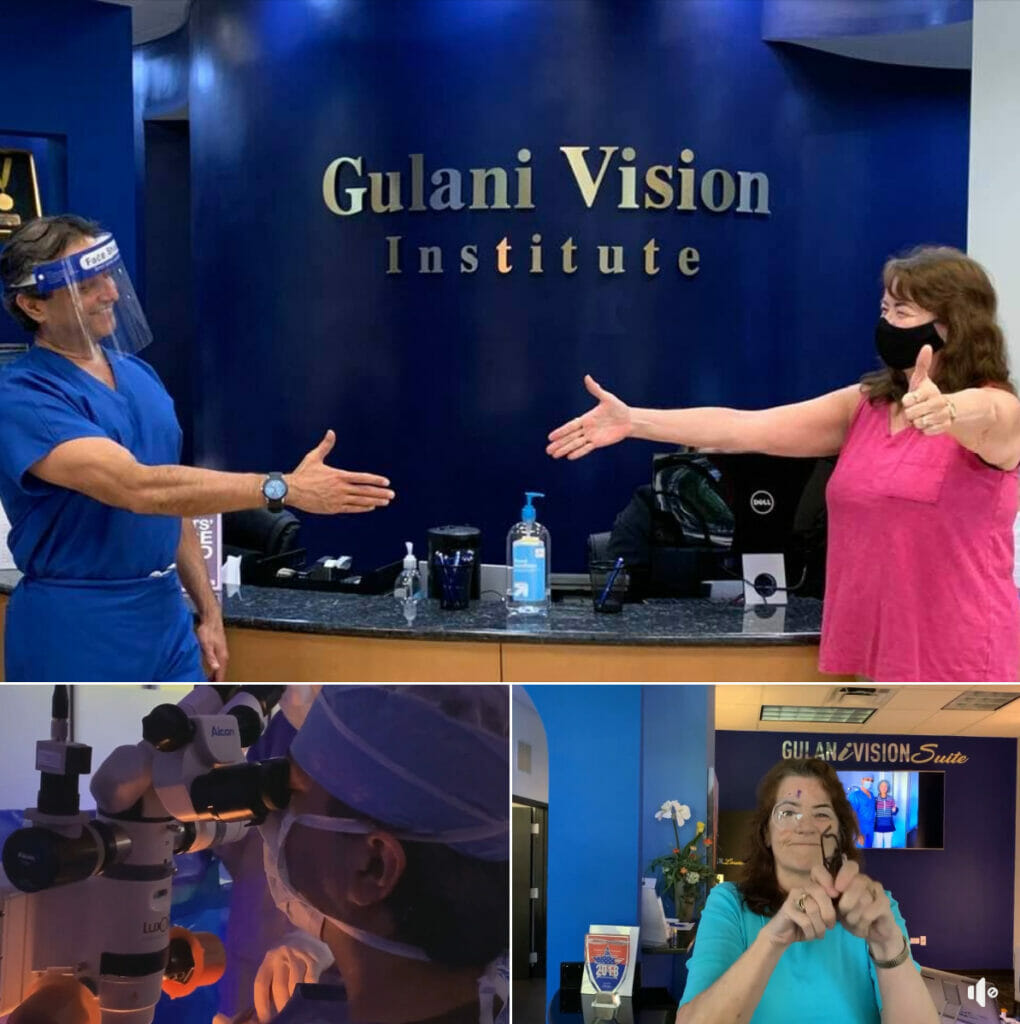 "FUTURE of Cataract Surgery: Already Here at GulaniVision!
Today is Day 1 after my complex cataract surgery and I feel like I've just been to a SPA. Not only has Dr. Gulani raised Cataract surgery to Artistry, he performs it in his out-of-the-world cataract SPA. All I remember is soothing music and a few minutes later, I stood up and was able to see my watch for the first time without glasses in decades. As I walked out, I experienced no pain, no injections, no drugs, and no rushed hospital environment. It was an experience truly out of this world. I was so thrilled that I crumpled up my glasses and threw them out on my way out!" – Louann H.
---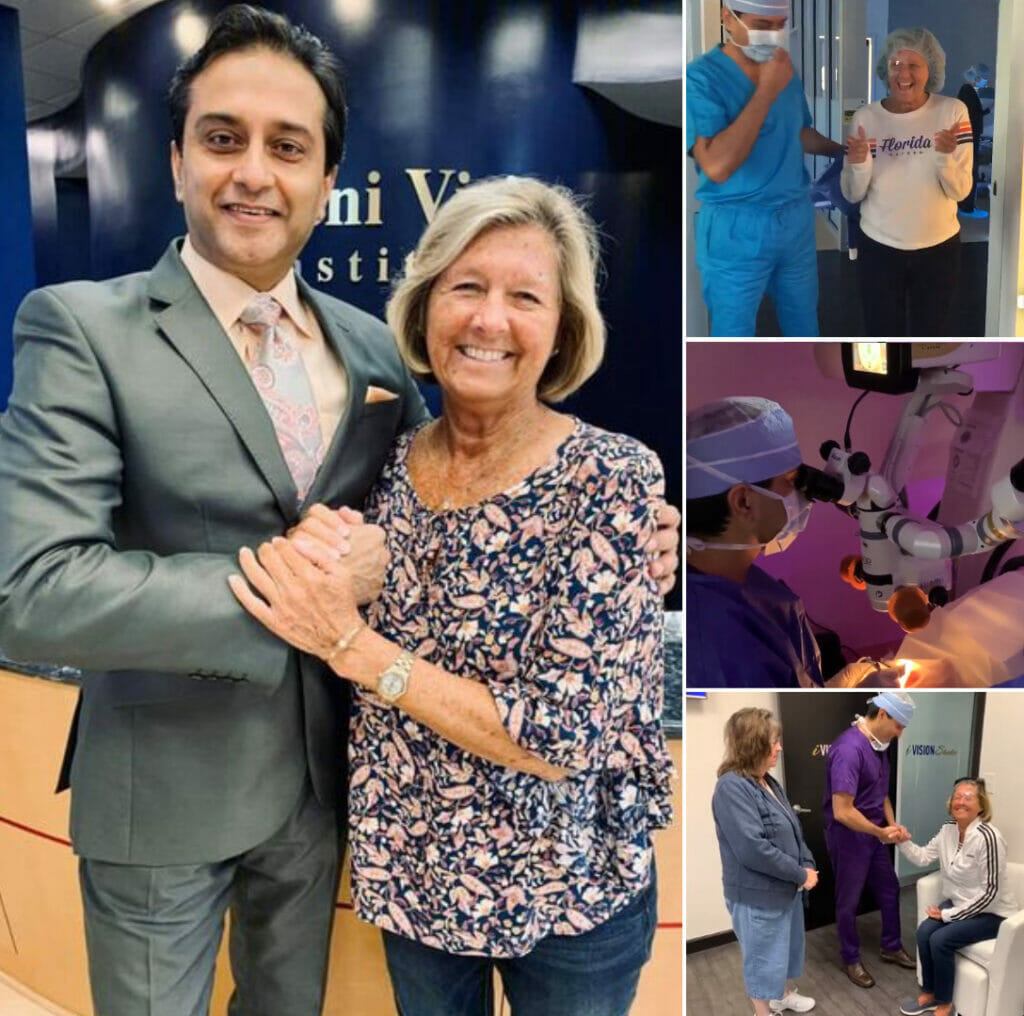 "Gulani Vision: A WORLD apart!
When my vision got poor due to cataracts and because of my complexity made other surgeons nervous, they said wait "until you're blind enough". As a Godsend I saw Dr. Gulani in the News and felt his passion and came to see him. I experienced a Doctor who is a world apart on his passion, empathy, understanding, and then his world renowned performance which brought me to perfect vision. His surgical facility was like a Spa, and his staff was like Angels. My cataract surgery despite my complexity was a pleasurable experience. This amazement still doesn't end because he sees you himself every visit. He even remembered to ask me about my date night which I mentioned during surgery!" – Deborah L.
---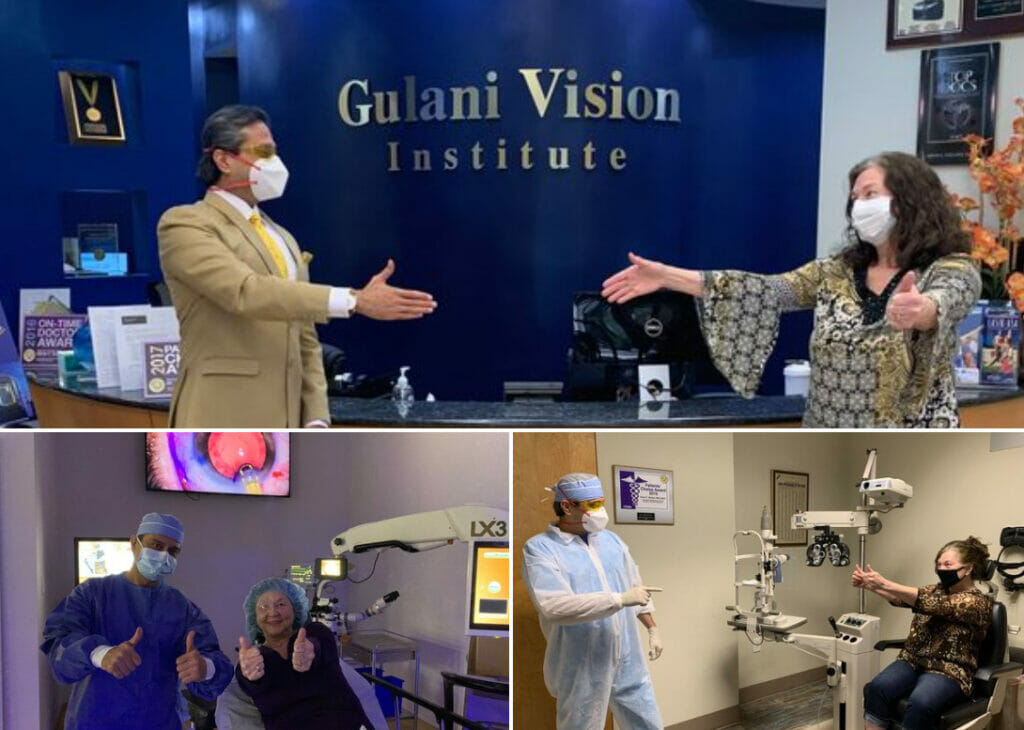 "I met Dr Gulani when he corrected residual problems that one of my sisters and brother-in-law had from a prior surgery by another doctor. I must add that my other sister told us about him from an article she had just read in the Florida Times-Union newspaper. So having developed hyper mature cataracts myself I contacted GVI for a consult in May 2020. The Covid19 surgery restrictions had just been lifted and I was quickly cleared to proceed with all personal protective protocols in place. The Surgical Suite aka "5 Star Spa" is one of a kind for sure. The ambient backlighting, soft music and the beautiful artwork everywhere made me feel like a VIP – comfortable and cared for. My surgeries were pain free without general or IV anesthesia and I walked out of the OR completely on my own and coherent. Dr Gulani is passionately devoted to provide the best vision possible with hands on care even to "Infinity and Beyond" for his patients near and far. He has many attributes and a few are gifted doctor, inventor, clothes fashion designer, philantropist and friend. Just a little note of his heart and availability he called in a prescription for me on a Saturday morning while he was out with his children. Wow a World-reknown doctor that cares that much! So thank you from my
Dr Gulani, Amanda, Mandy, Nickki, Sylvia and all the Staff for the stellar care I received and for making me feel like part of the GVI family.
**** If you need and want to
life in its best light-What are you waiting for! *****" – Tynee H.
---
"We are his MONA LISAS!
Despite strict COVID precautions #COVID19, Dr. Gulani's PASSION and INTENSITY delivered me to perfect 20/20 vision despite my case that was considered impossible. I had a friend who told me about their cataract surgery in their hospital environment, meanwhile Dr. Gulani built the world's first cataract SPA, where I actually danced out of the surgery suite. It was an out-of-the-world experience. Not only does Dr. Gulani turn us into his Mona Lisas, it's as if he is constantly invested in our continued care – for life." – Tammy M.

---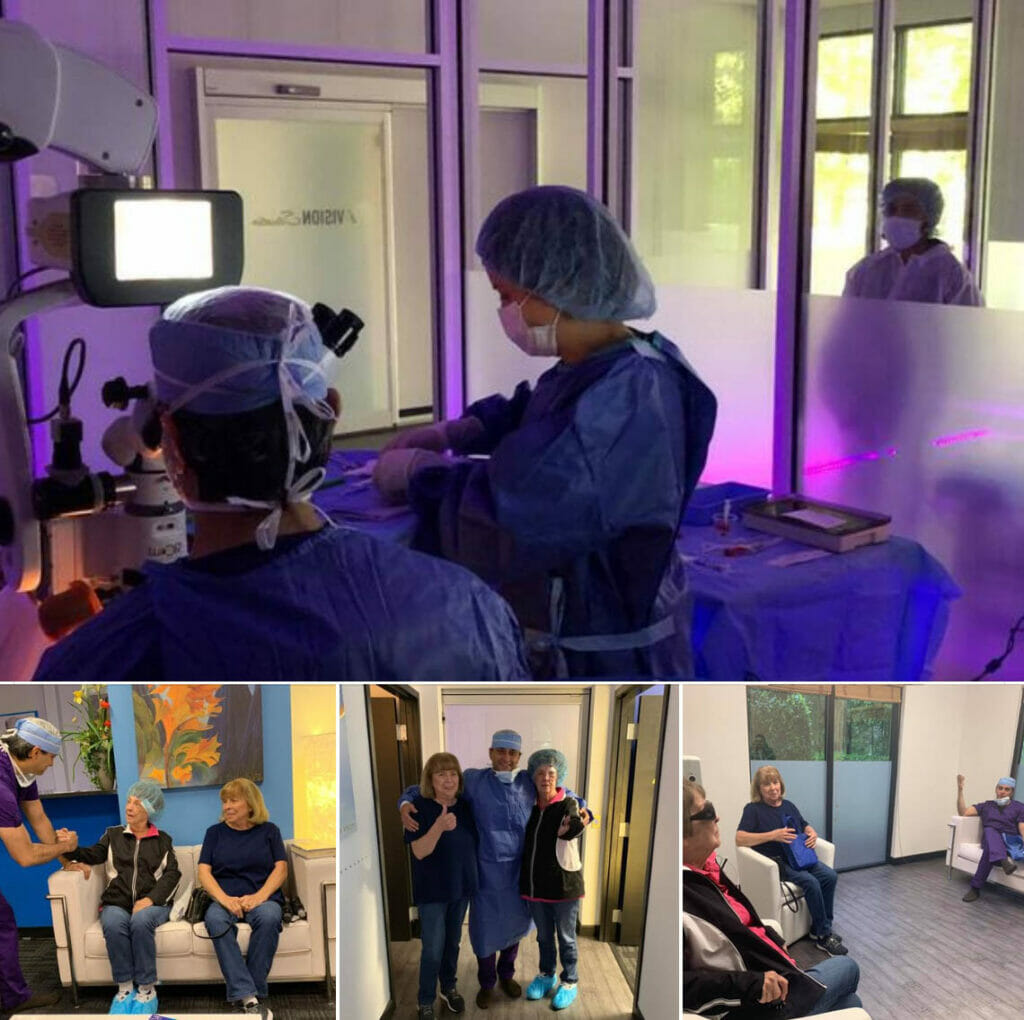 "Out-Of-This-WORLD; just like him!
Wow his passion and Wow his bravery.If Dr. Gulani's Magic on my "Only Seeing eye" 6 years ago was not enough, I brought my sister who is also "One-Eyed" to travel to him. The patient before us was a Pilot from Canada who had traveled for his GulaniVision today. Over the years nothing has changed with our Dr.Gulani other than he has built a surgery facility that is Out- Of-This-World, just like Him!" – Martha B.
---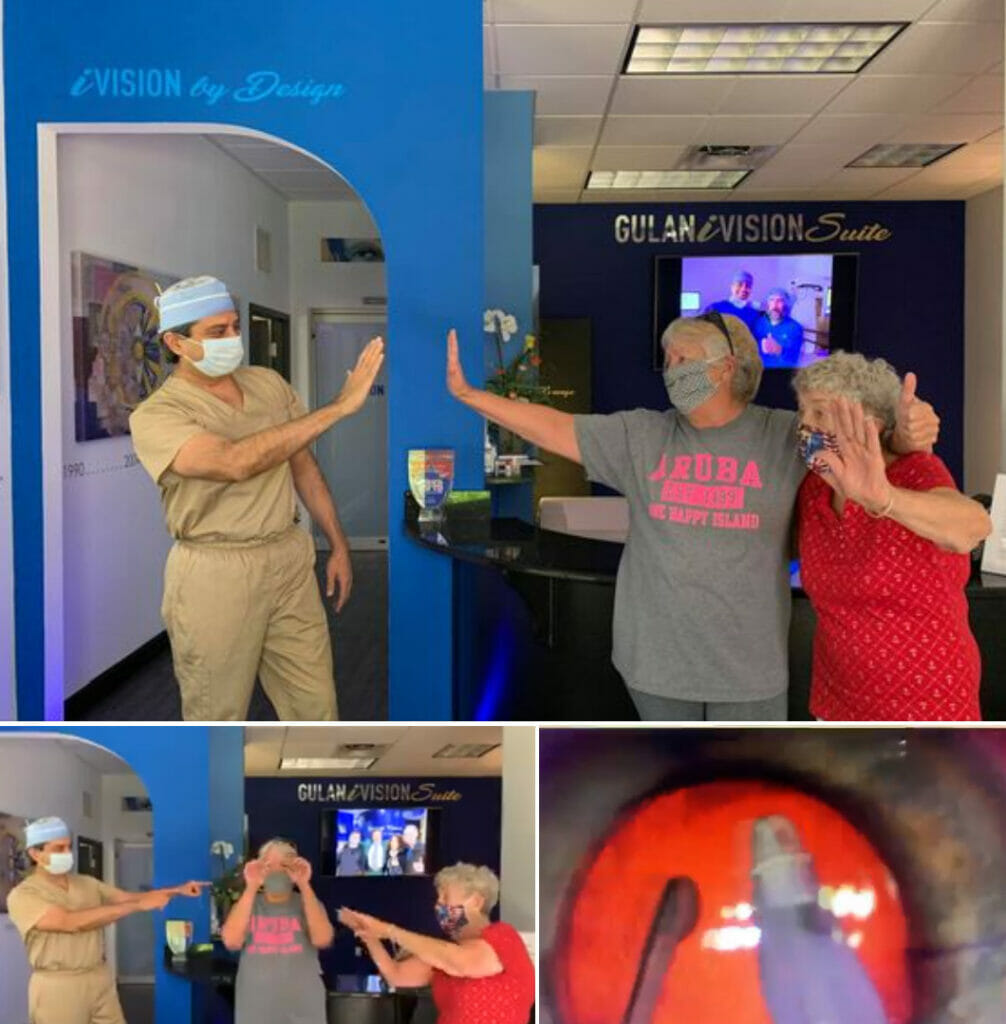 "Consistency in miracles!!!
Second eye just done in the Gulani Cataract SPA.
Was worth the travel from Washington DC to experience what Every Eye Surgeon said could not be done.
Deb is another Gulani Miracle as he consistently performs while creating the future. Like NO place on earth." – Annette G.
---

"The Future of Vision: Gulani Vision!
Today is day one after my cataract surgery. I have 20/20 vision after a stupendous and fantastic surgery performed by Dr. Arun Gulani. He found that I had blinding corneal scars, previously botched LASIK and a very complex cataract. His designed surgery was performed in a unique surgical suite that is a 'Cataract Spa'. He used the vision of Davinci and the artistry of Michaelanglo to deliver me to 20/20 on this day one. Dr. Gulani walked me to this suite and there I was only given eye drops for my surgery. No drugs and no injections or IV, just soothing music during the surgery!!! I have had no pain and there was no pain during my surgery whatsoever!!!I encourage eye surgeons to step into the future; the world of Gulani Vision!" – Jacqueline K.
---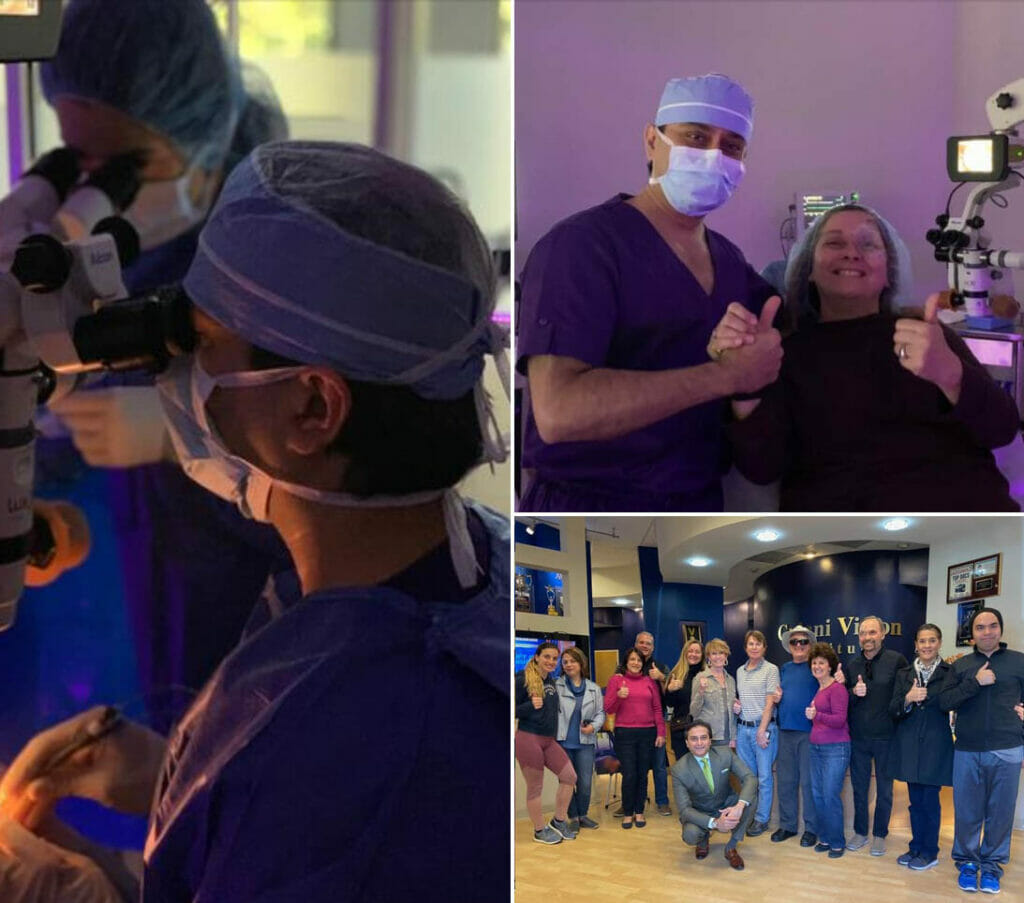 "Beyond the Norm : Beyond 2020
Here I am seeing beyond 20/20 when every eye surgeon who did my multiple Lasik surgeries called me too complex and impossible. Dr. Gulani goes beyond at all levels. Not only did he deliver my vision beyond 20/20 he displayed courage in taking my case and also went beyond in his care for me and my personal outcome. #GulaniBeyond2020 of which I am another example is which Dr. Gulani goes above and beyond the norm in medicine." – Laurie D.
---
"Still have my old and new Gulani Vision!
'I'm sorry please get up from the surgery table and go see your eye surgeon in Florida who worked your magic on your first eye' these are the words of my eye surgeon in Pennsylvania on seeing my extremely complex Radial Keratotomy and dense Cataract. I immediately booked my travel to see my Dr. Gulani in Florida who performed his miracle on my first eye 5 years ago. When I arrived he remembered my name as I met patients from all over the world with similar stories. Today is Day one after Dr. Gulani performed yet another miracle for me in his Cataract SPA without needles, drugs, or any pain. He brought me straight to vision, im ready to travel back home and I hope every eye surgeon will learn to do what Dr. Gulani does!" Dawn F. (Pennsylvania)

---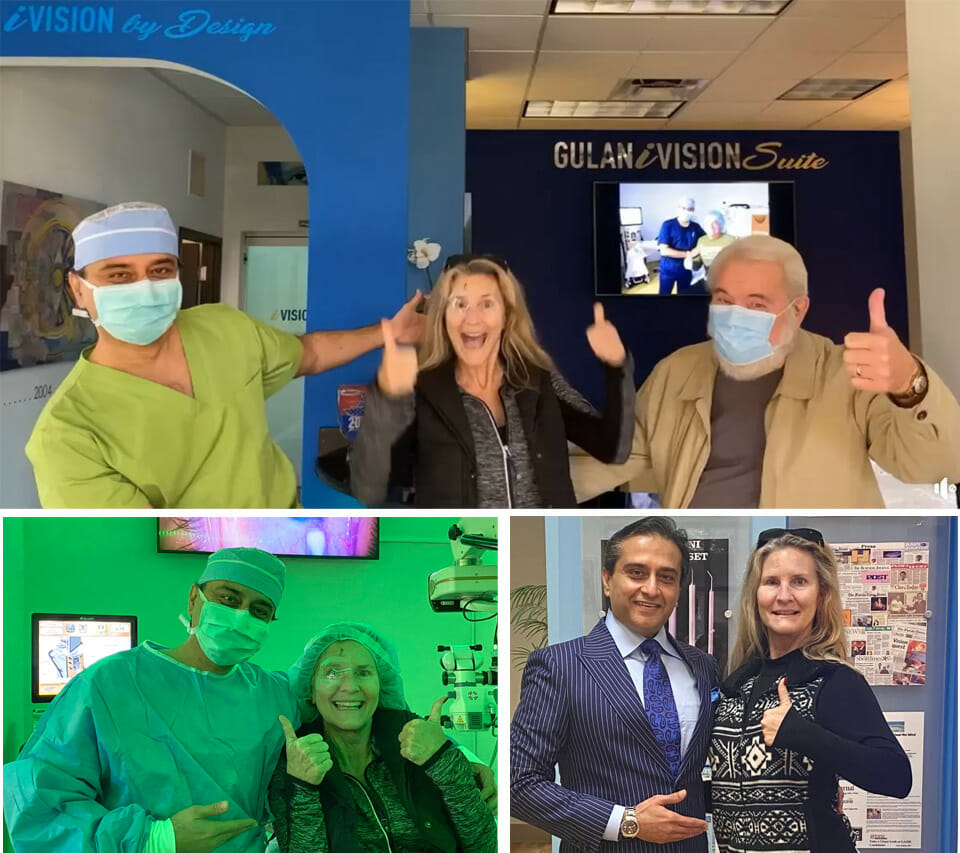 "GulaniLand: OUT OF THIS WORLD!
Me dancing right out of Cataract surgery
Today is Day 1 after Dr. Arun C. Gulani's custom designed Cataract surgery in his out of this world Cataract SPA without injection, stitches or pain, just soothing music and straight to Gulani Vision. I dressed up Day 1 after surgery like every other day I would dress because I feel so amazing, just like all of his patients from around the world do! #GulaniVision #gulanifashion #DrGQ" – Sherry W.
---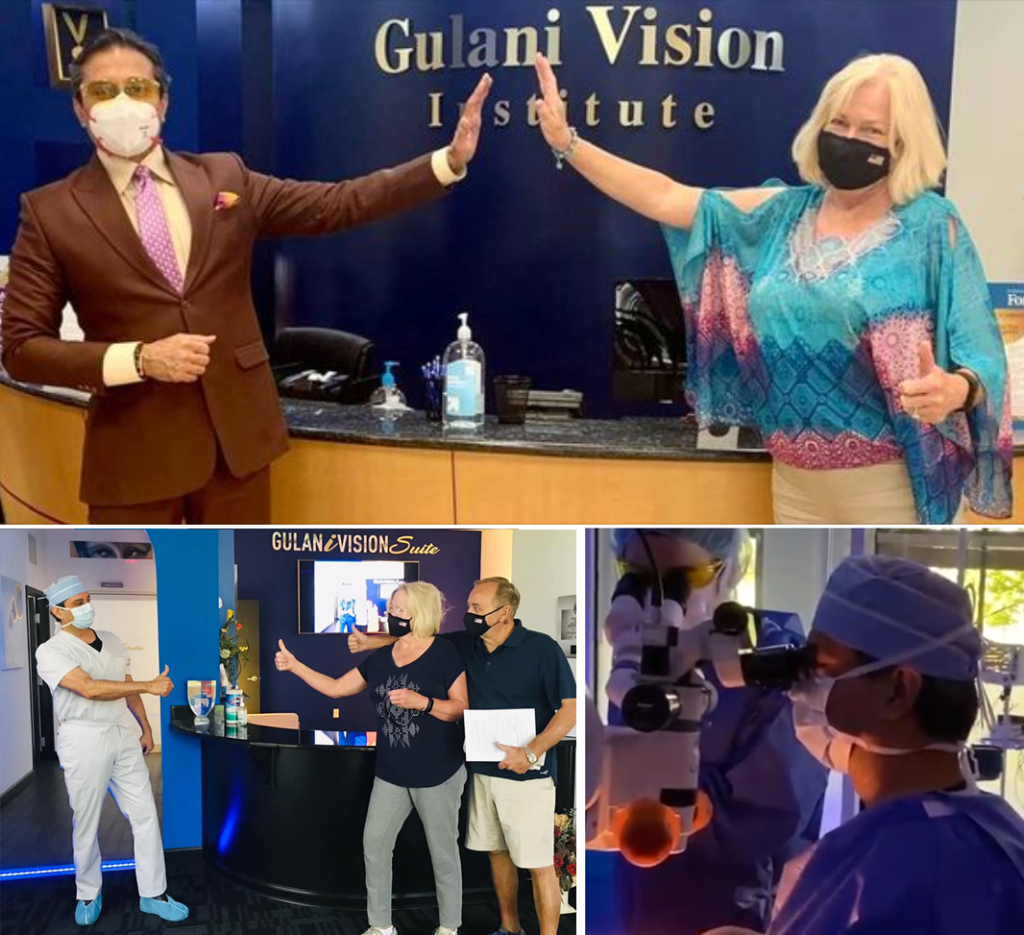 "Over the years, as a marketing professor for several universities, I know the world of customer service very well. But to find it in a medical practice was so REFRESHING. When I needed my cataract surgeries done and having witnessed my maternal aunt's eye surgeries and bad outcomes, I was seeking the right answer for my eyes. All my research led me to the world's BESPOKE eye surgeon, Dr. Gulani. Not only did he custom design my cataract surgery but also hand picked technology and performed my surgery in his World famous Cataract SPA, leading me to perfect 20/20 vision. He delivered an "out-of-the-world" experience that truly was tailored to me and my unique eyes." – Jill K.
---
"If I had a 3rd Eye!
Most people are anxious about surgery, but my Gulani Vision cataract surgery was a Spa experience like nowhere else in this world. Wide awake through the entire less than 10 minute surgery, I was amazed by how great I felt afterward. No pain, cuts or blades! I'm so glad I didn't wait until the cataracts were "ready" and "ripe" like other doctors advised. Dr. Arun C. Gulani is on the cutting edge of all things Eye – Vision is everything! Seeing 20/20 at my 2 week check. AMAZING!" – Linda S.
---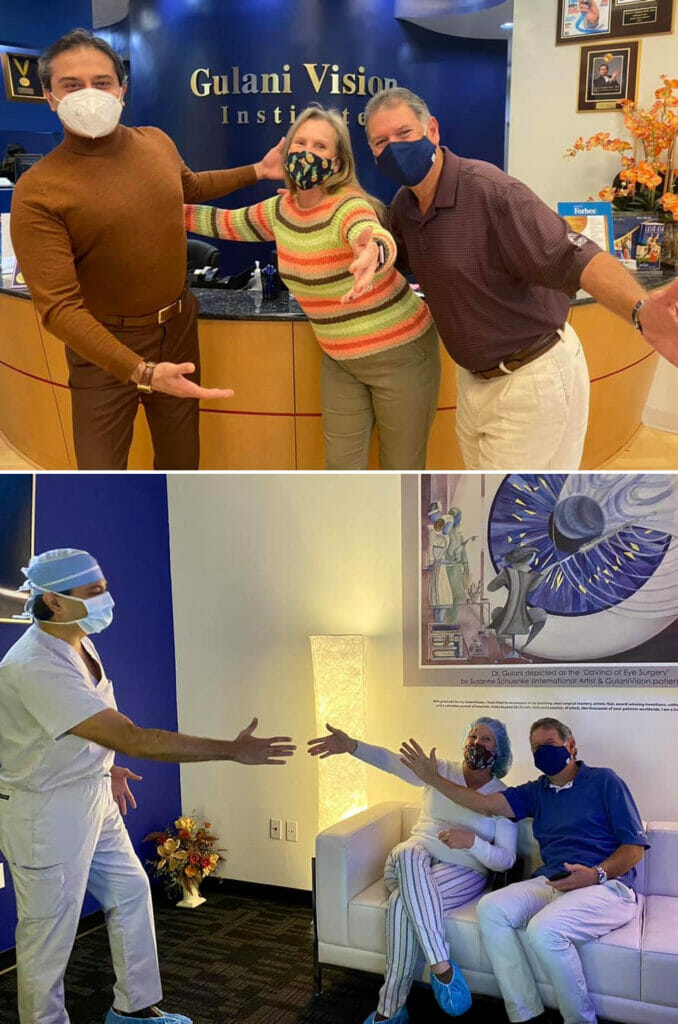 "Cataract surgery In a SPA, I have seen the future. This is day ONE after my surgery and being in the medical profession for 30 years I can attest to this being an out of the world experience at Gulani Vision Institute right from the fact that many surgeons would even be not comfortable operating with my complex cataracts and previous multiple failed lasik surgeries. Here I am seeing perfect and without glasses having gone through cataract surgery yesterday without needles, pain, stitches, or drugs. Just music and Dr. Gulani's artistry, I even came out dancing! Ready to celebrate my birthday in North Carolina!" – Stephannie S.
---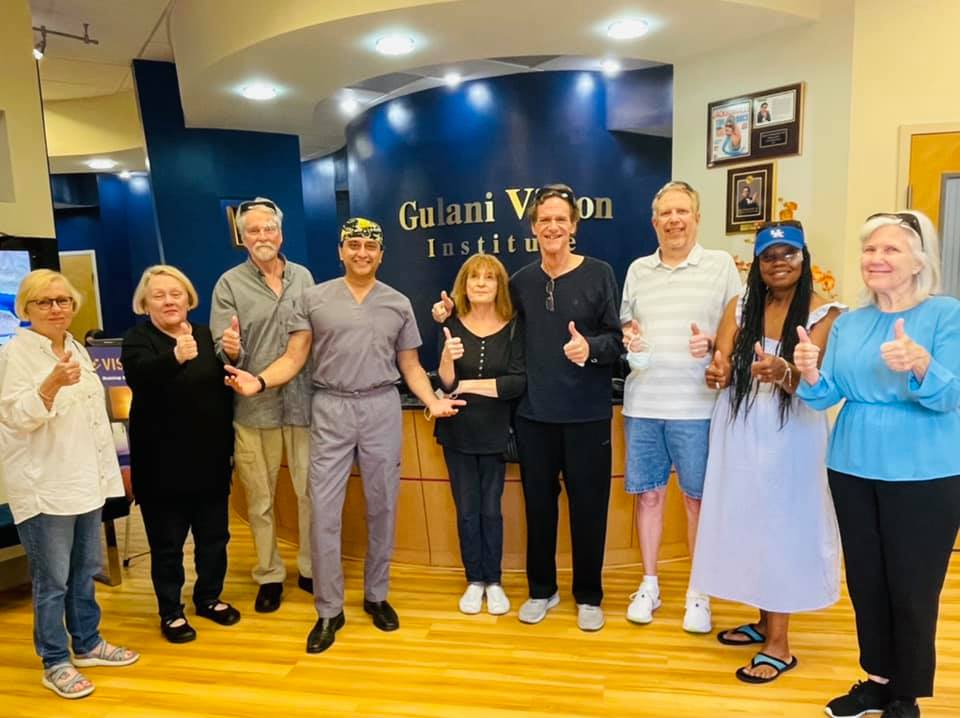 "One day after complicated eye surgery! Dr. Arun C. Gulani and his "family" of patients. Brilliant eye surgeon and the most compassionate man. When you walk in, you become part of his family. His caring treatment goes above and beyond and surgery is more like a visit to a spa! We're so fortunate to have him in Jacksonville! Amazing!!
" – Julie B.
---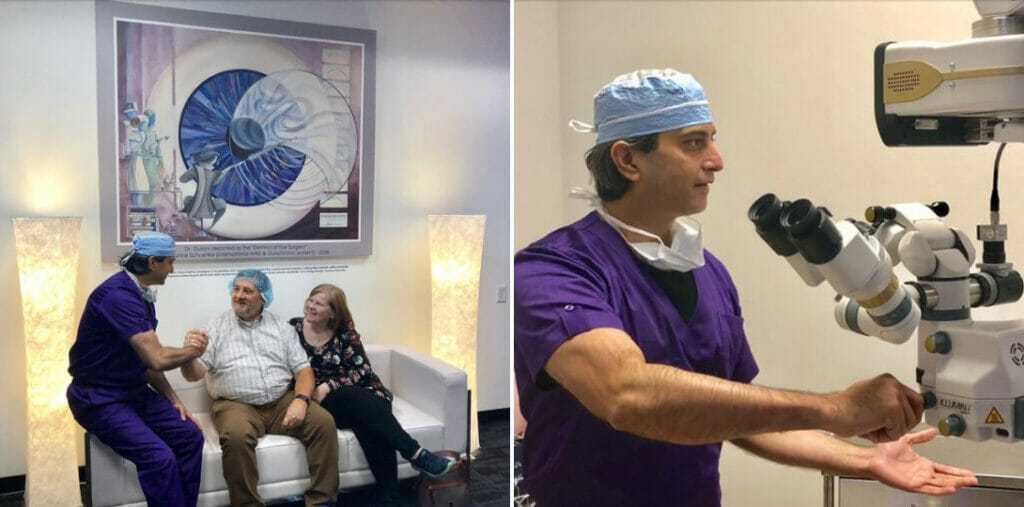 "OUT of this WORLD!
My husband is having his GULANI Miracle! I can't wait for my turn to experience the future HE has created in his OUT of the WORLD facility." – Cathy B.
---