Artist for Your Eyes

Da Vinci of Eyes

"Artist of Eyes", a title conferred on Dr. Gulani by grateful patients and colleagues worldwide, underscores his quest for perfection, symmetry and elegance, which have become the hallmark of his surgical signature in designing for each patient's eye uniquely for their best vision outcome. Dr. Gulani's art encompasses not only his custom designed approach to each eye but also his flair and finesse in surgery along with the physical ambiance of his office and surgical spa where he performs with the flourish of an artist delivering vision and changing lives.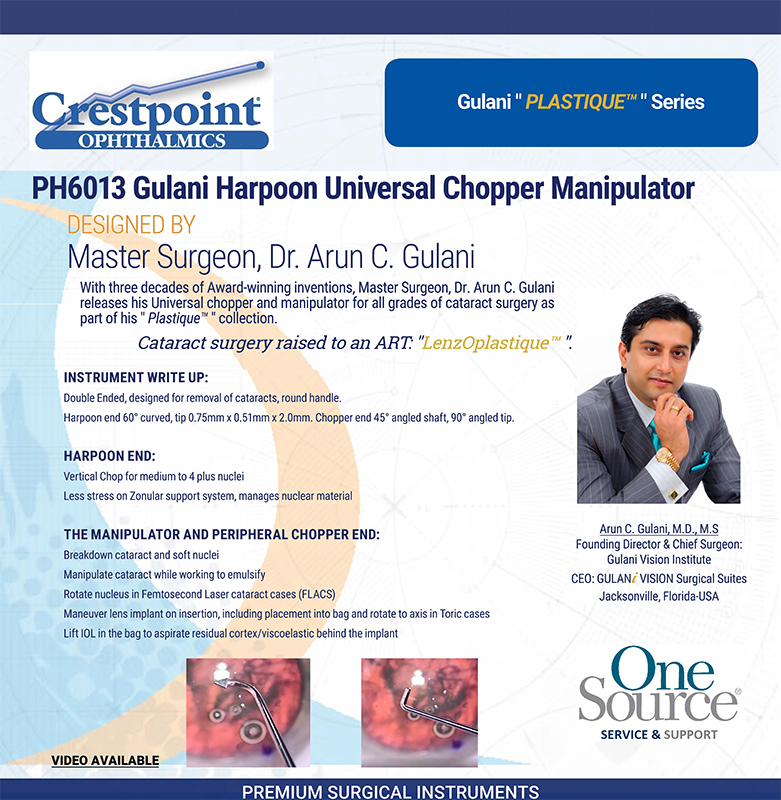 With this demeanor of an artist using his exquisite micro-surgical skills, always aspiring for flawless eyes seeking their best vision potential, Dr. Gulani has raised his proprietary eye surgeries honed over the last three decades themselves to an Art, collectively called the Gulani "Plastique" Surgical Techniques. While most surgeons may consider not having complications to be a hallmark of their success, Dr. Gulani aspires to not only restore your vision but to enhance it to possibly better than before you even had your eye problem to begin with. Though humanly he cannot guarantee outcomes, this is a responsibility he loves to shoulder for each and every patient, having committed to performing at his highest level in their best interest.
"Plastique" therefore signifies a paradigm shift in his approach to surgery making it minimally invasive, aesthetically pleasing, least intervention-al, and most visually promising, as reflected in his no-stitch, no-pain, no-injection, no-flap, no-cut approach along with constant award-winning innovations in surgical techniques and technologies.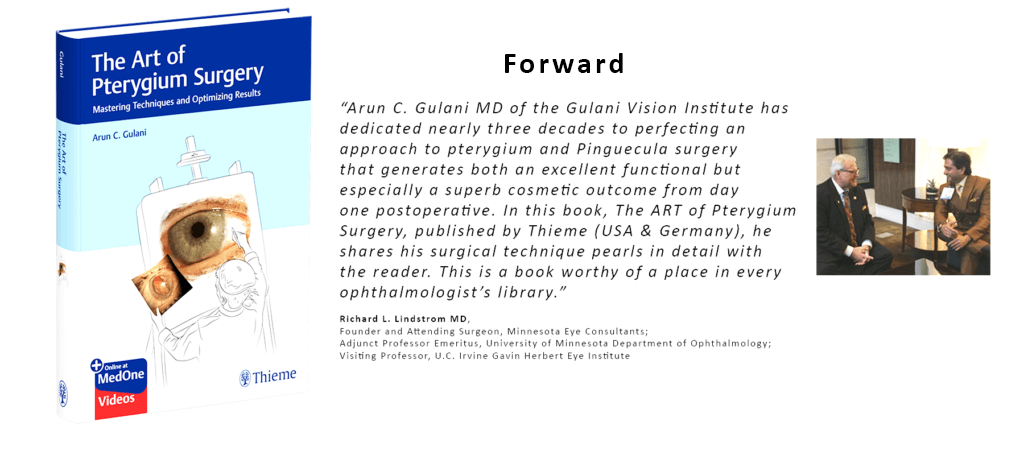 Designing, Enhancing, and Restoring Vision
Dr. Gulani's artistry in vision surgery not only attracts patients of normal vision errors like nearsightedness, farsightedness, astigmatism, and presbyopia seeking custom Designed vision, but also patients who may have had previous Lasik or Cataract surgery with inadequate outcomes with other surgeons seeking his expertise to further Enhance their vision. Additionally, those patients who have had complications or side effects from their surgeons travel to Dr. Gulani to Restore their vision and gain their lives back.
Dr. Gulani Performs Vision Corrective Surgery as an ART

He does not believe in confusing patients with names of surgeries or technology. Instead, he teaches eye surgeons to approach the eye like a camera in evaluating the optics of the entire eye and planning a surgery best suited towards perfecting vision for that eye individually.
Three important points in Dr. Gulani's mind while customizing your eye surgery are:
Safety, Logic and Outcomes!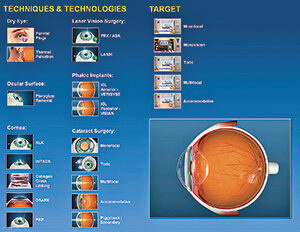 No financial incentive or deals and no technology hype or even his own World renowned status and reputation affect his decision in selecting the best surgical approach tailored for your individual eye.
Just like a camera, the eye has a cornea (viewfinder), the shape of which decides vision. Nearsighted corneas are steep or more curved, farsighted corneas are flatter and astigmatic corneas are shaped like a football (oval) as opposed to being shaped like a basketball (spherical). Thus nearly all cornea based refractive surgeries (including Lasik) focus on re-shaping a patient's cornea.
Laser vision surgery in every form ie. Lasik, Wavefront Lasik, Custom Lasik, Epi-Lasik, Lasek, PRK, Advanced Surface Ablation (ASA), LaZrplastique, Laser Corneoplastique, itself can be modified and applied in varied forms to achieve the desired visual outcome based on Dr. Gulani's selection.
The next imaging structure in the eye is the lens (very much like the lens in the camera). As you age, this lens becomes "Cloudy" and is now called a Cataract. Your natural lens also has a power to it that can be manipulated by inserting a specific artificial lens implant after removing the Cataract. New generation Lens implants can further be helpful for patients who use reading glasses for presbyopia wherein these implants can be multifocal (like bifocal or progressive reading glasses), trifocal, dual-optic, etc. and thus allow reading as well as distance vision.

Surgery can also be combined in stages in some cases to optimize the best of technology and technique in individualizing and customizing the surgery to the patient and their unique eyes ie. Cataract surgery followed by Laser Vision Surgery.
Thus various combinations of Lens or Laser surgeries and technology choices available to Dr. Gulani provide unlimited permutations to individualize care for each patient in seeking their unique visual goals thereby raising vision itself to an ART.
Dr. Gulani therefore applies artistry over the entire spectrum of patients in designing, enhancing, and even restoring vision. This unique combination of surgical artistry along with custom designed techniques and technology sets our practice apart from the world of "routine" and "cookie-cutter" surgeons and surgeries that most often result in mediocre outcomes with their "one-size-fits-all" approach to medicine.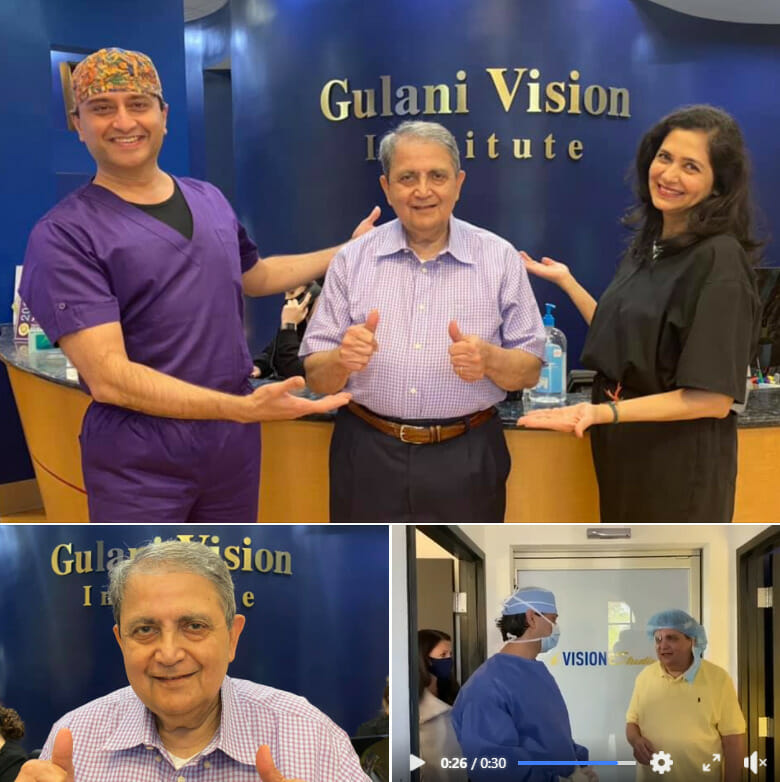 "Out of this World and Yet so Personal! Dr. Gulani fought at all costs to keep his promise for vision for me! I've built multiple surgery centers before but seeing Dr. Gulani's suite was Out of this World. I came here expecting regular cataract surgery that was actually the least thing he did. He explained in detail everything that needed to be corrected, even with my nystagmus he was confident to do my case. So far the results have been excellent! He was even there step by step after surgery to make sure I was doing well." – Vasant (Architect)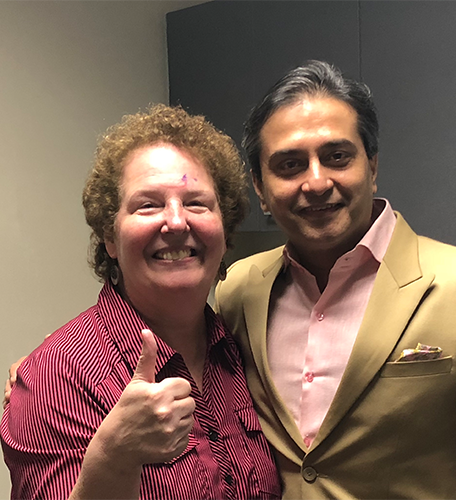 ---
"Its like he plays Minuets of Music with each element of our eye to orchestrate with our brain and bring us to beautiful melody of Vision!" – Rachel (Philharmonic Orchestra)