Corneal Transplant
The human cornea is the front, clear window of the eye. Besides being clear it also has optical properties that focus light into the eye so you can see. This transparent tissue is made up of 6 layers which are related anatomically and physiologically to work together cohesively for optimal vision. When integrity, clarity, shape, or physiology of this cornea is threatened or impacted by any cause including surgical complication, dystrophy, trauma, or disease it needs to be replaced by a healthy cornea from a human donor.
Making Corneal Transplants Extinct: Gulani CorneoplastiqueTM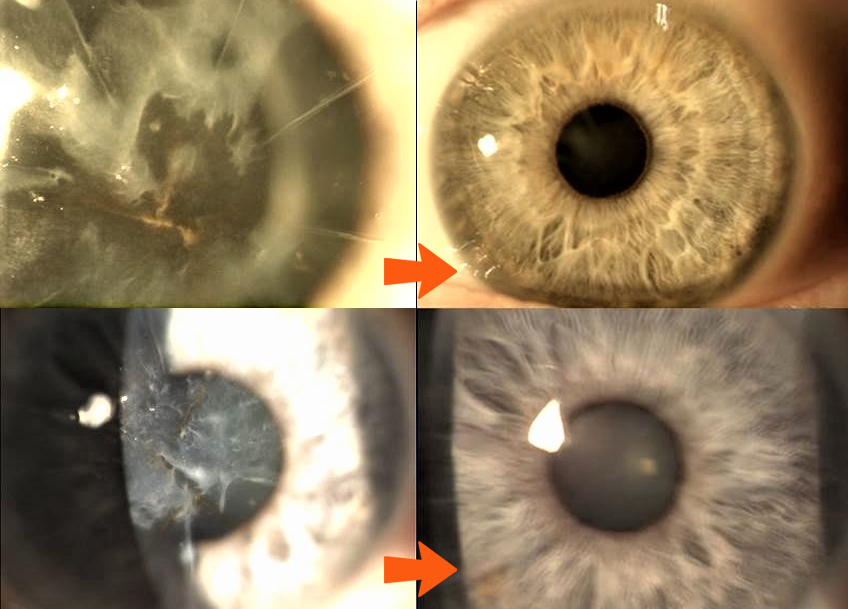 Dr. Gulani has been correcting blinding corneal scars of all kinds straight to vision without transplants with his proprietary Laser CorneoplastiqueTM techniques honed over three decades. Using a wide range of techniques and technology, KLEARTM, many patients have been brought to vision within minutes when they were relegated by their surgeons to invasive transplant options only.
Numerous patients from all over the world with corneal scars of varied causes like LASIK and PRK complications, contact lens infections, dystrophy, etc. have been corrected with Dr. Gulani's cutting-edge, least interventional, no-blade, no-cut procedures in single or staged combinations keeping corneal transplant as a last resort.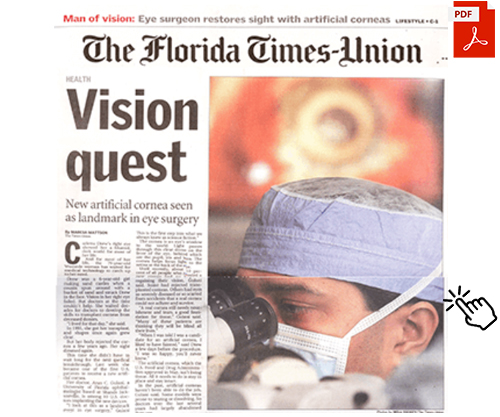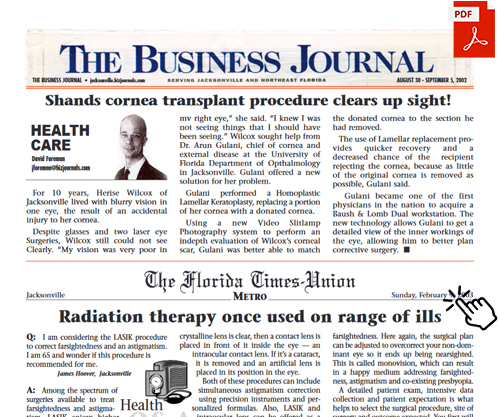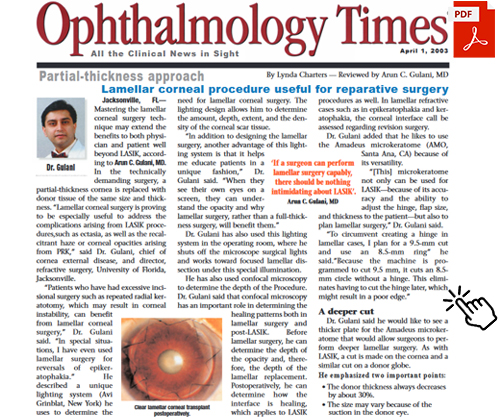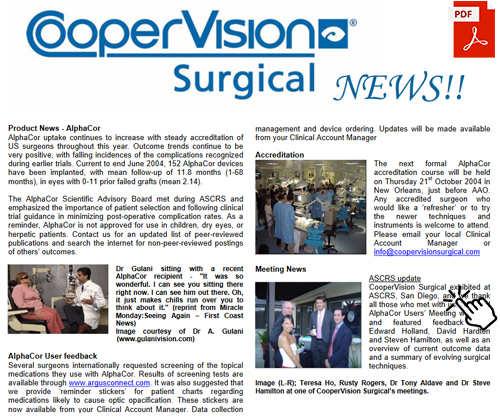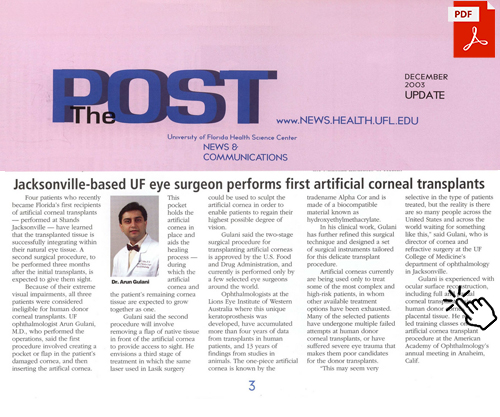 Dr. Gulani has developed corneal transplant techniques to an artistic surgical endpoint by anatomically categorizing them into the following kinds:
I. LK – Lamellar Keratoplasty (partial thickness) Though most surgeons change the entire cornea to treat corneal pathologies, Dr. Gulani artistically looks at the cornea as 6 lamellar layers (think turkey slices) and in an effort to be minimally invasive and help the patient lead a more comfortable life with quicker recovery, he changes exactly the layer that is effected with a very demanding surgical skill that he has honed over the last three decades.
This is an integral way in which Dr. Gulani rebuilds the foundation of your cornea to then keep the option open for future LaZrplastiqueTM or LenZoplastiqueTM techniques to see without glasses or contact lenses to your best vision potential.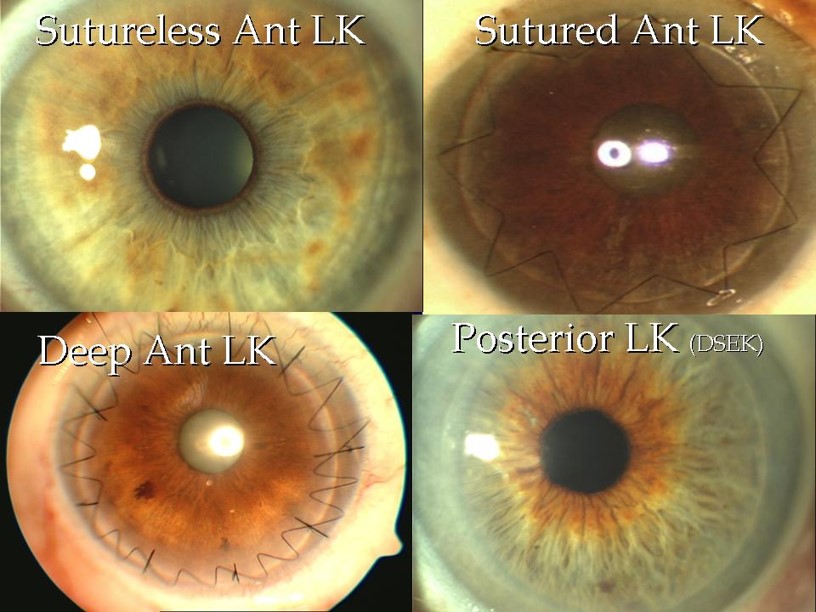 Dr. Gulani further approaches LK anatomically in the following ways:
1. Anterior LK (ALK): In majority of patients with corneal pathologies resulting in blinding opacities, the posterior functional layer may still be viable. In such cases Dr. Gulani takes advantage in avoiding entry into the patient's eye by preserving that posterior layer and changing only the anterior part of the patient's cornea.
When only the anterior one-third (1/3) of the patient's cornea needs to be changed, Dr. Gulani performs his renowned no-stitch anterior lamellar transplant. While in deeper pathologies he further subcategorizes:
a. Automated Lamellar Keratoplasty: For anterior corneal pathologies that are more regular and measurable Dr. Gulani uses the following technologies:
1. Micro-Keratome ALK: micron precision automated micro-keratomes (used for LASIK surgeries in the past)
2. Femtosecond Laser ALK: Femtosecond (FS) laser is an infrared laser with a wavelength of 1053nm which is also used for blade-less LASIK surgery.
b. Hand Lamellar Keratoplasty: In patients with highly irregular corneas, where machines and lasers cannot perform Dr. Gulani uses his exquisite hand lamellar techniques. (anti-torque star suture)
2. Posterior (PLK): When a patient has a compromised posterior layer of the cornea which includes endothelial cells like in Fuchs Corneal Dystrophy or psuedophakic bullous keratopathy Dr. Gulani delicately exchanges just that thin posterior layer with his renowned "No-Stitch" technique (Gulani key-hole transplant) in the following categories:

a. Descemet's Stripping Endothelial Keratoplasty (DSEK and DSAEK) and ultra-thin DSEK: in this technique the endothelial layer in addition to a portion of the stroma tissue is exchanged.
b. Descemet's Membrane Endothelial Keratoplasty (DMEK): in this thin graft technique only the endothelium with its Descemet's membrane is exchanged as a delicate scroll.
c. Descemet's Stripping Endothelial Rejuvenation (DSERV): Over the last decade Dr. Gulani has further raised these minimalistic transplant techniques to not even needing a transplant. With this technique he removes the patient's diseased endothelial cells to allow cell rejuvenation on its own.
II. PKP – Penetrating Keratoplasty (full thickness corneal transplant) where the entire host cornea is replaced by a donor cornea. Full thickness corneal transplants are rarely needed given Dr. Gulani's expertise with lamellar transplant techniques (minimal invasive corneal layer exchanges), however there can be situations that require PKP. In this technique the full thickness of the patient's damaged cornea is replaced with a donor cornea that is then stitched in place using Dr. Gulani's astigmatism lowering techniques.

III. Artificial Corneal Transplant – Among the first in the world to be involved in artificial materials for corneal transplants, Dr. Gulani has performed artificial corneal transplants in patients with extreme corneal pathologies and especially those who have been referred to him following multiple failed human transplants. One among these surgeries was so impactful that the Times-Union bestowed the name Man of Vision on Dr. Gulani while the American Society of Cataract and Refractive Surgeries (ASCRS) awarded him first prize at its surgical film festival competition.

If for any reason you have undergone any kind of corneal transplant with your surgeon you can still be corrected with Dr. Gulani's CorneoplastiqueTM Techniques that include custom designed LaZrplastiqueTM, LenzOplastiqueTM, and even staged combination straight to vision without glasses and contact lenses.