Pinguecula
Dr. Gulani describes pinguecula as a miniature or small pterygium and having successfully corrected pterygium with his no-stitch amniotic surgery he has become a world destination for patients seeking pinguecula correction for cosmetic reasons. Dr. Gulani has shared his 3 decades of success for eye surgeons in his textbook.
Most patients with pinguecula travel to Dr. Gulani with a common complaint that their eye doctor did not take their symptoms seriously and casually dismissed them with eye drops and a "there is nothing to do" or "live with it" judging them with perceived vanity over genuine concern. While teaching pinguecula surgery globally Dr. Gulani encourages eye surgeons to empathize with patients who complain about pinguecula and genuinely understands their suffering which ranges from in severity in categories from patients' heightened self-consciousness about appearance, lowered self-esteem, even to the point of depression.

Though we do not guarantee outcomes of pinguecula surgery cosmetic or otherwise the glowing testimonials of our worldwide patients underscores their gratification from our surgical results.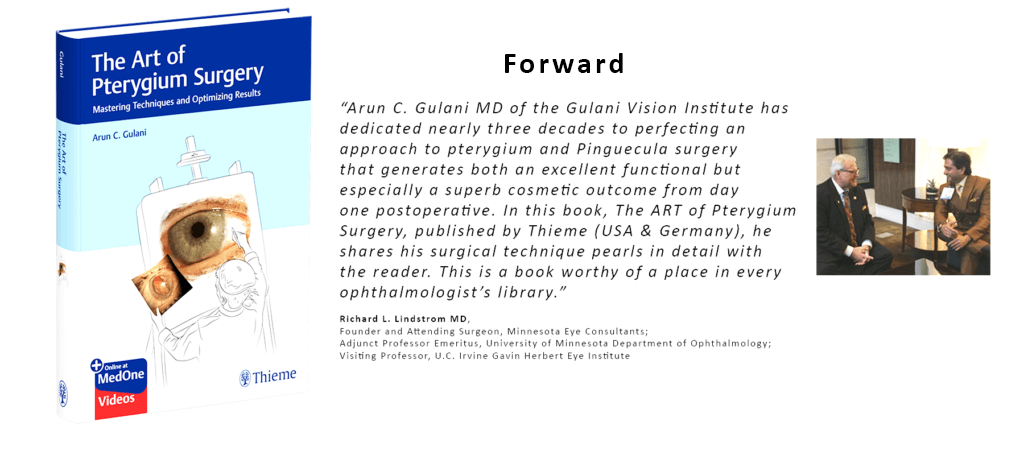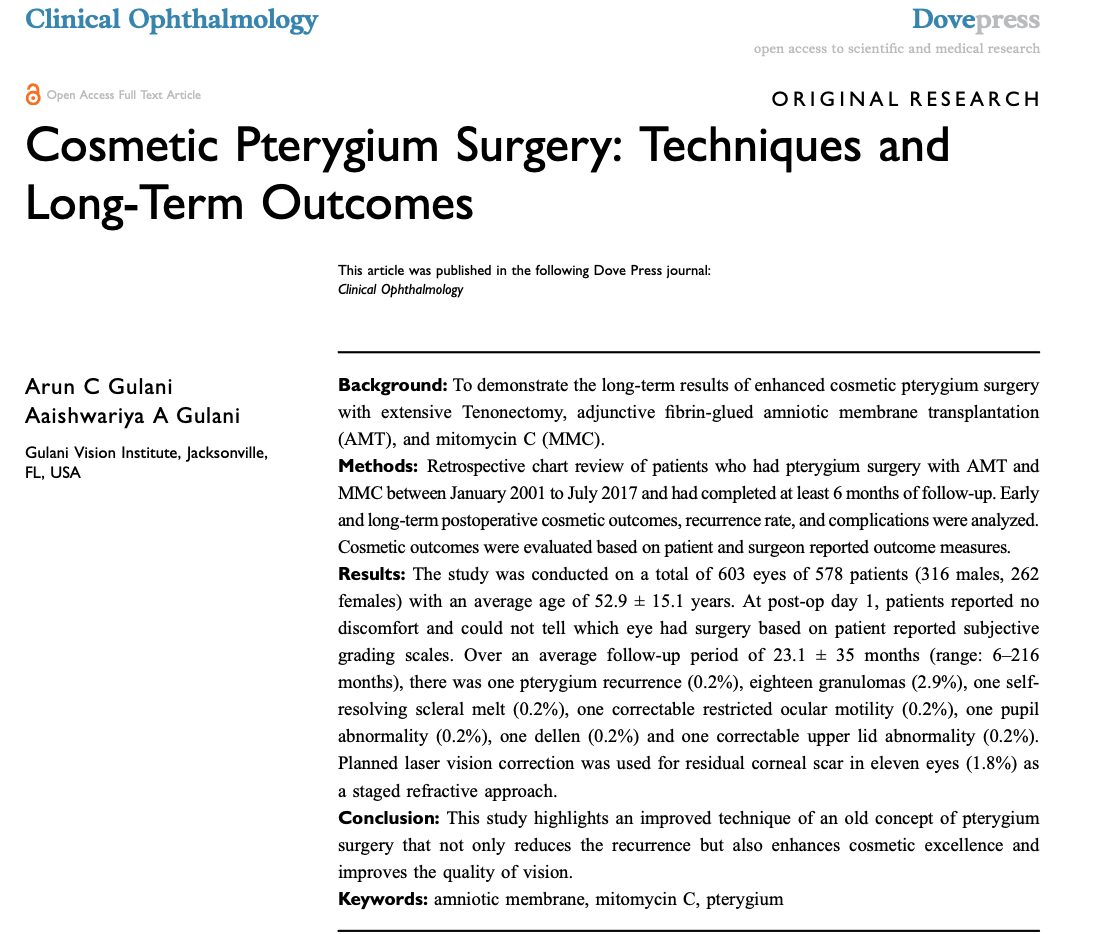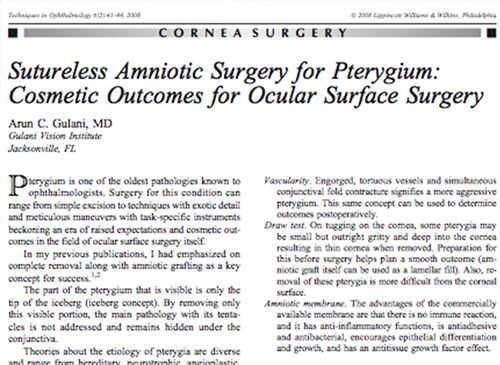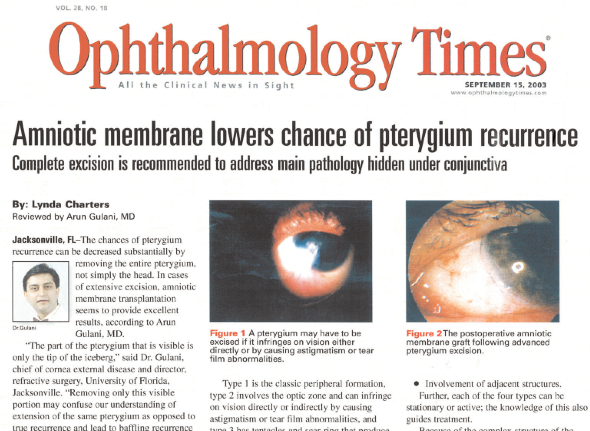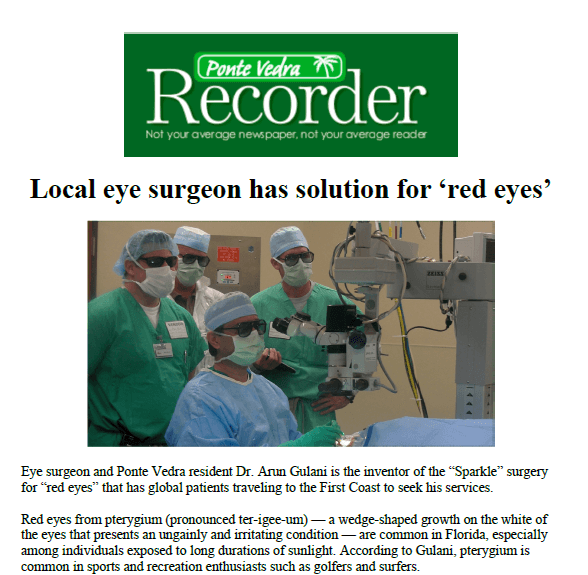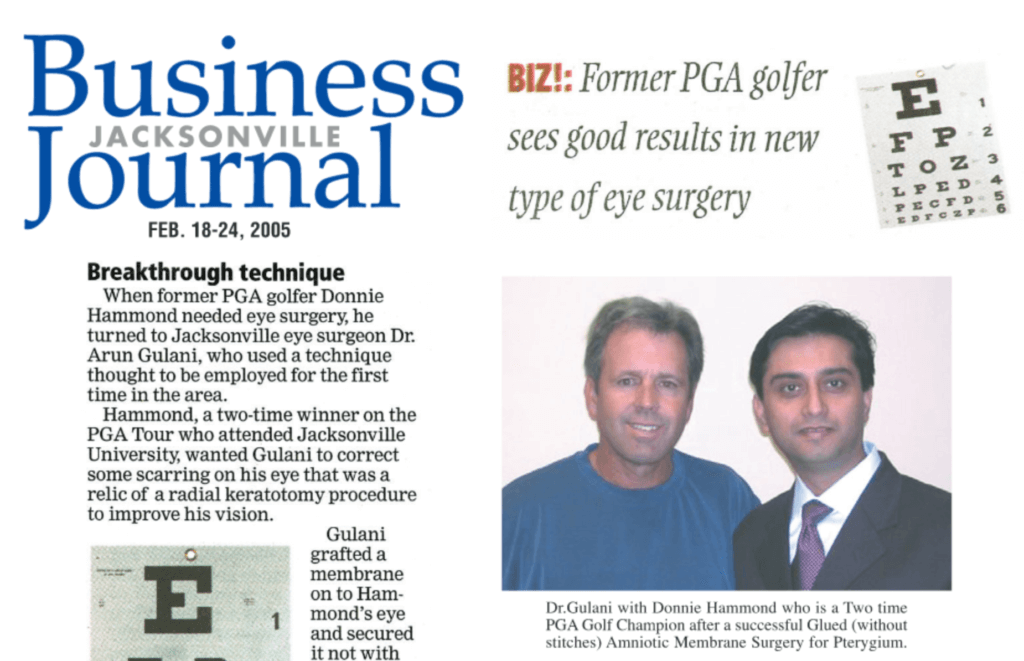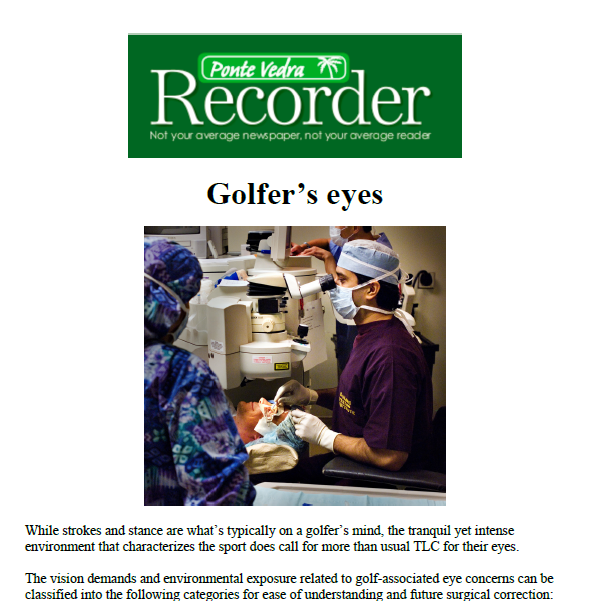 Patients with pinguecula undergo extensive diagnostics and a detailed personal consultation with Dr. Gulani where he further classifies the pinguecula anatomically, visually, and functionally including by location (one sided or both sided of the eye) to then custom design his no stitch surgery accordingly.
Further categorizing pinguecula with its associated conditions like:
Pinguecula with dry eyes
Pinguecula with vision errors (glasses or contact lens prescription)
Pinguecula with cataracts
Pinguecula with previous surgeries
Pinguecula with Dry Eyes
In Dr. Gulani's experience most pinguecula patients have ocular surface instability and dry eyes. Using his propriety m.o.i.s.t.TM therapy Dr. Gulani first corrects the dry eyes and stabilizes the ocular surface to then proceed with pinguecula surgery. In some cases he may even do the dry eye therapy after surgery.
Pinguecula with Vision Errors
Many patients with pinguecula may have associated vision errors like nearsightedness (myopia), farsightedness (hyperopia), astigmatism, or presbyopia (reading glasses). With his full spectrum KLEARTM system, Dr. Gulani can custom design vision corrective surgeries to also fix these associated vision errors. Based on his detailed assessment for that particular patient Dr. Gulani will then plan the sequence of these two surgeries. Performing either the vision corrective surgery (Nex-Gen Lasik or cataract) before or after the pinguecula surgery. In certain selective cases he may even do it combined in the same sitting always following the patient's best interest and safety.
Pinguecula with Cataracts
As a pioneer of custom cataract surgery Dr. Gulani can address all kinds of cataract including those with associated vision errors (nearsightedness, farsightedness, astigmatism,) to correct the patient's vision and tailor his plan to correct the cataract before or after pinguecula surgery or in certain cases even in the same sitting.
Pinguecula with previous surgeries
Many pinguecula patients may have already undergone laser or cataract surgery and Dr. Gulani teaches surgeons to be mindful of not damaging their previous surgical area or vision. Dr. Gulani's no-stitch elegant amniotic technique successfully has a proven track record of maintaining and in some cases even enhancing the patient's vision.
Fixing Pinguecula Recurrence and Complications
Dr. Gulani is a world resource for pinguecula patient that have had recurrent or complications with their surgeon elsewhere. Using his no-stitch amniotic reconstructive techniques Dr. Gulani has successfully corrected numerous patients and relieved them of their recurrence and complications and in many cases bringing them back to vision outcomes.
Prevention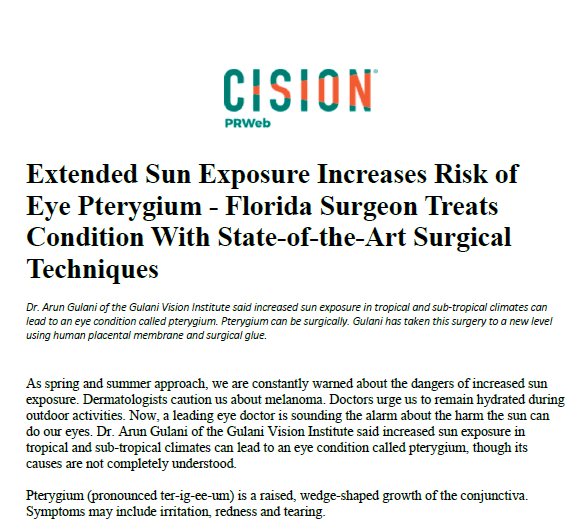 Lifestyle changes including eye protection from sunlight and harsh climate will always help – against progression of the disease, and also post surgical rehabilitation to the best possible outcome.