ICL
Vision ICL is one among many phakic implant technologies (used in addition to the patients natural crystalline lens) that are manufactured to help patients with extreme vision errors such as high myopia. Dr. Gulani was involved in one of the first US clinical trials of phakic implant designs having experience with Japanese Momose and French Bikoff lens the Dutch Worst lens and the Russian Fyodorov lens which ultimately came to be known as the Visian ICL.

Dr. Gulani's experience with these technologies and their evolution over time allowed him to master not only the function and delivery of these phakic implants but also project their future direction in vision corrective surgery. Among all the phakic implant technologies Dr. Gulani's preferred technology is the Visian ICL.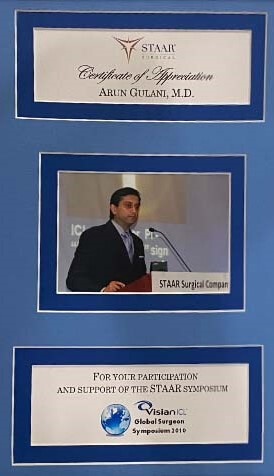 While most surgeons have over the years have gained experience with the Visian ICL technology in extreme nearsightedness, astigmatism (recently US FDA approved) and extreme farsightedness (not approved in the US) Dr. Gulani not only designs this application in extreme vision corrective errors he is also experienced in using the Vision ICL in combination and complex cases.
The Visian ICL has been shown to be highly effective for patients with a wide range of refractive errors. In fact, the Visian ICL can correct myopia from as low as -3.0 diopters to -16.0 diopters and reduce myopia from -16.0 diopters up to as high as -20.0 diopters, with or without astigmatism. Until now, some of individuals that were not candidates for surgical eye correction (LASIK) had no choice. Today, there's the Visian ICL. As of 2008, there were more than 80,000 Visian ICL implants performed worldwide. And when asked about the Visian ICL procedure, over 99% of the patients indicated that they were highly satisfied.
Twinning with ICLs:


Two physician twins underwent custom-tailored ICL surgery for their extreme nearsightedness and astigmatism. What was funny in this story was that when Dr. Gulani had completed correcting the vision in both eyes of the first brother, the twin brother traveled to him wearing his thick glasses and surprised Dr. Gulani by saying, "Your surgery failed I am still wearing glasses!" He then laughed and then admitted that he was the twin brother that Dr. Gulani was yet to operate on.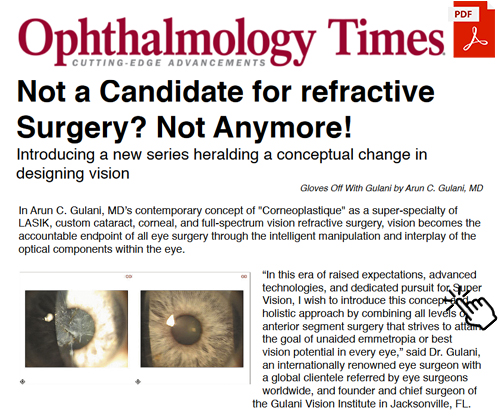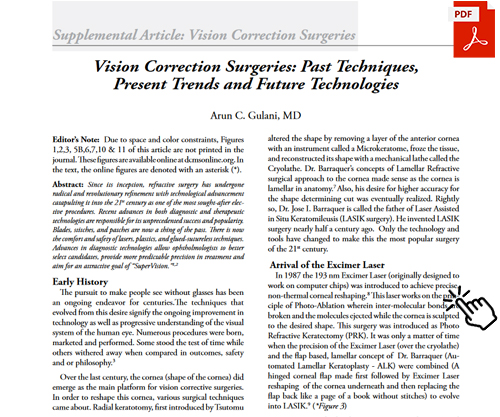 What is ICL (Implantable Contact Lenses)

ICL is what most people refer to as "implantable contact lenses," the FDA prefers the term "implantable collamer lenses" to avoid confusion with regular contact lenses. The implantable lenses are made of collamer, which is a type of collagen. These implantable contact lenses surgically inserted into the eye, giving you a more permanent solution to traditional contact lenses, and if your vision does change, these lenses can be replaced with a different prescription.
Implantable Contact Lens & ICL Surgery
Implantable contact lenses are inserted through a tiny incision made in the cornea. Then they are placed in front of the eye's natural lens. Implantable Collamer Lens have already been shown to be safe and make an effective alternative for treatment of nearsightedness.
Dr. Gulani, with his ability to offer the full spectrum of vision correction surgery, can also perform Advanced Laser Vision Surgery following your ICL implant. This combination surgery, called "Bioptics," can aim to achieve your individual vision goals.
Complex ICL
With nearly three decades of experience with phakic implant technologies given his international privileges, Dr. Gulani has even applied ICL in complex cases like Keratoconus, Radial Keratotomy (RK), and cataract surgery enhancement. These particular eyes require a delicate balance of experience, surgical precision, and thorough knowledge of optical correlates in the eye.
ICL Enhancement Surgery
In cases where a patient has undergone ICL surgery with their surgeon but were left with suboptimal vision, Dr. Gulani using the full range KLEARTM can further enhance their ICL vision. For example, by using LaZrPlastiqueTM over ICL.
ICL Combination Surgery
With three decades of extensive experience and with cutting-edge technology, Dr. Gulani has even used ICL in combination techniques to correct patients with not only with extreme vision corrective errors but with associated surgical or inherited abnormalities.
ICL Complication Correction
As a world resource for ICL complication corrections Dr. Gulani likes to classify ICL complications into two categories:
Anatomical – like cataracts and anterior segment distortions.
Refractive – for example a patient that has undergone 12 previous procedures for his ICL and was then referred to Dr. Gulani. He was brought to 20/20 using a staged complication correction.
Future Directions of ICL and Phakic Implant Technologies:

Dr. Gulani continues to be involved in this exciting technology while striving to further increase predictability and accuracy with newer biocompatible materials of implant platforms. He was also involved with the Jan Worst lens implant (now known as the Artisan lens of Ophtec Germany) and many other evolving phakic implant technologies to further expand candidacy of deserving patients globally.