ICL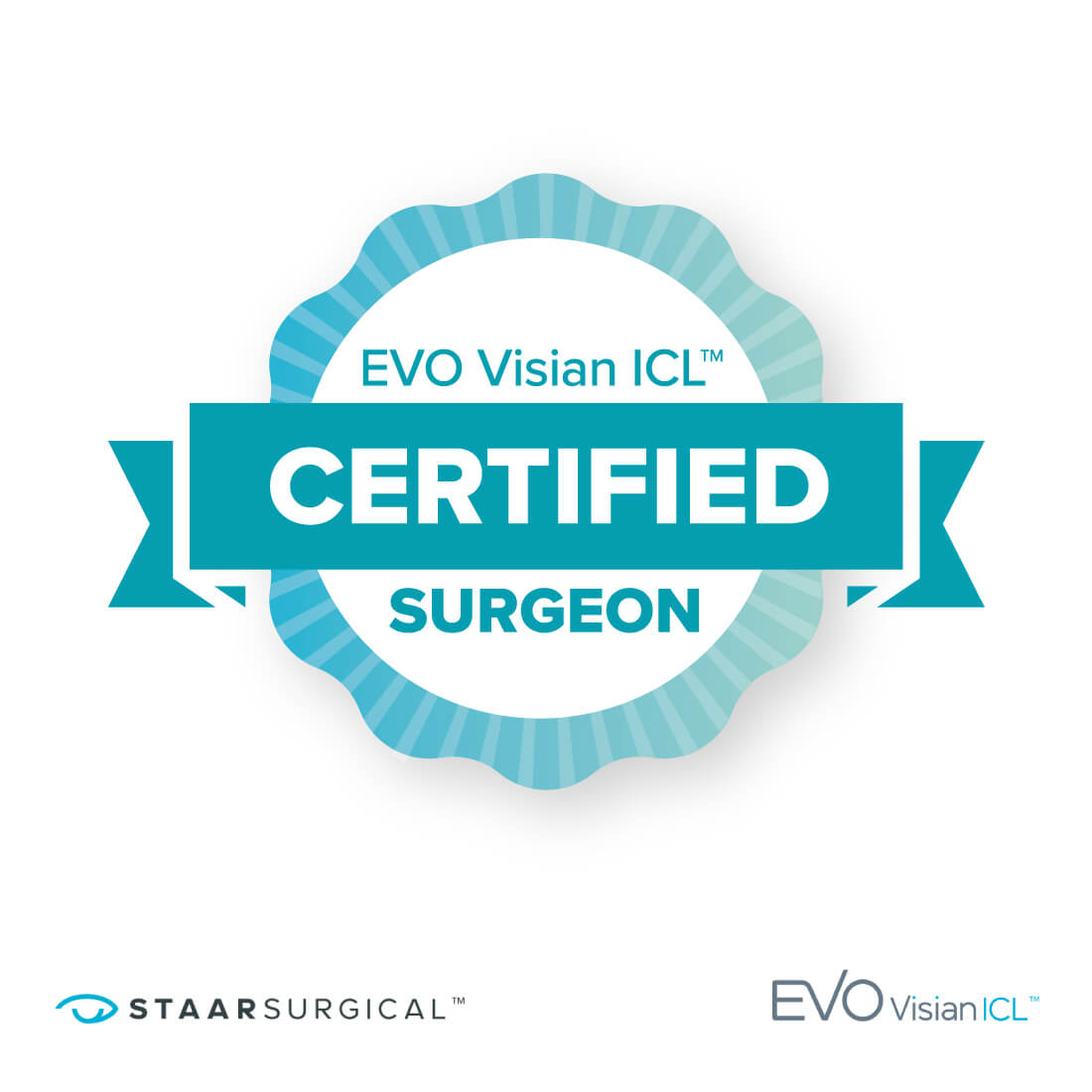 EVO ICL technology in Jacksonville for worldwide patients is a recent FDA approved option for many patients (among nearly 10 million patients in the USA) who may not be candidates for LASIK surgery due to their extreme Nearsightedness and Astigmatism.
It is the latest evolution of lens implant technologies called 'Phakic Implants" (lens implants that are placed inside an eye that has its natural crystalline lens). In March of 2022, The EVO ICL (manufactured by STAAR® Surgical) was approved by the US FDA for high nearsighted (myopia) prescription with or without astigmatism.
Dr. Gulani, founding Director & Chief Surgeon at Gulani Vison Institute, with his international privileges, has been involved with a wide range of phakic implants over 3 decades with proven experience of using such advanced technology beyond routine cases to even perform in complex cases as well as correct complications of ICL surgeons globally, setting him apart as your eye surgeon of choice so you can lead your life with vision freedom and end the everyday turmoil and lifelong cost of glasses and contact lenses.
Well over a million EVO Visian ICL surgeries have been successfully performed abroad while the US FDA did its due diligence before releasing this promising technology in the United States of America and Dr. Gulani is fully certified as an EVO ICL® and the Evo Toric ICL® surgeon.

What is The GULANI Difference?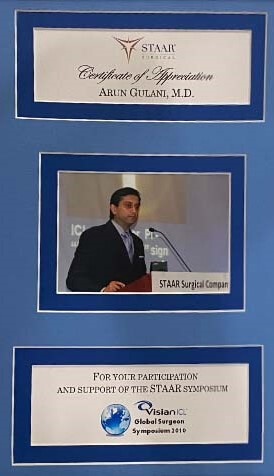 Dr. Gulani's vast experience with the full spectrum of vision corrective surgery (KLEAR™) as well as his status of being the surgeon who also corrects complications of ICL surgeons and patient complications for a global clientele, allows him to look at each eye holistically and envision the correct and custom-designed plan for every patient.
Many eye surgeons could jump onto the bandwagon of recently approved FDA technologies and advertise their way into "cookie-cutter", "surgery mills", without a full mastery of individualized surgery, technological edge, optical details, or long-term visual impact.
Dr. Gulani has experienced a wide spectrum of Phakic implants with his international privileges and was involved in one of the first US clinical trials of phakic implant designs having experience with the Japanese "Momose" Lens, the French "Baikoff" Lens, the Dutch "Worst" Lens and the Russian "Fyodorov" lens, which ultimately came to be known as the Visian ICL® and now, its latest version, the EVO ICL®. Among all the phakic implant technologies Dr. Gulani's preferred technology has been the Visian ICL® (EVO ICL®).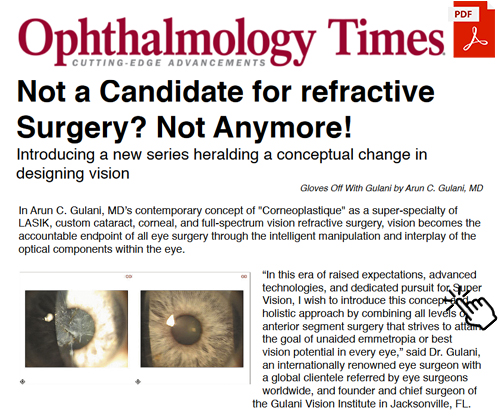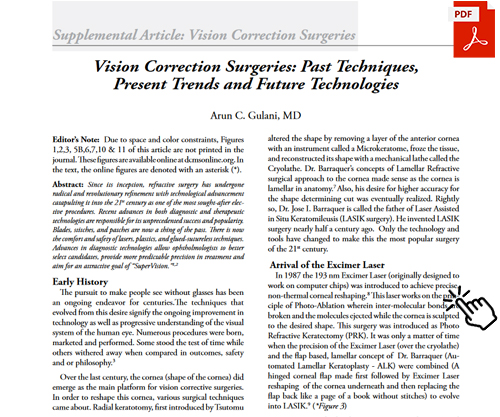 EVO ICL®, what is this exactly?
You may imagine the EVO ICL® to be like a contact lens which is microscopic in size and made of a material called collagen that is biocompatible (meaning your eye can tolerate this implant without any reactions) and is permanently placed inside your eyes in a procedure that is brief with just numbing drops. Truly an "EVO"lution!
How will EVO ICL® benefit me?
This revolutionary advance in Phakic implant technology eliminates an unpleasant pre-surgical step that was needed for previous versions of this technology and can help patients with high nearsightedness with or without astigmatism.
Also, Dr. Gulani teaches that since this implant is placed close to the "Nodal" point of the eye, optically it is far superior to Lasik eye surgery itself in delivering high-definition vision and in many cases even providing vision better that that the patient had with glasses or contact lenses.
It is made of a non-reactive material, you cannot feel it, and is safely tucked away inside the eye.
What could be possible risks or complications?
This evolution of ICL technology reduces potential risks that were a concern with previous models like increased IOP (pressure inside the eye), less or more correction, need to reposition or replace this implant if it rotates in the eye due to sizing or positioning. This advanced version has a central opening along with 4 periphery openings that allow exchange of nutrition for the natural crystalline lens while also allowing exchange and flow of fluid inside the eye to prevent touching the natural lens (which could cause early cataract) and prevent increased pressure.
Candidacy for EVO ICL®
This EVO Visian ICL® is best indicated for patients with high Nearsightedness and Astigmatism and especially if they are not candidates for LASIK eye surgery due to thin corneas or dry eyes. Exact numbers include FDA approval for up to -20.00D Myopia (Nearsightedness) and -4.00D Astigmatism. Ask about the EVO ICL® or EVO Toric ICL®.
So, if you are over 19 years of age with a stable refraction (glasses and or contact lens prescription) and have healthy eyes, you can seek this technology.
Pre-Surgical Assessment
In an in-depth, personal consultation using Advanced Diagnostic technologies, you will undergo a series of tests to determine your anatomical and physiological as well as visual criteria and measurements to determine if you are a candidate for this surgery and technology.

What should I expect in the Evo ICL® Surgical process?

After your in-depth eye exam including visual system analysis with advanced diagnostics during your personal consult with Dr.Gulani, your custom-designed surgical plan will be outlined and a specific EVO ICL® ordered based on your unique prescription, sizing and degree axis alignment.
On the day of your procedure, you shall arrive at our iVision Suite (USPTO trademarked, Gulani Eye Surgical SPA) at our institute and our team along with Dr. Gulani will check all parameters, Lens implant specifications and review your unique custom surgical plan.
Your eyes will be numbed with drops, and you will lie comfortably listening to soothing music in a SPA like ambience (that is how many of our worldwide patients have described our iVision suite).
Within minutes, the EVO ICL® will be gently placed inside your eye and tucked into position to rest along a particular planned degree axis. There will be no injections or stitches and you shall be able to standup and walk out on your own.
Dr. Gulani, with his ability to offer the full spectrum of vision correction surgery, can also perform Advanced Laser Vision Surgery following your ICL implant. This combination surgery, called "Bioptics," can aim to achieve your individual vision goals.
ICL in Keratoconus cases:
Given Dr. Gulani's mastery in delivering vision to Keratoconus patients at all levels of severities, he does apply ICL technology in certain cases in his Keratoconus correction algorithm. For example in this case of stable Keratoconus with High Myopia and Astigmatism where he placed the EVO Toric ICl and brough the patient straight to 20/20 vision without glasses or contact lenses.
Complex ICL
With nearly three decades of experience with phakic implant technologies given his international privileges, Dr. Gulani has even applied ICL in complex cases like Keratoconus, Radial Keratotomy (RK), and cataract surgery enhancement. These particular eyes require a delicate balance of experience, surgical precision, and thorough knowledge of optical correlates in the eye.
ICL Enhancement Surgery
In cases where a patient has undergone ICL surgery with their surgeon but were left with sub-optimal vision, Dr. Gulani using the full range KLEARTM can further enhance their ICL vision. Like in this case, where he used LaZrPlastique® to compensate for the wrong ICL power and axis and brought this patient to 2020 vision without glasses.
ICL Combination Surgery
With three decades of extensive experience and with cutting-edge technology, Dr. Gulani has even used ICL in combination techniques to correct patients with not only extreme vision corrective errors but with associated surgical or inherited abnormalities like in this case where this patient underwent no stitch human placenta surgery to reconstruct the ocular surface and then proceeded with custom designed ICL surgery to vision freedom.
ICL Complication Correction
As a world resource for ICL complication corrections Dr. Gulani likes to classify ICL complications into two categories:
Anatomical – like cataracts and anterior segment distortions.
Refractive – for example a patient that has undergone 12 previous procedures for his ICL and was then referred to Dr. Gulani. He was brought to 20/20 using a staged complication correction.
Twinning with ICLs:


Two physician twins underwent custom-tailored ICL surgery for their extreme nearsightedness and astigmatism. What was funny in this story was that when Dr. Gulani had completed correcting the vision in both eyes of the first brother, the twin brother traveled to him wearing his thick glasses and surprised Dr. Gulani by saying, "Your surgery failed I am still wearing glasses!" He then laughed and then admitted that he was the twin brother that Dr. Gulani was yet to operate on.
Future Directions of ICL and Phakic Implant Technologies:

Dr. Gulani continues to be involved in this exciting technology while striving to further increase predictability and accuracy with newer biocompatible materials of implant platforms.
As a consultant to patients, eye surgeons and the eye care industry, he continues to innovate and lead to fulfill his passion to make people see the best they can.