LASIK Complication Correction
Though LASIK is one of the most successful eye surgeries in the field of medicine, complications and side effects can occur. Over nearly 3 decades of experience as a pioneer in developing advanced LASIK techniques and award winning inventions, Dr. Gulani has developed a proprietary protocol to enhance Lasik surgery outcomes and also correct Lasik complications successfully.

Given his unique grasp on the entire spectrum of Lasik and Corneal (Lasik surgery is performed on the Cornea of the eye) surgeries including his invented surgical tools and State of the Art technologies, Dr.Gulani is a world destination for fixing complications of Lasik surgeons.
Employing uniquely designed surgeries and technology combinations, he has helped thousands of patients from all over the world who even end up 20/20 once again and are relieved of their symptoms.

He selflessly teaches his Lasik complication courses at major national and International conferences for eye surgeons having authored books, book chapters, invented award-winning surgical instruments, numerous publications and surgical videos and is a go to surgeon for global news media.
Though he is very successful in correcting complications, he stresses to patients and Lasik surgeons alike that prevention is still the best way to go.
LASIK Complications: OPEN your Eyes: What You Really Need to Know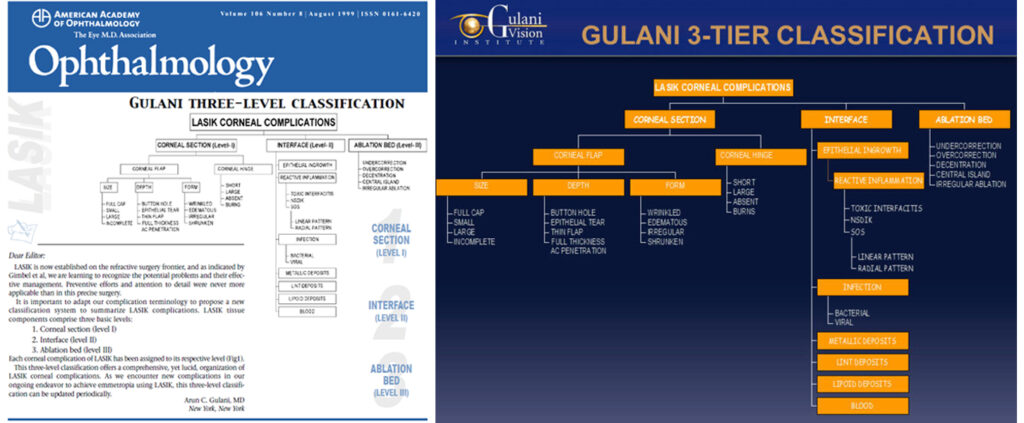 Editorial Interview of Dr. Gulani:
LASIK has become a household name for eye surgery and though extremely successful, complications and side effects can occur.
Nearly 30 years ago, I was privileged to have been exposed to Lasik eye surgery when it was yet to be approved and used by eye surgeons in the USA and that involvement allowed me opportunities to lead by inventing Lasik surgery instruments (Gulani Lasik instruments; Bausch & Lomb) and establish protocols as well as work with the ANSI division of the US FDA on various levels.
Having had exposure to nearly 20 different Refractive surgeries (Surgery to remove glasses), it was clear to me that his surgery had a permanent future infact a safer and more predictable one compared to previous and prevalent techniques then.
Having interacted with Dr. Jose Ingacio Barraquer (South America) and Dr. Slava Fyodorov (Russia) , my passion in this direction was set as I looked to eventually take this already excellent surgery to a level of safety and predictability worthy of its 193 Nanometer Excimer Laser.
Realizing that this surgery could practically correct all refractive errors including Nearsightedness, Farsightedness, Astigmatism and Presbyopia, was further reinforced by my patient reactions to this swift yet meticulously accurate surgical technique.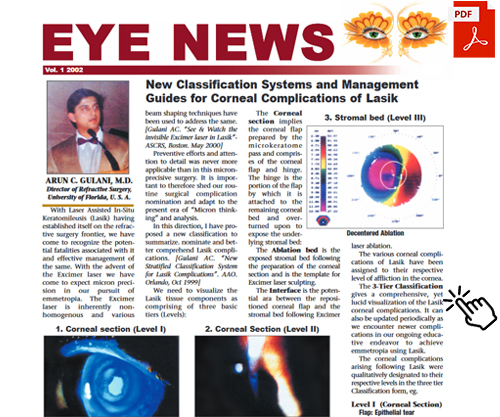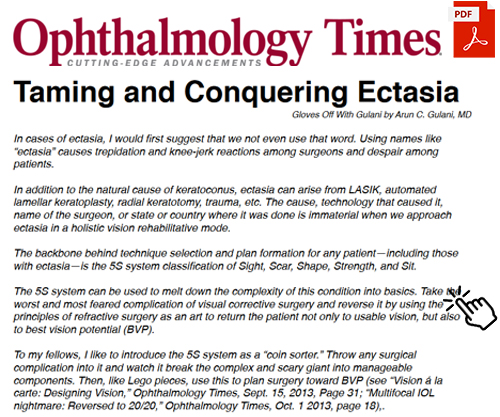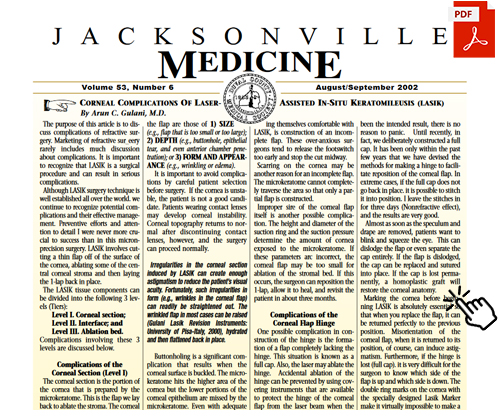 Having used practically every kind of Lasik Laser globally allowed me to visualize a surgery that many eye surgeons could master.
There was one fear though; its speed and safety along with its predictability could be wrongly advertised in the wrong hands and I envisioned complications that could occur by surgeons who may not have trained adequately on this specialty or companies trying to reel patients in for monetary gains.
Such a wave did happen as I saw patients being referred to me with various side effects and complications. I was able to correct many of these patients back to 20/20 using specially designed corneal surgeries (Lasik is performed on the cornea) but urged the industry to make fail safe Lasers and stronger protocols which eventually brought the success rate to today's level of patient and surgeon confidence.
Complications can occur with any surgery and yes, since it involves the eyes, it can hamper any patient's lifestyle adversely.
Therein it becomes important that patients do their research, don't fall for any advertisement or deals and do their due diligence as outlined below.
LASIK eye surgery involves the use of the very precise (cuts 1/4th of a micron at every pulse) Excimer Laser which re-shapes the cornea (clear front window) of the eye according to the glasses prescription of the patient.
The surgery is done in minutes, with the patient awake, active and participating; only numbing drops are used in the patient's eyes. This method provides the quickest healing and fastest results. Visual recovery is extremely fast most patients gain driving recovery by the day after surgery.
Unfortunately, these are the very reasons that this surgery has a tendency to become a commodity in many places enough to mislead the patients.
Dr. Gulani emphasizes that LASIK is just one among 23 Laser Vision Surgeries including LASEK (Laser Epithelial in situ Keratomileusis), Epi-Lasik (Epithelial flap Lasik), PRK (Photo-Refractive Keratectomy), ASA (Advanced Surface Ablation),SBK (Sub-Bowman's Keratomileusis), NexGen Lasik, Laser Corneoplastique, etc which themselves are among 48 different Vision Corrective Surgeries (surgeries to remove glasses and contact lenses) among over 100 permutations and combination approaches.
Thus if one understands how Vision Corrective Surgery and all possible combinations are what all Lasik surgeons must be capable of performing and offering, it becomes easy to realize how every patient can indeed have the best surgical technique tailored to them for the safes t and most predictable outcome. Change vision surgery offering from a Commodity to an ART.
Dr. Gulani has invented Lasik surgical instruments, published Lasik protocols and teaches Lasik complication management to eye surgeons all over the world. He has recently introduced a new super-specialty in Lasik called Laser Corneoplastique™ by which many of the Lasik complications can be corrected back to excellent vision.