Industry Advisor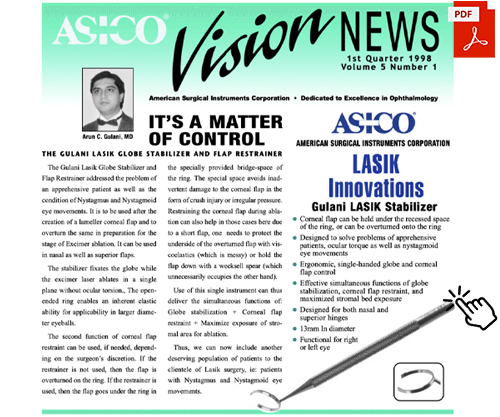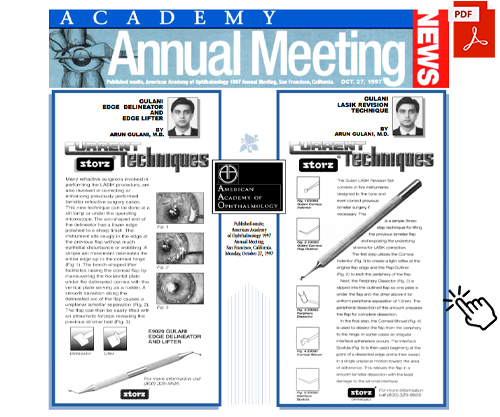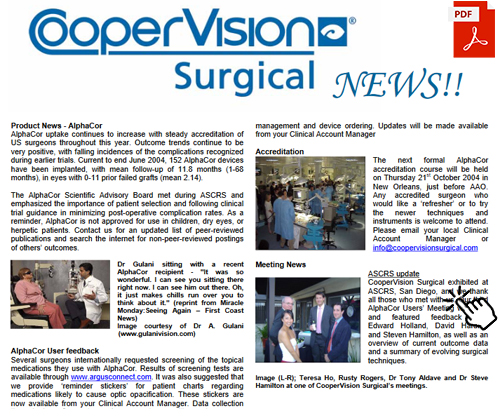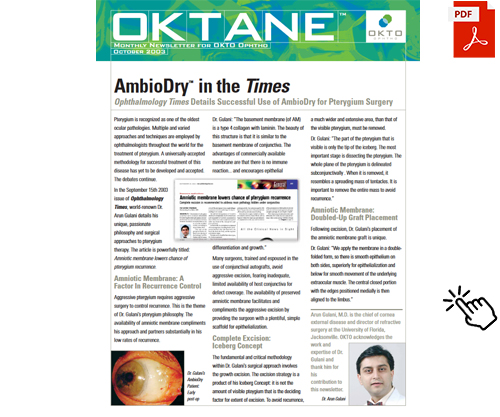 The eye care industry is one of the most vibrant, fast-paced, innovative, and technologically driven in the world of medicine. For this the industry looks up to key opinion leaders (KOLs) whom they trust in envisioning the future direction of eye care while having a finger on the pulse of the global population in scaling new heights of delivering vision.

Dr. Gulani has served in this role delivering leadership while designing the future at multiple levels:
He can not only predict and create the future, but he can also perform innovative surgical techniques to compliment technological breakthroughs.
Over 3 decades of experience in guiding and leading the industry into the future Dr. Gulani's reputation has been established in the industry as someone who's decisions can be consistently relied on.
With a global following of not only eye surgeons but also optometrists, opticians, and all levels of eye care providers the industry realizes his reach and foresight.
Many industry leaders themselves despite having access to all eye surgeons all over the world have chosen Dr. Gulani for eye surgery for themselves and their families.
Few KOLs can translate technological breakthroughs and new surgical techniques as eloquently as Dr. Gulani, which has endeared him to fellow eye surgeons globally who look up to him to help them learn and adapt for their own progress.

Whether it is the first book in the world he authored on Color Doppler technology application in eye tumors while still a junior resident in training, serving on the board of ANSI (American National Standards in Instrumentation), a branch of the US FDA or Artificial intelligence based teaching protocols and "No-Cut", 'No-Blade" Laser Vision techniques or designing and establishing the world's first Cataract surgical "SPA", it all solidifies his status in the world of eye care as a visionary many of his patients and colleagues have called the "daVinci" of eyes.




---

---
---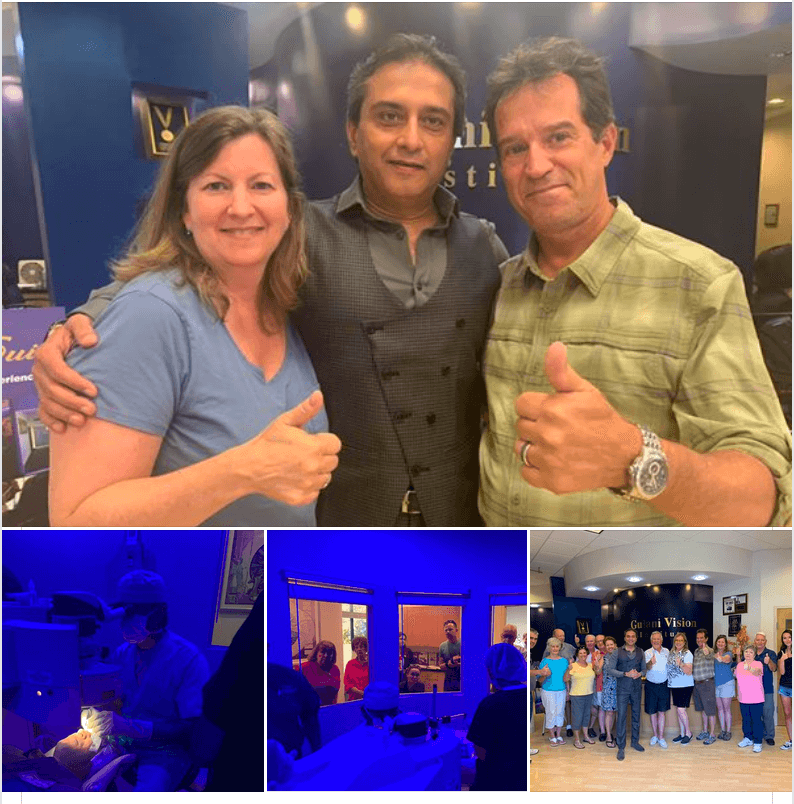 I WAS a skeptic AND now I am a Believer!!!

Accompanying My husband, Robert Herrick, across the USA to have Laser Corneal Plastique procedure by Dr Arun Gulani has been a world wind of emotions. Knowing Roberts relationship in the industry as the president of Lacrimedics and his friendship with Arun has been 30+ years, I wanted to know what the 'Catch' was and 'Why' he would be the one chosen to do this procedure.

Day one: Initial visit
We were greeted by a wonderful staff that were gracious, personal and professional which made us comfortable going through the initial tests/measurements. Asking and taking care of our personal needs. Then Dr Gulani appeared Bigger than Life, with so much confidence and self assurance, asking And answering Roberts and My questions. I started to calm down and feel better. We left with his advice to visit St Augustine and enjoy old town. Wanting us to make the most of our trip prior to Thursday's surgery (Day 3). We did and the trip was memorable!

Day two: Pre-op
Greeted the same, personal needs met, paperwork signed, staff and Dr Gulani asking about our visit to St Augustine, more measurements, questions answered…Feeling calmer and assured Dr Gulani is the right one to do this procedure on my Love. Saying prayers for both he and Robert! Left with more recommendations to visit the River Walk, Great Restaurants and to return next day for Surgery

Day 3: Surgery
Greeted the same, asked about our evening before, warm and welcoming responses (feeling like family). Then Surgery…nervous anticipation felt from Robert and I. We were allowed to view another patients procedure with their family and staff surrounding us. This experience is like no other! Dr Gulani is dressed in scrubs (designer, I'm sure!) and his energy, confidence is oozing and contagious. Robert enters surgery, I sit to view and 3.5 minutes later Robert walks out and is asked to read which he has not for 17 years without 'cheaters'.Tears streaming down my face with happiness, Robert in amazement and Dr Gulani Beaming!!

Day four: Post-op
Group photo with all other weeks patients who are ready to fly home! We were cheering, thumbs up and smiles galore!!

What an experience …. so much more to write but the takeaway is NO Catch just pure enthusiasm, celebrating the human connection and we are so Grateful for a wonderful, mind blowing experience!

–Beth Ann Kraft
---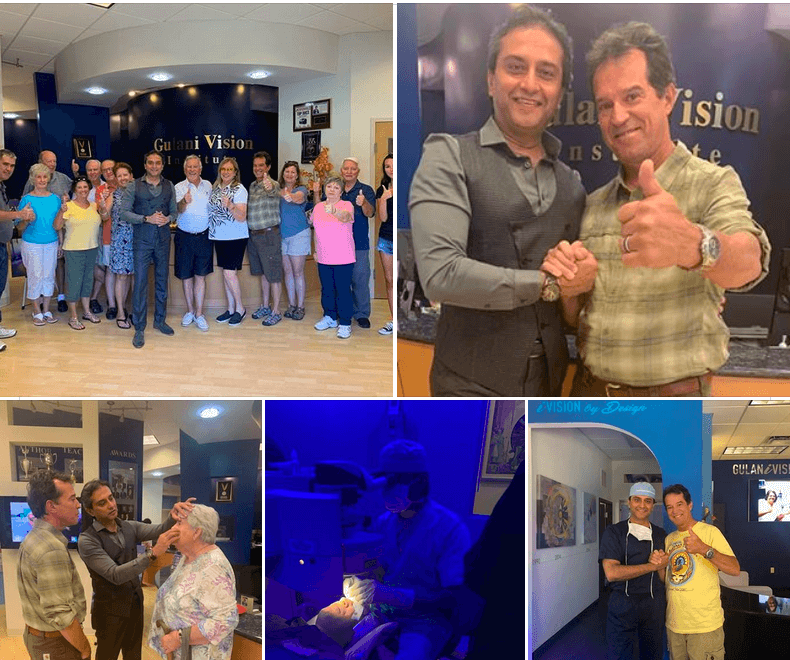 KOL of all KOLs (Key Opinion Leader)

At my follow-up visit today, I witnessed how Dr. Gulani is helping doctors, lawyers, professionals, and other patients who have had poor outcomes in other physicians offices. I saw patients being flown in by eye surgeons from all over the world, seeking his expertise. I feel Dr. Gulani has divinely Inspired "profound knowledge" not available from other doctors, universities, or hospitals.

On day one after my presbyopic (reading glasses) Laser Corneoplastique, I'm stunned by my level of comfort, and clarity of vision. No patches for me, and no pain!

He is delivering "next generation" vision care setting the highest standards for the future of refractive eye care. Immediately after my 3 1/2 minute procedure, I started thinking of my loved ones, and how I might sponsor them through this process.

Dr. Gulani is not just a leader in his field… He is passionately defining it!

–Robert Herrick
---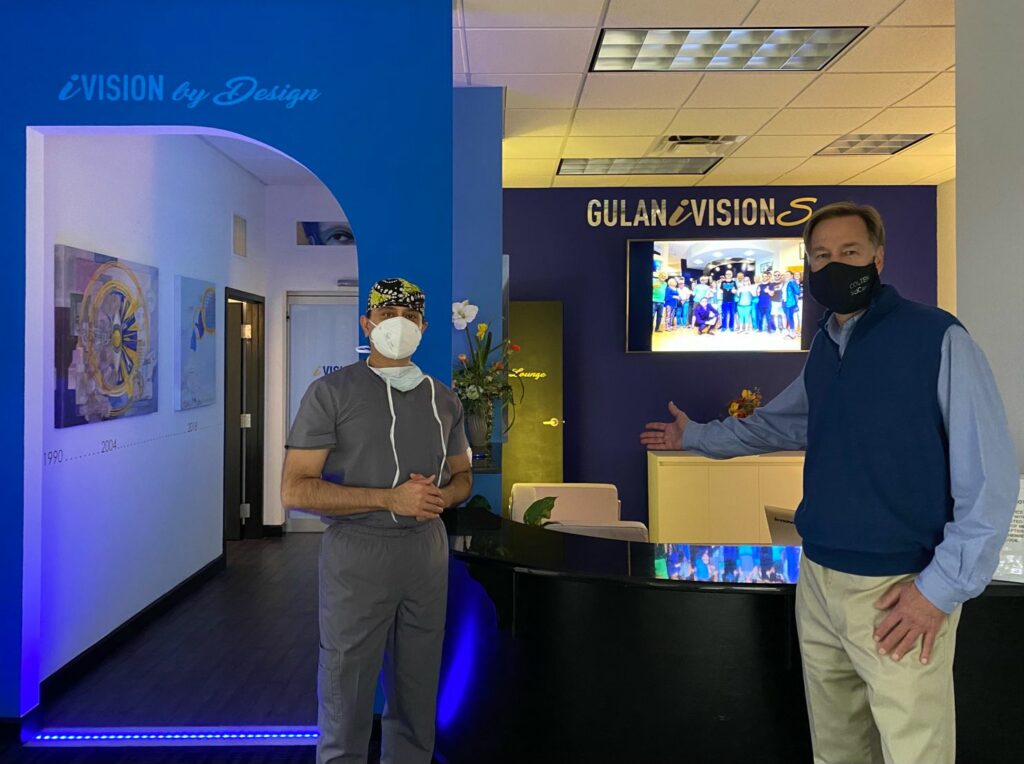 Over 20 years ago I met Dr Gulani (a long time Statim user) at the AAO. He shared his dream for the future of eye surgery. Today I visited that dream which he has turned into a reality for the world to follow. Congratulations!

-Mark Fowles
---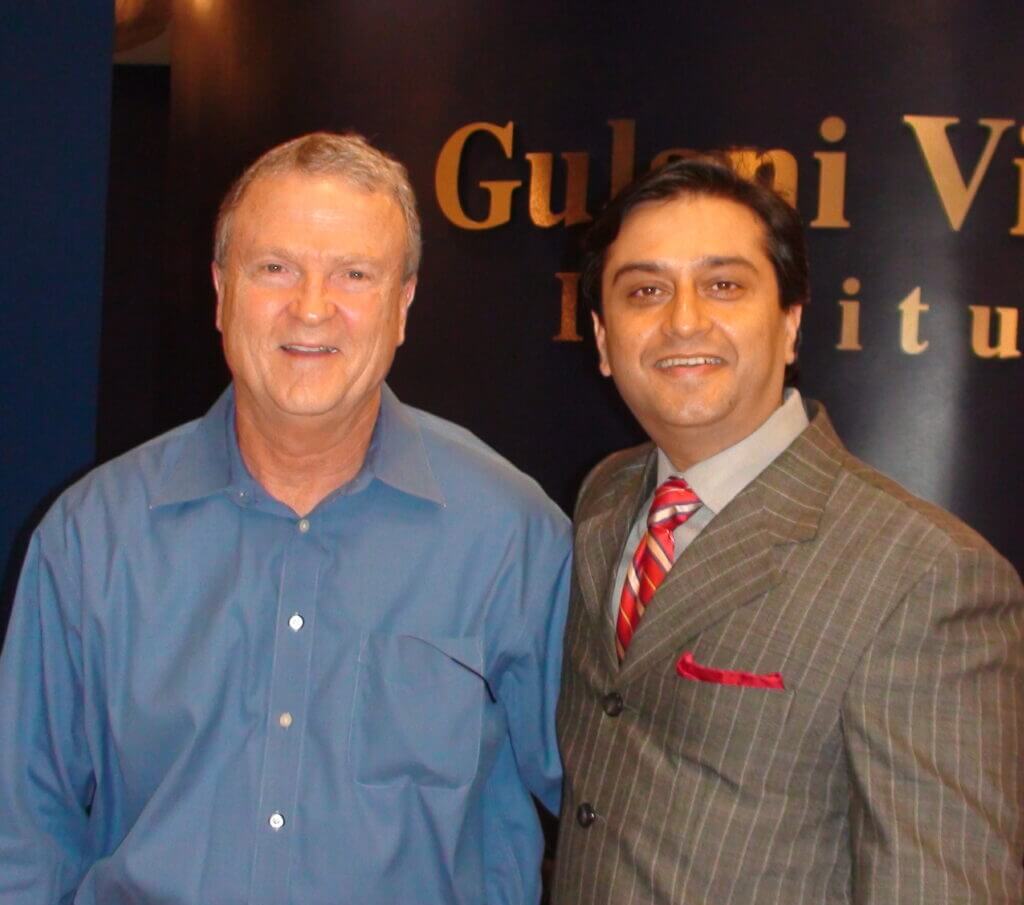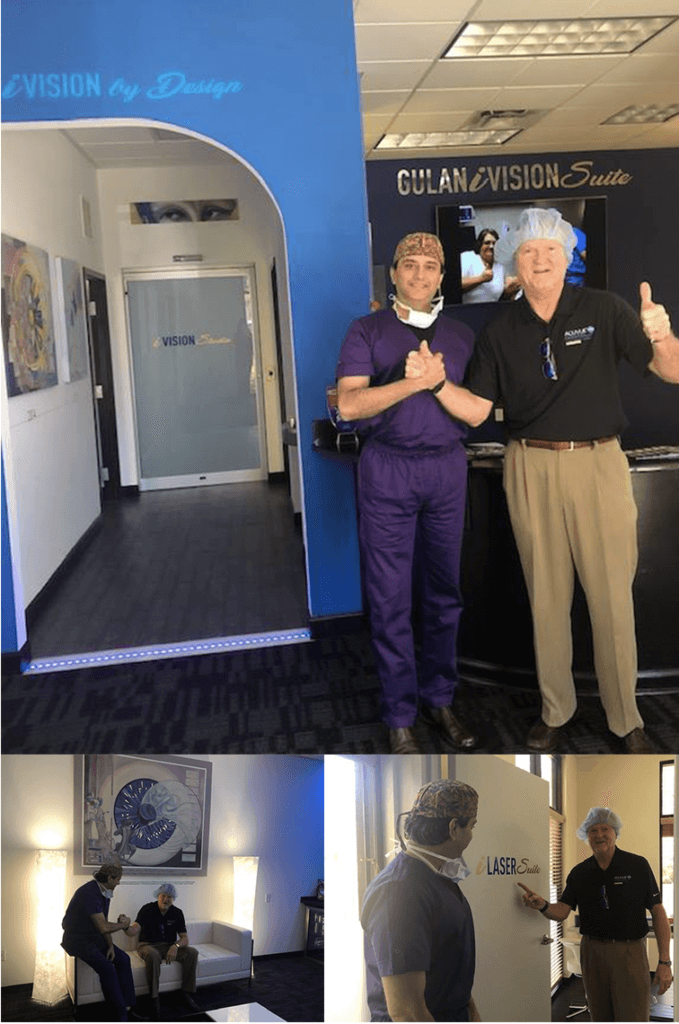 Eye Surgeon's, Eye Surgeon!

Being in the Eye Surgical field for over 30 years, I know most of the eye surgeons nationwide and chose Dr.Gulani for my own Cataract surgery. It is a pleasure to witness his continued Innovations and Passion over the years in raising the bar on eye surgery itself. His new Surgical facility is Out of this world and then his renowned surgical skills along with a compassionate demeanor; A breath of fresh air in today's world of medicine

–Dr. Steve Wilson
---


---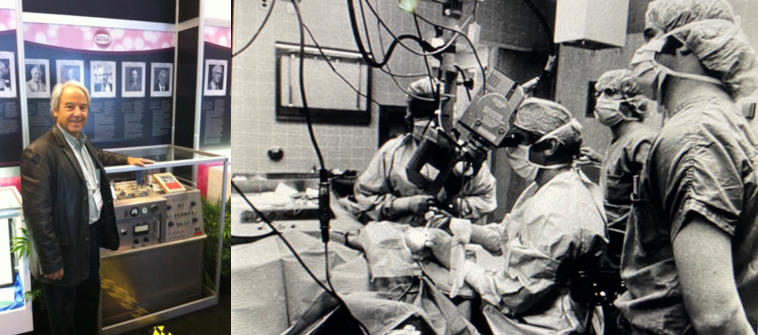 As a product developer and having worked in the field of Ophthalmology for over 4 decades with world-renowned Ophthalmologists, to name the late Drs. Charles Kelman and Donald Praeger. I have experienced many technological changes within the profession.

When I saw the advancements by Dr. Gulani, I immediately knew he was in the innovators Hall of Fame. Not being afraid to challenge the status quo, plan his approach like a NASA preparation for lift-off, and treat every patient with the GULANI seal of excellence.

-Lenny Muroff
---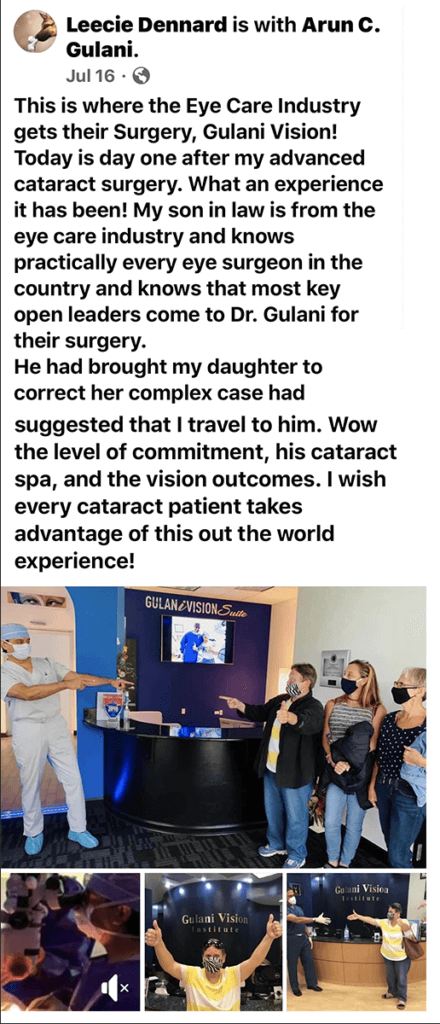 This is where the Eye Care Industry gets their Surgery, Gulani Vision! Today is day one after my advanced cataract surgery. What an experience it has been! My son in law is from the eye care industry and knows practically every eye surgeon in the country and knows that most key open leaders come to Dr. Gulani for their surgery. He had brought my daughter to correct her complex case had suggested that I travel to him. Wow the level of commitment, his cataract spa, and the vision outcomes. I wish every cataract patient takes advantage of this out the world experience!

-Leecie