News
As a World renowned Innovator and thought leader in the field of eye surgery, Dr. Gulani is highly sought after by local, national and international media for his expertise on numerous eye care issues. Dr. Gulani is featured in numerous television interviews, Newspapers, magazine articles, Online, Social and other news media sharing his insights and vision for the advancement of eye care and surgery globally.

Television
As a trusted innovator and international leader in the world of eye surgery Dr. Gulani is frequently sought by news channels all over the nation and world for his breakthrough innovations as well as authoritative statements on current events in eye care.
LEARN MORE
Medical Media
Dr. Gulani's innovative work in the field of eye care over 3 decades besides being published in medical periodicals is also called upon for one on one interviews in medical media.
LEARN MORE
Blog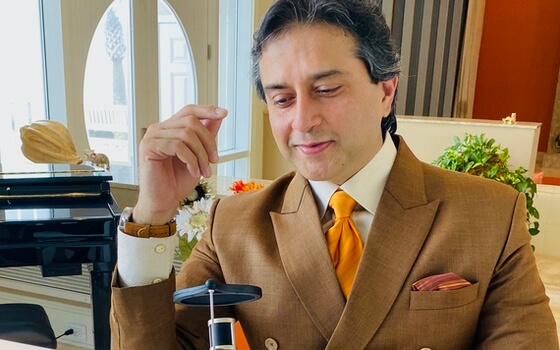 As a venue to convey and relay everyday innovations and vision breakthrough stories at Gulani Vision Institute with a patient clientele from all over the world the Gulani Vision Blog has become a platform that eye surgeons, patients and eye care industry looks forward to on a regular basis.
LEARN MORE
Press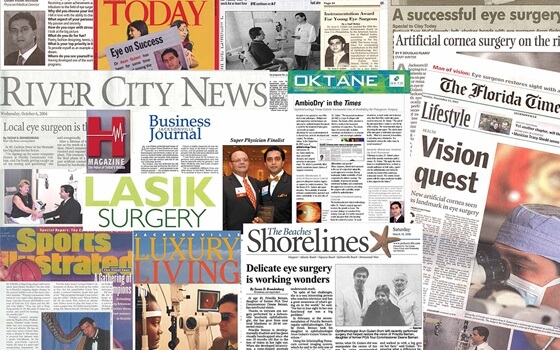 Dr. Gulani's position not only as a world authority in eye surgery but also as the voice of the eye care community and patients globally is often sought by the press for any medical breakthrough, consumer safety or eye care industry related statements and interviews.
LEARN MORE
Radio & Podcasts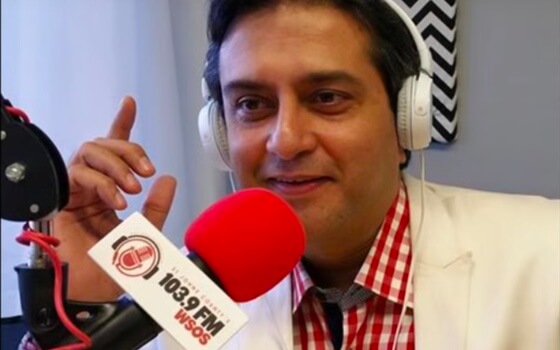 With an impeccable command in the field of eye surgery and eye care itself Dr. Gulani is able to successfully convey his thoughts and statements even via the non-visual media of radio and podcasts.
LEARN MORE
Dr. Gulani's work in the field of eye care has a global impact not only for providing superlative vision to a worldwide clientele of patients flying to him but also in teaching eye surgeons, optometrists, opticians, and all levels of eye care providers, while innovatively guiding the eye care industry into the future. This work, surgical outcomes, and leadership continues to be consistently recognized and honored by reputed organizations and news resources globally.

TV
Reputed and renowned news media and TV Channels like Fox, ABC, NBC, CBS have recognized and sought Dr. Gulani's time-trusted leadership with his track record over three decades not only as a superlative eye surgeon, who is a teacher to other eye surgeons world-wide, but also as a consumer advocate and industry leader to highlight his groundbreaking innovations and opinions on current topics.
---
NPR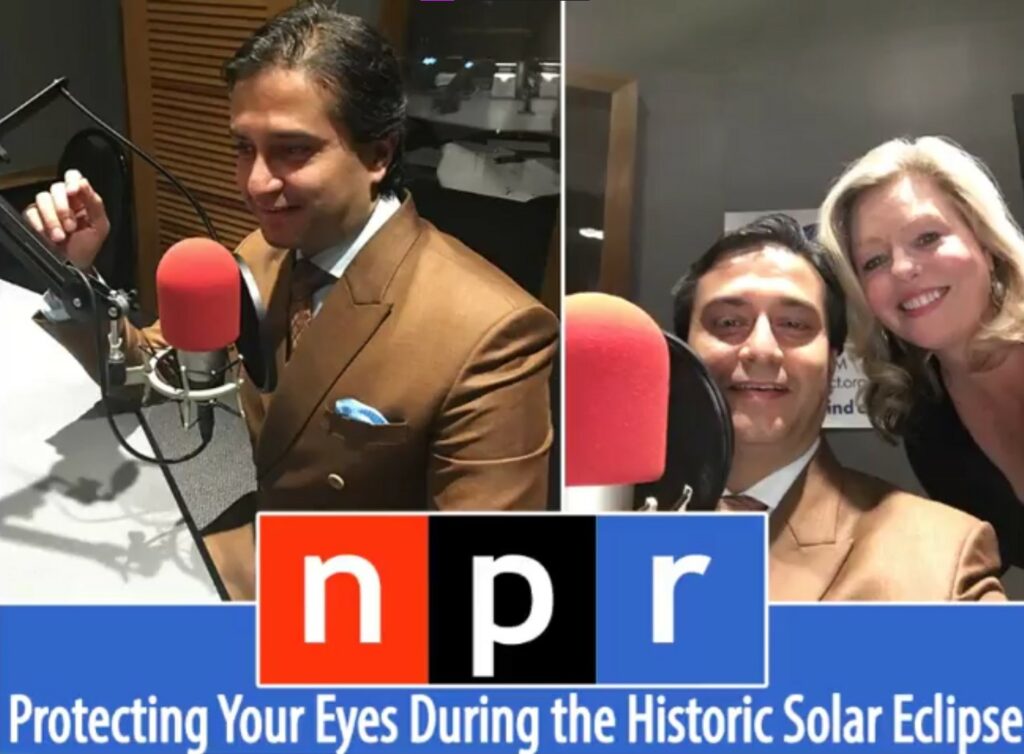 NPR is an independent, nonprofit media organization that was founded on a mission to create a more informed public. Every day, NPR connects with millions of Americans on the air, online, and in person to explore the news, ideas.
Dr. Gulani was featured on NPR for various topics such as corneal scarring and protecting your eyes during solar eclipses.
---
Ophthalmology Times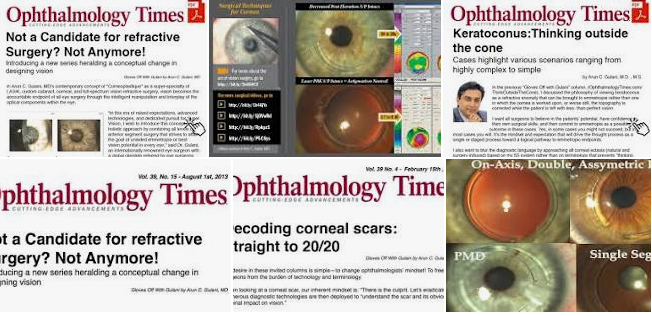 Ophthalmology Times a renowned publication in the world of eye care where eye surgeons get exposed to the latest innovations and future direction in the world of eye surgery has honored Dr. Gulani by selecting him for his bi-monthly columns "Gloves Off with Gulani" where Dr. Gulani shares his cutting edge techniques and innovations with eye surgeons globally.
---
Forbes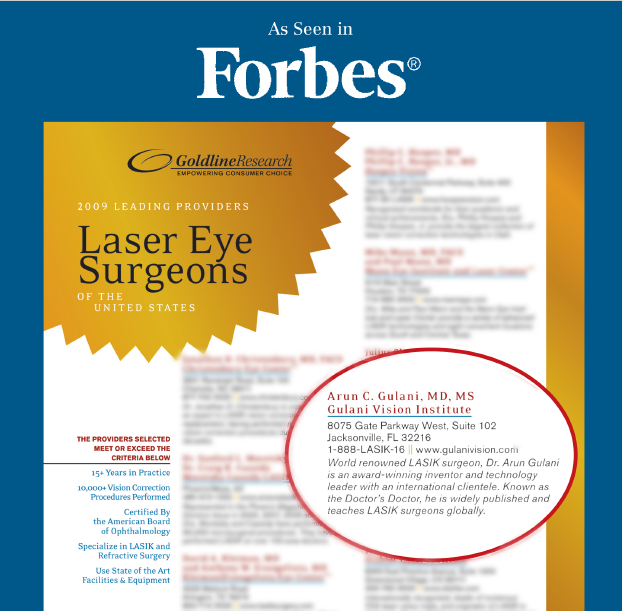 While Dr. Gulani is listed in FORBES magazine (Goldline research, an information services firm that evaluates professional services firms on behalf of consumers) among the Top Ten Laser Eye surgeons in the Nation, he continues to innovate, inspire, teach and publish as a consultant to patients, the eye care industry and fellow eye surgeons worldwide.
---
ASCRS
The American Society of Cataract and Refractive Surgeons (ASCRS) is a professional society for eye surgeons. It is designed to promote education, critical thinking and innovation. As such, the organization has looked to Dr. Gulani over the years for his groundbreaking work in the eye care industry.

---
AAO
The American Academy of Ophthalmology (AAO) is the world's largest association of eye surgeons. It's goal as an organization is to set the standards for ophthalmic education, advance the eye care industry, and advocate for patients. Dr. Gulani has been requested for presenting at conferences, interviews, and journal articles over the years.

---
Healthgrades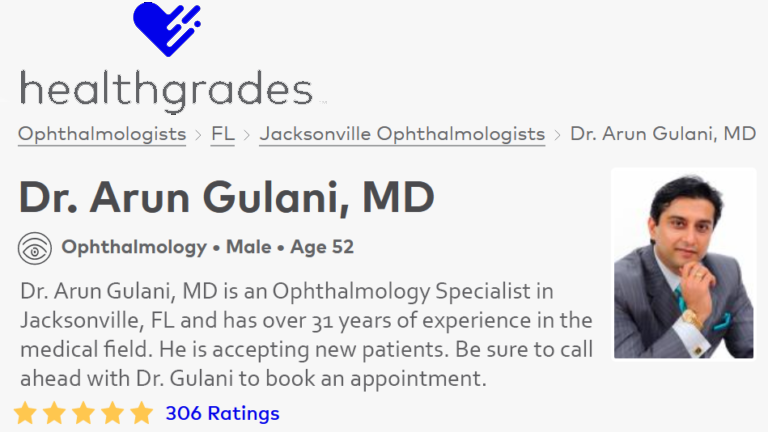 Healthgrades, is a US company that provides information about physicians, hospitals and health care providers. Healthgrades has amassed information on over 3 million U.S. health care providers.According to USA Today, Healthgrades is the first comprehensive physician rating and comparison database
"Dr. Gulani is a brilliant sculptor of vision! He takes eyes that have complicated and seemingly impossible issues and turns those broken pieces of art into masterpieces! My previous Ophthalmologist had told me that due to my LASIK surgery 21 years ago I would be doomed to wear contacts and glasses again. I was very depressed about this and thank God that my family doctor referred me to Dr. Gulani! —-"
Read more of what Dr. Gulani's patients are saying at Healthgrades.
---