Not A Candidate?
At Gulani Vision Institute in Florida, we go far beyond offering only Lasik and Cataract technques. In fact, we offer the full spectrum of laser vision surgeries. Dr. Gulani and his team are passionate about designing a Laser technique best suited to your eyes.

Dr. Gulani is an innovative eye surgeon, and has helped develop cutting edge techniques, instruments, and procedures to address the whole spectrum of eye conditions that require freedom from glasses or contact lenses. He approaches each eye like a camera and designs a customized plan for each patient's individual vision goals.
Dr. Gulani believes that the very question of "Am I a candidate doctor?" is un-warranted. It arises only because most surgeons perform one or two techniques of surgery and hence try and fit the surgery to the patient (Candidacy?). Dr. Gulani believes that this approach is flawed in that it pre-decides the surgery (due to limited options and abilities of the surgeon) instead of determining what is "Best for the patient". You may "not be a candidate" for the following most common reasons:
1. You may have Thin Cornea, Extreme Nearsightedness, High Astigmatism, Corneal scar etc.
2. You may have had Lasik or some refractive surgery in the past.
3. Also you may be a complication/ side effect or long term anomaly of a previous Refractive surgery.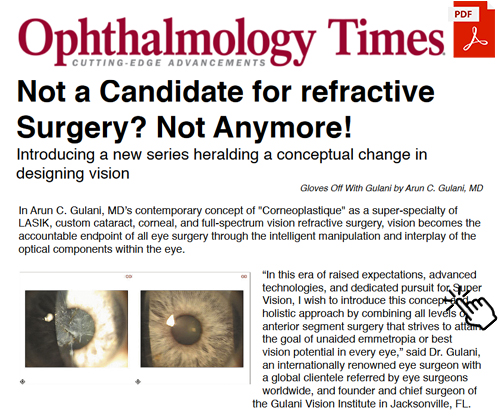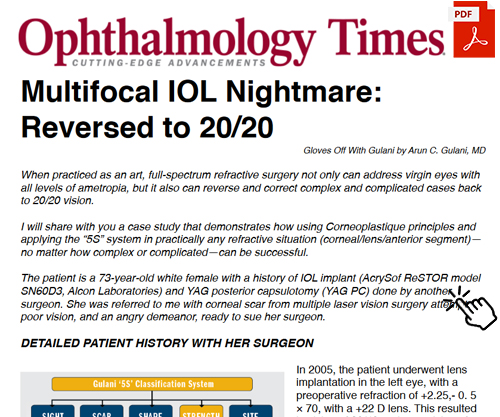 Laser Corneoplastique™
The ART of blending the full spectrum of corneal surgery to Prepare the cornea For Laser Vision Surgery or to Repair the cornea From Laser Vision Surgery is what Dr. Gulani has introduced as a super specialty in Lasik Laser Vision Surgery -CORNEOPLASTIQUE™ All of these "Not a Candidate" causes can be effectively corrected. LASIK is just one among over 16 Laser Vision Surgeries (ie. Custom Lasik, Wavefront Lasik, EpiLasik, Lasek, SBLasik, Bladeless Lasik, PRK, ASA etc), which are among 40 Vision Corrective Surgeries and combinations that Dr. Gulani performs.
Armed with so many techniques and technologies, he follows his extensive diagnostic evaluation during his personal consultation with you following which he determines the best technique or even combinations to aim for the best vision for your individual eye.