The Gulani Difference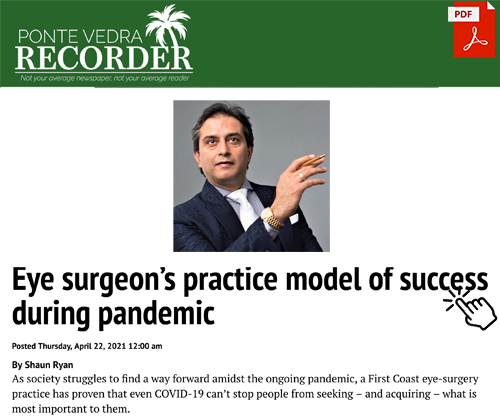 Patients from all over the world have exclaimed their awe not only at their superlative vision outcomes but also the personal touch with Dr. Gulani and have fondly called this the "Gulani Vision" Experience or the "Gulani Vision" Difference!
In today's time and age where doctors are known as "Providers" and patients "Clients"; "Cookie-Cutter" surgery has unfortunately become the norm and outcomes often mediocre. Add to this, all the advertising hype and patients are misled into techniques which may not be best for them but offered since that is all the surgeon may be limited to.
Personally greeted and cared for by one of the world's most sought after and reputed eye surgeons who is so dedicatedly involved in each patient's planning, surgery and care is indeed an experience of a lifetime.
Dr. Gulani has been fondly called various names by his worldwide patients, colleagues, and eye care industry like the DaVinci of Eye Surgery, Man of Vision, etc. but, one of the re-occurring titles that comes through across different patients of different cultures from different parts of the world has been, The GOAT (Greatest of All Time). This title has been bestowed upon Dr. Gulani, underscoring his unparalleled surgical skills, over three decades of successful track record, and consistent foresight into the future of vision.
This "Gulani Difference" encompasses many layers of ability, reputation, track record, technology, ambience, and caring, towards delivery of personalized vision. With an enviable track record over three decades of legendary surgical skills, and next generation technologies in a high-tech, high-touch environment, cocooned in a caring atmosphere while unleashing each patient's best vision potential leading on to a lifetime of friendship and camaraderie, transcending geography globally.
Surgeon:

Credentials: World renowned Eye Surgeon, Arun C. Gulani, M.D., M.S. is American Board Certified and was listed by Goldline research in FORBES among Top Ten Laser Eye Surgeons in the USA. Former Chief of Lasik and Cornea and Assistant professor at University of Florida, he is Founding Director and Chief Surgeon of Gulani Vision Institute.
Ability: Full range of Lasik, Cataract & Laser Vision surgeries including combinations and complication correction, raising eye surgery itself to an ART.
Reputation: Surgeon, Teacher, Innovator, Author and Industry consultant Worldwide.

Technology:


Surgical: Access to cutting edge technology due to international privileges & often years ahead of peers in the nation
Diagnostic: Quantitative and Qualitative Vision testing technologies to Custom-Design surgery to each eye individually.
Evaluative: Post- Surgical vision outcome analysis and optical correlates.
Customer Service:

Dr. Gulani "All the Way": Initial consult, pre-op, surgery and post op visits with Dr. Gulani himself.
Personal Touch: Gulani Vision Institute Staff & Dr. Gulani involved in your entire care, surgery & follow up
Access: You & your family anywhere in the world can access Dr. Gulani (You have his cell phone number)
With such a "No-Nonsense" "No-Hype" approach to medicine and business, Dr. Gulani has raised the bar in vision and patient expectations keeping safety and integrity in mind.
Besides Dr. Gulani's influence on the world of eye surgery in raising the bar and selflessly sharing his knowledge with colleagues globally; in this section of the website you shall see his inspirational personality in "Changing Lives"

"Only at Gulani Vision" Institute does a world famous and busy surgeon have all the time in the world to sit down with each patient and review all questions while making a custom-tailored plan, to receive patients who fly into Jacksonville to share their ecstasy with their new "Gulani Vision", their post-surgery achievements in their profession or just wanting to hug their beloved doctor and get a picture with him to show off to their friends and families.
Some patients have even had the privilege of sharing in his lunch. Having traveled thousands of miles to seek Dr. Gulani's expertise and returning not only with their "Gulani Vision" but a friend for life.
With his passion to help people see beyond 20/20 and a desire to treat every patient like family; get ready for your own "Gulani Vision" Experience!