Keratoconus
Click the button above to review some prototype cases representing the entire spectrum (from mild to extreme) of keratoconus patients that few, if any, eye surgeon in the world can claim to have addressed, let alone successfully correct them to vision. These living testimonies represent Dr. Gulani's time-tested, innovative concepts, surgical artistry, and legendary delivery of vision, easily unmatched in the world of eye care.
Fixing Keratoconus : Think Outside the "CONE"!
Dr. Gulani is a world renowned eye surgeon and teacher sought not only by keratoconus patients but also by fellow eye surgeons for his innovative and time-tested outcomes over the last three decades.
We empathize with keratoconus patients that contact us from all over the world in despair since their eye doctors either provided no solution or gave options between contact lenses, cross-linking, and transplants, all of which do not address the "Ask" of the patient, which is "Vision"! Many of these patients lament that they underwent these procedures and are left with no plan for "vision."
Symptoms:
Having seen a wide variety of Keratoconus patients from all over the world, the most common symptoms they have, despite their unique situations, include: blurred vision, halos around lights, starbursts, double or distorted vision, difficulty driving at night, and vision fatigue. It is also important to know that many patients may actually not complain of any symptoms at all while looking for options of LASIK surgery until sophisticated diagnostic technologies at our Institute detect keratoconus at its earliest stages so we can promptly tailor the treatment path of such patients. Additionally, many patients may develop a condition called Lasik ectasia (cone-like bulging of the cornea similar to keratoconus) as a complication of LASIK surgery.
Most patients travel to us desperate for help having been denied opportunities by their eye doctors and surgeons who have assumed their own inability or the patient's lack of potential to see. Often, telling patients to "live with it" or providing less than optimal options.
Treatments:
"A doctor's inability should never become the patient's disability," says Dr. Gulani, who teaches worldwide to encourage every ophthalmologist (eye surgeon), optometrist, and all levels of eye care providers to fight for their patients' vision. Though we cannot guarantee outcomes in such complex Keratoconus cases, 1000's of patients have shared their testimonials and stories (with no incentive) on our website with a desire to spread hope among fellow patients and possibly inspire their eye surgeons to perform.
With nearly three decades of experience with cross-linking technologies all over the world, Dr. Gulani does offer it as an important ingredient in the spectrum of keratoconus treatments, but most eye doctors are indiscriminately cross-linking every keratoconus patient with a promise of preventing worsening. This is analogous to putting cement on a bent back (scoliosis) with a promise of preventing further bends in a spine, but why wouldn't a doctor straighten the spine (keratoconus) first?
As a renowned corneal transplant surgeon himself, Dr. Gulani believes transplants should be the last option for keratoconus patients because not only are they an interventional surgery that involves donor tissue (that can be rejected), but also because it doesn't lead to vision with freedom from contact lenses or glasses.
Dr. Gulani believes that contact lenses are an important adjunct in the treatment for keratoconus, however putting stable, adult keratoconus patients into contact lenses without trying to correct the keratoconic cornea surgically, would be analogous to putting a brace on a broken bone which though may allow that leg to walk, essentially leaves that leg disabled every time the brace is removed (contact lens removed) while also allowing worsening of the condition to then miss the opportunities for vision corrective surgeries, leading them to the last resort; corneal transplants.
If for some reason you have already undergone cross-linking, a corneal transplant, cataract surgery, or wear contact lenses, you still don't need to despair. Though this may decrease your chance of reaching a 20/20 outcome, Dr. Gulani has successfully corrected numerous such keratoconus patients from all over the world.
With a legendary track record of successful vision outcomes, Dr. Gulani continues to create and envision the future to pursue his passion to help people see.
In this website you shall find what is a hallmark of Dr. Gulani's practice with surgical skills and drive, patient safety and ethics and a no-nonsense approach in helping Keratoconus patients achieve freedom from their "Vision Imprisonment." Patient reactions and testimonies with no incentive or scripts, surgical videos for surgeons in selflessly sharing his techniques and medical articles with a dedication to educate.

He approaches Keratoconus (Keratoglobus and Pellucid Marginal Degeneration) as a refractive disorder and custom-designs surgery uniquely to each patient aiming to make these patients see without glasses or contact lenses keeping corneal transplants as the last resort.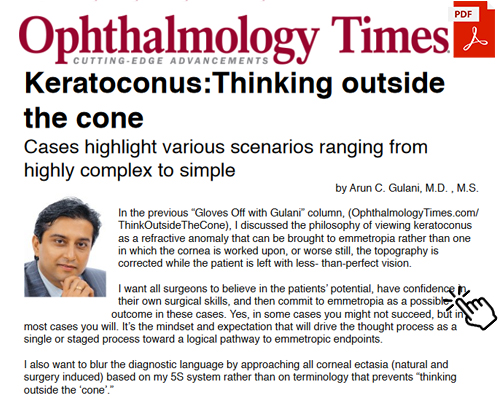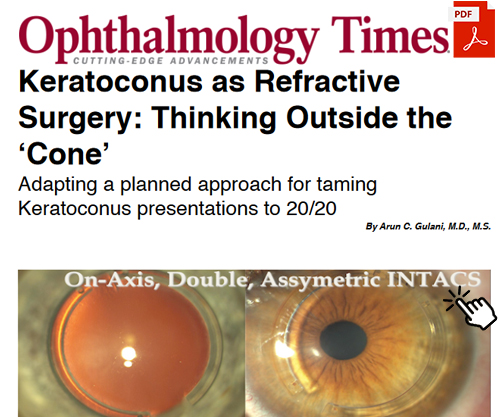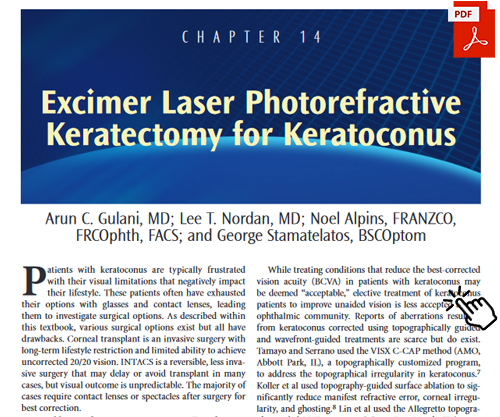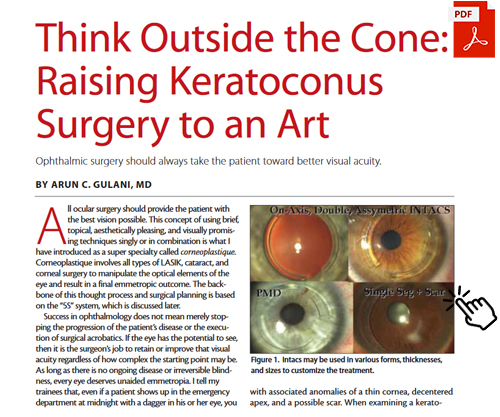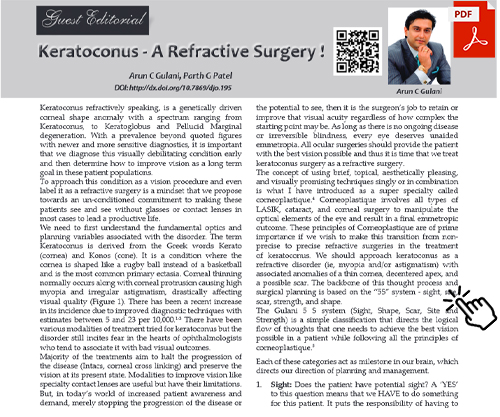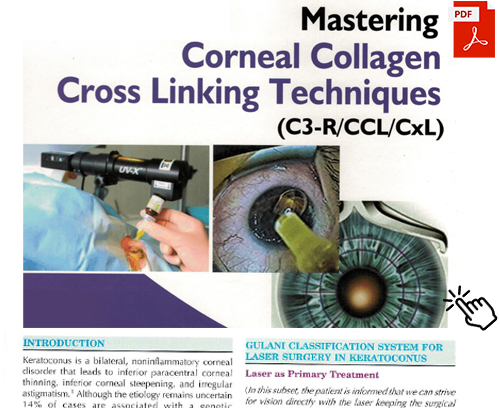 Gulani Surgical Concepts for Keratoconus Surgeons:
As a super specialist in the full-spectrum of Kerato-Lenticulo-Refractive (KLEARTM) Surgical techniques along with his award-winning innovations and proprietary protocols, Dr. Gulani custom designs surgical techniques with advanced technology applications unique to each eye for the full spectrum, from mild to extreme, irrespective of how many failed surgeries or complexities they may have been referred with to him from across the world.
Among thousands of patients whose lives Dr. Gulani has changed here are some prototype cases that represent his holistic yet well structured approach to keratoconus patients that underscores his confidence and integrity while helping this population of patients out of their vision imprisonment into the world of vision freedom: the World of Gulani Vision!
The Gulani Keratoconus Treatment Algorithm follows over three decades of experience in developed proprietary protocols that incorporate a number of anatomical, physiological, and optical parameters following detailed examinations with advanced diagnostic technologies, which include refractive error, lower and higher order polynomials, best corrected visual acuity, pachymetry, topographical and tomographical stability, along with associated pathologies. These individually focused data points are then incorporated into the Gulani 5S System to then custom-design applications into two major categories (i.e. Visual and Structural).
Visual cases are those that have capacity to see despite their keratoconus level or previous surgeries, while Structural cases are those that do not have usable visual potential for any number of reasons and require rehabilitation of the cornea to then qualify for a Visual technique.
VISUAL Techniques:
LaZrplastique®
Phakic Implant: Visian® ICL
Pseudophakic Lens Implant: Monofocal, Toric, X-Wave Technology, etc.
STRUCTURAL Techniques:
Corneal Collagen Cross-Linking
Intra-Corneal implants: Intacs, KeraRing, Ferrara ring, etc.
Keratoplasty: Anterior, Mid-stromal, Deep-Lamellar, and Penetrating
COMBINATION Techniques:
Dr. Gulani can uniquely combine "Visual" and "Structural" techniques as well as stage "Structural" and "Visual" techniques in unlimited permutations to help custom design his surgical approach using cutting edge technologies to individually address the full range of Keratoconus patients from simple to complex to extremely complicated.
Here are some prototype cases of worldwide patients that illustrate the application of the wide range of the Gulani Keratoconus algorithm (note: Each case in this list represents a full range of numerous patients of a wide spectrum of severity in that category) :
Visual Category:
Case 1: A young Firefighter Underwent LaZrplastique® surgery to result in better than 20/20 vision (without contact lenses or glasses), Zero Astigmatism, and Enhanced Night Vision to execute his profession at the highest level.
Patients who have not undergone failed surgeries with their previous surgeons and are withing the Gulani Visual category, can undergo LaZrPlastique® which is a No-Cut, No-Blade, No-Flap Laser technique that removes minimal corneal tissue (thus not weakening the already thin Keratoconus cornea) along with a customized, blend Laser optical zone to predictably bring these patients to excellent vision and in many cases even 20/20 without glasses or contact lenses.
Case 2: For example in such cases, you can see how Dr. Gulani has applied LaZrplastique® to improve vision and change corneal contour to then make this improved change permanent by cross-linking.
Hence once the Keratoconus has been corrected with LaZrplastique® surgery in certain patients, it can be followed by CXL to stabilize and permanize this successful visual endpoint.
Case 3: Patients who are referred to us from all over the world after having been crosslinked, without their surgeon first having corrected their keratoconus or vision, can still undergo LaZrplastique® if in the visual category but the predictability and chances of 20/20 vision decreases since the LaZrplastique® procedure is now competing against a cemented (crosslinked) cornea.
In cases referred to us with failed cross linking, we can first proceed with LaZrplastique® to improve vision and change corneal contour, and then make this improved change permanent. We can perform our proprietary "No-Pain," cross-linking technique to make up for their surgeon's previously failed cross-linking surgery. Hence even in failed cross-linking cases, we can proceed with our visual strategy and then stabilize them with confidence in our own CXL techniques.
Case 4: Keratoconus patients with contact lens related corneal scars can still undergo LaZrplastique® using Corneoplastique® principles to address the corneal scar to vision without glasses or contacts.
Most corneal scars in keratoconus can be due to disease progression and many are in fact from prolonged Contact lens wear. In some case contact lens related infections can cause similar blinding scars too and all of these can be addressed without corneal transplants following the Gulani Corneoplastique® principles where the scar is not removed, but refractively sculpted to visual endpoints.
Case 5: Patient referred to us from California and Canada, following failed ICL and multiple cross-linking surgeries was evaluated by Dr. Gulani and on determining stability (despite wrong anatomical endpoints from previous surgeon's surgeries), he planned to perform corneal contour modulation in a visual category by using LaZrplastique® surgery to 20/20 vision without glasses.
Case 6: HOLCOMB C3R complications of Corneal Scars with Intacs® misplacement by surgeons can also be addressed using Gulani Corneoplastique® principles to apply LazrPlastique® surgery to recover vision in this blinded eye.
Young patients like these can be saved from corneal transplants and returned back to their productive professions and lives.
Case 7: Worldwide patients like these referred to Dr. Gulani from Spain and Egypt with such situations where their Intra-corneal implants like FERRARA Rings or 355 KeraRing implants have physically or visually failed, Dr. Gulani studies the cornea and Keratoconus to determine the impact of these rings and then even of they are broken, he may not remove them and instead use LaZrplastique® to correct the vision leaving these rings in place. Even patients like these with physically or visually failed Ferrara Rings or 355 Ring implants can be corrected with LaZrplastique® to a visual endpoint.
This underscores his goals to always aim for vision and not just surgical acrobatics.
Case 8: CK (Conductive Keratoplasty) complications from Keratoconus surgeons resulting in corneal scars and poor vision with unstable and unmeasurable cornea can be corrected using LaZrPlastique® with Corneoplastique® principles to not only regularize the Keratoconus cornea but also smoothen the CK scars to Vision. In these cases, the use of a visual surgery is important with a backup of a structural approach.
Case 9: Patients who travel from surgeons who may have performed Premium Cataract surgery like in this case with the Vivity X-wave technology can also be helped.
You can see how Dr. Gulani takes such cases and determines vision category over structural status and having determined stability, saved her an invasive surgery of lens implant exchange and instead planned for LaZrplastique® (to make the viewfinder match the lens) straight to 20/20 with no glasses.
Case 10: In specific cases of keratoconus with high Nearsightedness (Myopia) and Regular Astigmatism, phakic implants like the Visian ICl and EVO® can be used to bring most of them to even 20/20 without glasses or contact lenses.
The fact that Thin Keratoconus corneas should not be worked on beyond a safety limit is underscored in this approach where other parameters are stable and measurable, thus avoiding the Keratoconus cornea and correcting the visual optics with an ICL (very much like having a permanent contact lens placed inside the eye).
Case 11: In patients with keratoconus and Presbyopia (Reading glasses), they can undergo new generation lens implants like the Vivity® X-Wave Technology that can not only clear vision from cloudy natural lens (early Cataracts), but also provide distance and near vision with a single surgical approach with no need for cataract surgery in the future.
Since most of these patients are at an age when Keratoconus is naturally stabilized, one can even avoid cross linking totally in taking these patients to permanent vision correction.
Case 12: In keratoconus patients who have Age-related cataracts, they can still undergo premium cataract surgery (LenzOplastiqueTM) where various kinds of Toric Lens Implants can optically cancel their corneal Astigmatism (note the pre- and post-op corneal astigmatism in the cornea topography are still the same) and in most cases bring them straight to vision without glasses and provide long term freedom.
And since most of these patients are at an age when Keratoconus is naturally stabilized, one can even avoid cross linking totally in taking these patients to permanent vision correction.
Case 13: Keratoconus variants like PMD (pellucid marginal degeneration) can also undergo premium cataract surgery (LenzOplastiqueTM) using the full range of applicable, next Generation Lens Implants straight to vision. It is important to ascertain stability and measurability of such corneas and utilize advanced technologies like the Pentacam AXL wave® and i-Trace®
Similar to Keratoconus in an aging population, most of these corneas are naturally stabilized, and so one can even avoid cross linking totally in taking these patients to permanent vision correction.
Case 14: In these cases where INTACS have successfully stabilized and halted the keratoconus cornea to also make them more stable and measurable, LaZrplastique® can be performed to correct the residual refractive error (which is now more accurate), straight to vision.
Safety is addressed since the Intacs® provide structural support while corneal contour is addressed with the micron precision laser.
Case 15: Failed Holcomb C3R and INTACS complication for Keratoconus by surgeons resulting in irregular corneas like in these cases can also be corrected innovatively using Gulani Custom-Designed approach with ICL technology, straight to Vision.
Though the surgical approach has to be changed from routine ICl surgery, Dr. Gulani uses his surgical mastery combined with visually oriented endpoints to plan using proprietary formulas and take these patients to vision and in many cases even without glasses and contact lenses.
The newly FDA approved EVO® advances in ICL technology will also allow for astigmatism correction simultaneously.
Structural Category:
Case 1: In Dr. Gulani's Kerato-Scoliosis concept, he applies his proprietary collagen cross-linking techniques to patients who are unstable prior to visual techniques or those where having achieved their vision improvement, he selects them to stabilize and permanize their vision outcomes. Dr. Gulani has applied his cross-linking concepts to not only the full spectrum of keratoconus, keratoglobus and PMD, but also to cases of surgical keratoconus (LASIK ectasia, RK, PRK, SMILE complications, etc).
This technique is performed with a "No-Pain" approach that many patients have enjoyed and pleasantly compared it to their uncomfortable past experience if they had previous cross linking elsewhere.
Case 2: The Gulani G-INTAC Technique uses intra-corneal implants like INTACS® in uniquely custom-designed single or paired combinations using proprietary surgical planning regarding entry, axis, alignment, optical zone, and ring segment thickness.
Such custom designed Corneal Conture Modification™ using femtosecond laser technology and in some extreme cases even manual techniques, can help in many cases to not only decrease the irregular astigmatism but also arrest the progress of keratoconus while providing structural strength for future vision rehabilitation options.
Case 3: CAIRS (Corneal Allogenic Intrastromal Ring Segments) complications from Keratoconus surgeons resulting in corneal scars and poor vision with unstable and unmeasurable cornea can also be corrected.
In such cases, Dr. Gulani looks at what level of complication and vision impact has the CAIRS surgical complication caused and can correct them using his Corneoplastique® skills like in this case where he corrected the previous CAIRS channel and inserted a single INTAC® ring to modify the Keratoconus corneal contour while removing the scar to bring this patient back to vision.
Case 4: 24.7D irregular astigmatism with scars in Extreme keratoconus patient with barely 200 micron thick cornea undergoes asymmetric compression suture pairing with INTACS ring. Even in such extreme cases, where most surgeons would relegate to the invasive full thickness transplant, Dr. Gulani fights hard to come up with innovative surgical combination strategies to always provide elegant (though surgically challenging) and less invasive options. Using the compression of sutures in a very thin and de-roofed corneal area, an Intacs ring is used to balance that impact in the opposite quadrant.
Case 5: In patients where the keratoconus cornea is so anatomically compromised that it is visually unable, these corneas can be rebuilt with the least interventional, and surgically artistic Gulani Lamellar keratoplasty techniques. This then becomes a platform for future visual rehabilitation techniques.
By performing such a demanding yet artistic surgery, Dr. Gulani elegantly removes the top thin and scarred layers from patient's cornea (leaving behind remaining of patient's cornea) and adds layers from a donor cornea to clear the scar, add strength/thickness and decrease protrusion to then plan for future visual techniques
Case 6: Patient from Paris, France with multiple surgical complications including 3 intracorneal ring segments (INTACS and Kera Ring segments) failed crosslinking, PTK surgeries with extremely distorted, scarred, and visually unusable cornea underwent the Gulani 5 S system planning to proceed with structural rehabilitation using Dr. Gulani's hand lamellar keratoplasty with Anti-Torque and compression suturing technique.
This will provide a platform for future surgical intervention or Contact lens wear to give this young man freedom without invasive surgeries like a full thickness corneal transplant.
Staged and Combined Techniques:
Always looking at any extreme keratoconus situations as possibly surmountable, Dr. Gulani, as a vision architect, builds in stages to overcome the obstacles and impossibilities in dedicating to achieve his high goal for each patient; their Vision!
Case 1: This keratoconus patient sought our consult with poor vision following cataract surgery with his eye surgeon that left him very unhappy with farsightedness, corneal scar, high keratometry, and irregular astigmatism. Additionally, his surgeon had opened his capsular bag which made exchanging his wrong lens implant more complex. Although Dr. Gulani could have exhibited his world-renowned surgical skills in getting in this eye and exchanging the lens implant despite the open capsule, this case is evidence to his unshakeable desire for perfect vision as he planned his "Orlando to Paris via Iceland" concept.
So using his 5S system, he determined the one surgery he would need to address all the 5 issues with the least intervention and that would be a myopic LaZrplastique® technique. But this patient was the opposite, he was hyperopic (farsighted).
The genius of Dr. Gulani is evident in how he first added a lens implant to the patient's own lens implant (piggyback) and thus made the patient nearsighted while actually degrading the vision (took the patient to Iceland) to then apply the myopic LaZrplastique® surgery and correct all the 5 elements within minutes, bringing the patient to 20/20 without glasses or contact lenses (to the promised destination of Paris). Thus, you can see a patient with so many complexities was so artistically solved using a staged technique, each a few minutes long, with no pain, no needles, no injections and vision and life restored, from botched to perfection.
Case 2: This keratoconus patient was referred after 12 surgical failures (among which some were Cross linking, Laser PTK, PRK, INTACS, and ICL) as Dr. Gulani stood his ground to deliver perfect vision, despite the high complexity and obvious adversity of the situation.
Gracefully planning to make sense of the situation, Dr. Gulani left the INTACS in place and elegantly removed the ICL to then stage a cataract surgery and confidently bring this patient to 20/20 vision without glasses. This concept of reversing the failed surgeries of his patients' surgeons and then moving full-steam forward (Orlando to California to Paris concept) with his own proprietary GPS (Gulani Planning System) is evident in such cases where he unleashes not only his intellectual genius but also his surgical finesse in his dedicated effort to deliver for every patient no matter how difficult and also inspires his eye surgeon colleagues globally.
Case 3: This case of surgical keratoconus following 9 associated complications underscores the Gulani genius as he stands unflinching from the magnanimity of obstacles in his way, and yet refuses to give in and do non-visual or invasive surgeries. After due diligence and deliberation, he dedicated to custom designing a plan by first performing a difficult but determined Gulani G-INTAC technique in a paired format bringing the keratometry down from 90 D along with reducing the irregular astigmatism from 23.5D to 1.4D, to then perform an artistic, premium TORIC cataract surgery, bringing her straight to vision without contacts or glasses.
Such innovative concepts, surgical artistry, and delivery of vision is evident in the patient's ecstasy of having undergone these two (staged) brief, painless, and elegant techniques straight to vision, correcting decades of unneeded blindness.
Case 4: Patient from Switzerland with advanced keratoconus, high nearsightedness and astigmatism with cataracts, underwent staged Gulani G-INTACS technique to structurally stabilize and make the Keratoconus cornea measurable, followed by premium Toric Cataract Surgery straight to 20/20 vision.
Extreme refractive errors can also be corrected in keratoconus using minuets of surgical planning to give patients vision freedom.
Case 5: In this patient with extreme keratoconus, corneal transplant, high irregular astigmatism, high nearsightedness, albinism, and nystagmus (involuntary shaking of eyes), Dr. Gulani first corrected his dry eyes with m.o.i.s.t.(R) therapy and then custom-designed a staged premium TORIC cataract surgery followed by LaZrplastique® straight to vision.
This elegant and innovative approach of designing stages to reach the final goal of vision and comfort underscores Dr. Gulani's attitude to overcome any severity.
Case 6: In patients with keratoconus, corneal scars (from Keratoconus contact lenses like Scleral lenses/Rose K lenses, RGP lenses etc), and age-related cataracts, they can undergo LaZrplastique® using Corneoplastique® principles to correct the corneal scar to make the cornea measurable and stable to then be followed by Premium cataract surgery using next generation lens implants to Vision.
This artistic approach avoids invasive surgeries (Triple procedures) where patients are given options of full thickness corneal transplants and cataract surgery in one sitting with poor predictability of vision and anatomy.
Case 7: In cases with extreme ocular surface pathologies like these including advanced pterygium and pinguecula in Keratoconus can undergo "No-stitch" amniotic surgery to structurally rehabilitate and correct the ocular surface to then be followed by visual surgery using ICL® straight to vision without glasses.
Artistic staging and predictability is the hallmark of the Gulani Keratoconus Algorithm.
Case 8: Patient from Bahrain with cross linking complication and irregular cornea underwent Gulani G-INTAC technique and you can see a 50% reduction in irregular astigmatism on Day 1 post-op itself.
Such cases because of previous cross linking are less predictable but nevertheless worthy of a fight as Dr. Guani tries his best for these young patients to get back to their lives.
Case 9: In patients with advanced Keratoconus with irrevocably Thin Corneas, Steep Keratometry, Highly Irregular Topography and Structural compromise, The Gulani 5 S system is applied to build a plan using the full range of Gulani Lamellar techniques to provide structural support and added thickness along with scar removal to then perform LaZrplastique® to bring these patients to vision outcomes.
Avoiding the invasive, full thickness corneal transplants is important in young patients to restore their vision and self-confidence.
Case 10: Surgical keratoconus from LASIK Corneal Ectasia caused by complications of LASIK can be addressed by surgeries in Dr. Gulani's armamentarium using the G-INTACS technique bringing them from high irregular astigmatism to a measurable cornea to then plan for a Premium Cataract surgery straight to visual freedom.
The Gulani Algorithm of "THINK Outside The CONE" for Keratoconus Surgeons & Eye Care Industry
World renown for his corneal surgical skills and inventor of the super specialty, Corneoplastique®, Dr. Gulani is a renowned corneal transplant surgeon but holds that as the last resort. Dr. Gulani teaches this concept with over 20 Keratoconus surgery choices and over 40 combination techniques and technology choices worldwide and has named his Keratoconus surgical algorithm as "Think Outside the CONE"
Over the past three decades of seeing patients with keratoconus from all over the world, Dr. Gulani found many instances in which the referring surgeons have done a good enough job in helping their patients, but the patients were still referred to him since they were dissatisfied with their vision endpoint.
In nearly every case, he found that had the surgeon only believed (mindset) that the patients could see 20/20, they could have completed their endeavor rather than reached a mediocre visual endpoint. Most of these surgeons were actually heroes but could not collect their trophies due to their presumed notions resulting in limited endeavors. Additionally, in many such cases, Dr. Gulani did not have to undo the surgeons' work but instead picked up the "baton and took these patients to their vision end zone."
These referring surgeons also send him pages and pages of topographies and abstract vision tests that had compelled them to believe that each case of keratoconus was basically destined for poor vision and found that Dr. Gulani explaining to them to take the next step was always met with the fear of "Success".
First, let's recap a few basics. All ocular surgeries should end with the best vision that individual patients can achieve. This concept of using brief, topical, aesthetically pleasing, least interventional, and visually promising techniques singly or in combination is what Dr.Gulani has introduced as a super-specialty called Corneoplastique®.
Corneoplastique® involves the full spectrum of kerato-lenticulo-refractive surgery (Gulani KLEAR™) to include all levels of LaZrPlastique®, cataract (LenzOplastique™), corneal, cross linking and combination surgeries to manipulate the optical elements of the eye singly or in a staged fashion and results in a final emmetropic outcome. The backbone of this thought process and surgical planning is based on the 5S system (Dr. Gulani likens this system to a mental sorter).
Success in ophthalmology does not mean merely stopping progression of the patient's disease or execution of surgical acrobatics; If the eye has the potential for vision, then it is the surgeon's job to retain that vision or even to achieve better vision regardless of how complex the starting point. If there is no ongoing disease or irreversible blindness, every eye deserves unaided emmetropia.
Keratoconus is a word that creates immediate gloom for the patient and a lowered visual set-point for the diagnosing surgeon. It is a diagnosis that when heard by the patient, makes them immediately anxious to get onto Google, find out everything about the diagnosis, and then quickly conclude two choices: an interventional transplant surgery or uncomfortable and expensive contact lenses, which basically represent dependence and disability and either way provides less-than-perfect visual endpoints.
The surgeon in the meanwhile starts to think of all the latest and greatest advances in corneal transplant surgery that they could now use for yet another case and completely misses the point that in many cases of keratoconus, the patient could actually see and see even without glasses or contact lenses-with their own keratoconic cornea!
To avoid this knee-jerk reaction, Dr. Gulani teaches fellows and visiting surgeons to "break down the giant into a smaller, surmountable dwarf" and then confidently create a plan of attack, straight to emmetropia. In breaking down this giant, he helps them visualize most Keratoconus cases as nothing more than a thin cornea with high keratometry, de-centered apex, irregular astigmatism, and associated ammetropia (myopia or hyperopia). By breaking down the disease into its smaller components, it becomes conquerable. Now take this mindset further and actually imagine that these patients should deserve refractive surgery candidate expectations.
As Dr.Gulani has taught over 3 decades, size down any complications by sorting through the 5S system to break them down into simple components of visual impact and see your plan of action unfurl before your eyes so this so-called complex condition will logically and elegantly sort itself out into simplistic components that adversely affect vision and present themselves to be corrected in a single or staged fashion.
Consider, for example, the case of a patient with keratoconus with a corneal thickness of 450 µm and a documented cone on topography with low myopia (1 diopter or less) and high astigmatism (up to 5 D). In terms of the 5S system, we first want to make sure that they have potential to see, i.e., sight (visual acuity [VA]). Although the patient cannot tolerate hard contacts, the optometrist has noted that they have a VA of 20/25 with them.
Therefore, whatever we do, the patient should still have a VA of 20/25 or better. The patient has sight, there is no scar, and the site (center or periphery) is unaffected. Moreover, we know the patient has a relatively thin cornea (strength) and high astigmatism (shape). In terms of the 5S system, we must therefore correct for sight and shape.
Now using our criteria for LaZrPlastique® candidacy, Dr.Gulani would review that approach in this case and also categorize with patient using the following classification.
Gulani LaZrplastique® Candidacy Classification System
I. Laser as Primary treatment (In this subset, the patient is informed that we can strive for vision directly with the laser keeping the surgical interventions noted in level II as a backup plan to be applied in single or combined approaches to address any complication induced or progression of cone if needed).
Class A: Clear cornea
Class B: Scarred cornea
II. Laser as staged Secondary treatment
Class A (after Corneal surgery):
a. Intacs®
b. Lamellar keratoplasty (Femtosecond laser, Manual)
c. Penetrating keratoplasty
d. Collagen crosslinking
e. Conductive keratoplasty
Class B (after Intraocular surgery):
a. Phakic implant (Anterior, Posterior)
b. Cataract surgery with lens implant (Monofocal, Toric, Accommodative, X-Wave Technology, Piggyback etc.)
In this case, the corneal strength is adequate and there is no scar, and therefore no need for lamellar keratoplasty. Continuing with this example, Dr.Gulani would perform LaZrPlastique® surgery, because astigmatic treatments remove the least amount of tissue and correct the astigmatism to bring the VA close to 20/20. From a medicolegal standpoint, Dr. Gulani clearly outlines and documents informed consent and would explain to the patient that, with this technique, he should be able to modify the corneal contour to provide more or less predictable vision. He would remind them that the outcome would not be like that of a virgin eye with 20/20 VA. He would also inform the patient that they have Intacs® as a backup option if their keratoconus progresses naturally or because of the laser surgery.
Dr. Gulani also explains the use of corneal collagen crosslinking (CXL) as a staged part of any of these surgeries, because it can stabilize this new shape (following LaZrPlastique®). He teaches surgeons that they should first correct the scoliotic spine (corneal shape = vision) before making the shape permanent with CXL unless the cornea is changing enough to justify CXL before any refractive correction.
Now let's look at the same case and consider that it has a thinner cornea with a best-corrected VA less than 20/40. Now Dr. Gulani would choose Intacs® surgery. The most common Intrastromal Corneal Ring Segments (ICRS) are Intacs, which are semicircular inserts made of polymethylmethacrylate.
Dr. Gulani tells patients that having this kind of keratoconus is like being 11 feet tall. People of normal height go to the mall and buy a suit based on their measurements. He says, he is going to put you in braces (Intacs®) and make you 6' 5" or 5' 8". Dr. Gulani doesn't know for sure because Intacs® are not mathematically predictable, but he knows that you will be moving in the right direction, and the chances are that you will be able to walk into a mall and find a suit that will fit, i.e., Intacs® help get patients back into contact lenses and glasses. Dr. Gulani performs Intacs in various forms, single, paired, steep axis, and varied various thicknesses and sizes to customize each shape effectively.
Dr. Gulani can also perform LaZrPlastique® over the Intacs® to treat residual astigmatism. Again, astigmatic laser procedures remove the least amount of tissue, and he has achieved stability and safety with the braces (Intacs®) in place. Crosslinking also provides a stability factor which can be timed accordingly.
Now let's add a scar to this same patient and using our 5S system we now need to clear the scar while correcting the shape. Keeping our in-cornea and on-cornea scar approach, we shall proceed with LaZrPlastique® and use the above-mentioned protocol.
Now let's keep scar and also make the cornea thinner and more unstable. Based on the 5S system, Dr. Gulani now needs to not only clear the central scar but also add (Strength, i.e., thickness) Such a patient therefore can undergo a variety of lamellar corneal transplants to address these affected "S" systems. Six months to 1 year later, we can perform LaZrPlastique® for the refractive error (correcting Shape) aiming for an emmetropic outcome.
In many cases, high myopia could be the main culprit along with astigmatism and here, depending on the age of the patient, he or she can undergo a phakic implant surgery such as Implantable Contact Lens (ICL®/ EVO®) or if in the cataract age group, cataract surgery with monofocal/Toric/X-Wave technology intraocular lenses (IOLs).
Following Dr.Gulani's Kerato-Scoliosis concept, he believes that crosslinking could become the final step in every keratorefractive surgery to stabilize and make their outcomes permanent.
CXL also can be performed before refractive surgery in cases of fluctuating refractions/topographies, and once the cornea has become stable and measure able, refractive approaches can be planned.
CXL consists of application of riboflavin (vitamin B2) to saturate the corneal stroma followed by activation with ultraviolet (UV) light. The resulting photochemical reaction causes collagen to form additional covalent connections between fibers, strengthening the collagen structure within the corneal stroma.
In conclusion, using the Gulani 5S system, we can approach practically any ocular situation from virgin refractive errors to keratoconus. Once we develop the mindset of looking at keratoconus with a new level of commitment and expectations, we can start designing vision with the same responsibility and passion as we do in refractive surgery cases.
New generation contact lenses like the Scleral Lenses and 3-D print lenses are a boon to Keratoconus patients who may still need contact lenses following surgery due to their advanced or extreme cases but placing them in contact lenses and not correcting them is not acceptable. As the keratoconus will progress and worsen over time not having much visual status by then.
By first working with the patient's eye doctors/ophthalmologists/optometrists, we can get a picture of the patient's refractive stability and history and his or her visual potential from a hard contact lens trial. It is then Dr. Gulani's dedicated desire to maintain that level of vision or improve it to his best human capacity.
Of course, there may be cases with extreme levels of keratoconus that require a corneal transplant. However, even when performing a transplant, surgeons should not forget to take the patients to their next level of vision in a staged fashion from structural to visual.
Approaching keratoconus as a refractive surgery will change the way ophthalmologists, optometrists and eye care industry as well as patients will approach this surmountable condition to bring in a new era of not only relieving but also enhancing the lifestyle of this deserving patient population.