Enhancing Previous Surgeries
Patients who have had previous surgeries need not despair. You can be enhanced to your Vision "End Zone". At Gulani Vision we are proud to note that we have had a 0 (Zero)% enhancement rate underscored by Dr. Gulani's experience, diligence in personally measuring your eyes, calibrating equipment, and artistically custom designing the surgery to your eyes as opposed to applying "cookie-cutter" surgery to every patient.

Poor outcomes of previous surgeries are classified by Dr. Gulani into following categories:
Primary Failure:

Technology failure
Measurement failure
Healing Modulation failure

Secondary Failure:

Regressive failure
Age-Related

Correctable

Age-related presbyopia (reading glasses), cataracts

Uncorrectable

Glaucoma
Age-related macular degeneration, or retinal pathology

Accidental

i.e. LASIK flap displacement, traumatic cataract

Surgical

post corneal, lenticula, or retinal surgeries
Applying his full range of proprietary techniques and technologies (KLEARTM) Dr. Gulani further classifies treatment modalities into corneal, lenticular, and combination techniques.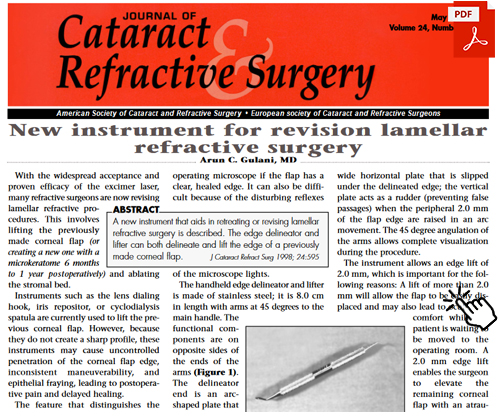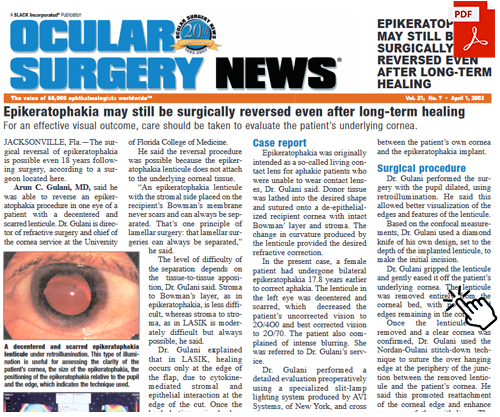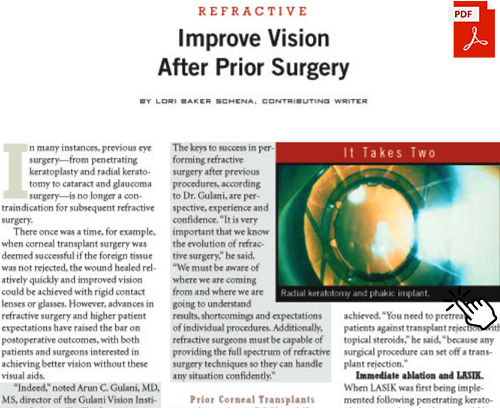 After a thorough personal consultation and advanced technologies diagnostics, Dr. Gulani then sets about making your eye vision plan. Having identified your surgeons inability to reach the planned vision goal due to primary or secondary failures or combinations therein to bring you back to your best vision possible in the least interventional approach.
Though patients might have undergone a successful procedure in the past, in some cases it might not reach the patient's vision end goal. This can be attributed to a number of causes such as inaccurate measurement of the eye, inaccurate application of the technology, unpredictable healing of the eye, and also possibly regression of the effect. Once the cause of the inadequate vision has been determined then Dr. Gulani can plan to enhance the patient's vision.

In many a "cookie-cutter," surgery mill-like practice where mediocre results are the norm repeat surgeries in the name of touchups, tune-ups, enhancements, included in guarantees and warrantees are the norm. Though outcomes are not guaranteed in any surgery Dr. Gulani teaches eye surgeons worldwide to strive for an enhancement rate close to zero. And no matter which among these list of surgeries you have had in the past with your surgeon you can be corrected to your best vision potential.
No matter which among these vision corrective surgeries you have had with your eye surgeon, using his full range of techniques and technologies, Dr. Gulani can custom design to ENHANCE your surgery to your best vision potential and bring you to the "Vision End Zone":
Lasik (Laser Vision Surgery/NexGenLASIK/ LaZrPlastique/PRK/Wavefront Lasik/Bladeless Lasik/Lasek/PTK/Smile/Relex/SBK/EpiLasik/ Corneoplastique techniques etc)
Myopia (Nearsightedness)/Hyperopia (Farsightedness)/ Astigmatism
Presbyopia (After 40 reading glasses/Readers/Cheaters/Progressive glasses/Kamra)
Cataract (Multifocal lens Implants/Panoptix/Trifocal/ReStor/Crystalens/Tecnis/Symfony/Premium Cataract Surgery or Cataract surgery complication correction)
Radial Keratotomy Correction/RK
Pinguecula/Pterygium/ Red Eye
Keratoconus/Collagen Crosslinking /C3R/INTACs
ICL (Implantable Contact Lenses/Visian ICL)
Corneal Scar/ Lasik Complication (glare/haloes/ghosting)
Dry Eye/MGP/Lipiflow/IPL
With three decades of relentless dedication to perfecting vision for each patient individually, Dr. Gulani continues to invent award-winning surgical instruments and surgical techniques while selflessly sharing with colleagues globally.