Dr. Gulani is fondly known by colleagues and eye care industry worldwide as the "Mr. Fix-It" for previous eye surgeries of surgeons world-wide. Utilizing his proprietary KLEARTM techniques with cutting edge technology and custom designed surgical approaches, Dr. Gulani believes that surgical complications and poor outcomes can indeed be corrected and even reversed in most cases to 20/20 without glasses or contact lenses. His track record of success over three decades in correcting other surgeons' previous surgical complications ranging from mild to severe complications is underscored by his ecstatic patients globally.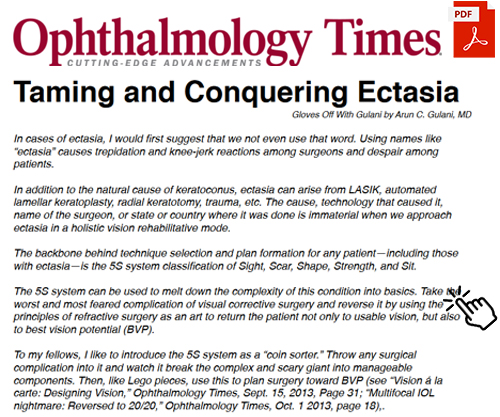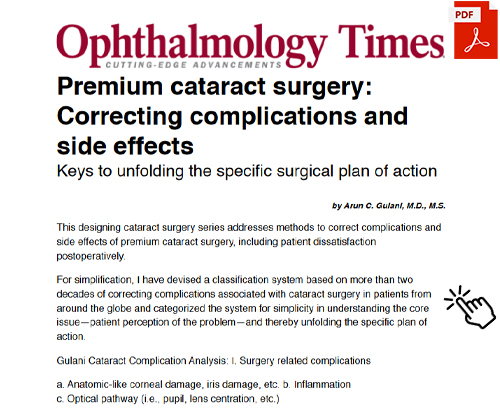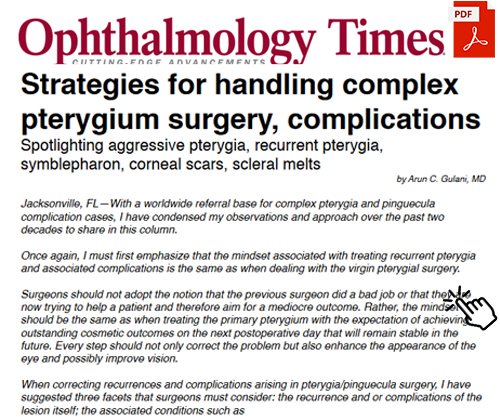 Listed below are some of the most common surgical complications for which patients and surgeons worldwide seek Dr. Gulani's expertise:
Lasik (Laser Vision Surgery/NexGenLASIK/ LaZrPlastique/PRK/Wavefront Lasik/Bladeless Lasik/Lasek/PTK/Smile/Relex/SBK/EpiLasik/ Corneoplastique techniques etc)
Myopia (Nearsightedness)/Hyperopia (Farsightedness)/ Astigmatism
Presbyopia (After 40 reading glasses/Readers/Cheaters/Progressive glasses/Kamra)
Cataract (Multifocal lens Implants/Panoptix/Trifocal/ReStor/Crystalens/Tecnis/Symfony/Premium Cataract Surgery or Cataract surgery complication correction)
Radial Keratotomy Correction/RK
Pinguecula/Pterygium/ Red Eye
Keratoconus/Collagen Crosslinking /C3R/INTACs
ICL (Implantable Contact Lenses/Visian ICL)
Corneal Scar/ Lasik Complication (glare/haloes/ghosting)
Dry Eye/MGP/Lipiflow/IPL
In summary as long as your surgeon's surgery has not resulted in an irreversible/uncorrectable damage i.e. retinal or optic nerve pathology (macular degeneration, retinal detachment, glaucoma, or optic atrophy, etc.) in most cases after a detailed evaluation and personal consultation, Dr. Gulani can design a surgical correction single or staged to fix your vision.