GOAT
Dr. Gulani has been fondly called various names by his worldwide patients, colleagues, and eye care industry like the DaVinci of Eye Surgery, Man of Vision, etc. but, one of the re-occurring titles that comes through across different patients of different cultures from different parts of the world has been, The GOAT (Greatest of All Time). This title has been bestowed upon Dr. Gulani, underscoring his unparalleled surgical skills, over three decades of successful track record, and consistent foresight into the future of vision.
Teaching: Instead of closely guarding his recipe for success, Dr. Gulani selflessly keeps sharing his surgical concepts, innovations, protocols, and pearls with his colleagues (ophthalmologists, eye surgeons, optometrists, opticians, and all levels of eye care providers) while leading the eye care industry itself in the future direction for the benefit of all. This is widely evident in the way he records his surgeries and allows visiting surgeons (both trainees, and highly experienced physicians) to observe him in live surgery. Though some surgeons do display live surgery, it is often on simple cases where the outcome is predictable, whereas Dr. Gulani doesn't flinch in demonstrating and teaching while performing on some of the world's most complex and unpredictable cases and yet providing them with results like only a GOAT could. He is also committed to teaching at national and international conferences while also publishing and presenting his work with a true zeal to encourage inspire.
Leadership: Many a times a successful surgeon or leader could be swayed by incentives and accolades, but Dr. Gulani stands tall in his integrity in maintaining his ground and proven futuristic vision over three decades, not only leading the eye care industry to the "True North", underscoring his unbiased and untarnished delivery of concepts, reports, and innovations but also by his resistance to follow the majority in the name of "innovation". For example, though many surgeons and practices fall for industry hype regarding new technology, Dr. Gulani has held his ground in refusing to promote technologies that he did not believe would be the future despite their being new. His admirable and unparalleled tenure of integrity and predictability underscores his title of GOAT.
Business: Turning the business of medicine on its ear, Dr. Gulani with his high-tech, high-touch approach has defied the present status of healthcare. The present norm of healthcare includes waiting rooms in medical offices where overbooked patients wait for hours to then be seen briefly and relegate their destiny to surgery mills, where they are treated like a number with cookie-cutter procedure with mostly mediocre outcomes. In contrast to this "Norm," Dr. Gulani has designed a 7-star lobby (not a "Waiting room") where each patient arrives to be the only one at that scheduled time, personally greeted by Dr. Gulani, to then begin a memorable experience with a custom-designed surgical plan focused to achieve their best vision outcomes and in many cases even beyond 20/20. To this effect, Dr. Gulani has built the world's first trademarked (USPTO) iVision Surgery Suite with state-of-the-art technology for an individualized experience in a spa-like ambiance. Even refusing very lucrative offers to move to bigger metropolitan areas or join group practices, negotiate insurance contracts, provide deals or discounts, or selling to private equity, Dr. Gulani has fearlessly and confidently without advertising, continued as a single-surgeon practice, making a worldwide clientele fly to him as only a GOAT could.
Personal: Dr. Gulani's famous surgical skills and vision outcomes only paralleled by his integrity and compassion for every patient and colleague globally. To have an eye surgeon who approaches each patient no matter how complex, like family and then not only provides hope but produces results and care for them for life making them part of the Gulani Vision Family worldwide is a hallmark unparalleled in the world of medicine. This has resulted in his patients and colleagues becoming his fans, supporting his work and ideals like walking testimonials while flying their families to him for their eye surgeries from all over the globe.
These worldwide patients have had their vision corrected by Dr. Gulani's innovative techniques which range from 20 different Laser (LASIK is just one among them) and Lens iThese worldwide patients have had their vision corrected by Dr. Gulani's innovative techniques which range from over 20 different Laser (LASIK is just one among them) and Lens implant techniques (including custom Cataract Surgery) based approaches including combinations to provide over 40 techniques and surgical designs with cutting edge technologies.
These are among the full range of techniques and technologies that Dr. Gulani offers to custom design your surgery for your best vision potential, namely; Lasik (Laser Vision Surgery/LASIK/NexGenLASIK/ LaZrPlastique®/PRK/Wavefront Lasik/Bladeless, Lasik/Lasek/PTK/Smile/Relex/SBK/EpiLasik/ Corneoplastique techniques etc.) to correct Myopia (Nearsightedness)/Hyperopia (Farsightedness)/ Astigmatism and Presbyopia (After 40 reading glasses/Readers/Cheaters/Progressive glasses/Kamra), Cataract surgery (Multifocal/Progressive lens implants/Panoptix/Trifocal/Synergy/ReStor/Crystalens/LAL/Tecnis/Symfony/Eyehance/Vivity/ Clarion Premium Cataract Surgery/ LenzOplastique™ or, Cataract surgery complication correction, Radial Keratotomy Correction/ Pinguecula/Pterygium/ Red Eye with No-Stitch Amniotic techniques and Keratoconus/Collagen Crosslinking /C3R/Intacs/Keraring/Ferrara Rings, ICL (Implantable Contact Lenses/Visian ICL) vision correction, Corneal Scar/ Lasik Complication (Glare/haloes/Ghosting) reversal, Dry Eye/MGP/m.o.i.s.t® for ocular surface stabilization and Corneoplastique® instead of invasive corneal transplants.
Dr. Gulani's relentless pursuit to custom-design vision and lend artistry to surgery underscores his dedication to personally study all patient diagnostics and measurements including anatomy, physiology, optics, and vision potential to diligently apply his vast array of proprietary laser & lens based surgical technologies and techniques along with his "Vision A La Carte" concept to customize surgery in a holistic approach, individually tailored to each eye no matter how simple or complex it is and also in combination surgical concepts.
Therefore, after studying your eye's anatomy, physiology, optics and visual capacity in sync with your neural (Brain) potential becomes Dr. Gulani's goal. This goal in addition, also looks to cancel abnormalities of associated structures and eye problems through that one and least interventional surgical approach that he shall uniquely tailor to your eye.
These "PlastiqueTM" series of surgeries pioneered by Dr. Gulani are Trademarked (USPTO) and called Corneoplastique® when applied on the Cornea, LaZrPlastique® Laser Vision Surgery when correcting refractive errors (Glasses and Contact lens prescriptions like Nearsightedness, Farsightedness, Astigmatism or Reading glasses) and LenzOplastique™ when correcting Dysfunctional lens or Cataracts.

Like Michael Jordon or Tom Brady, in the world of sports, Dr. Gulani has been singled out by his patients and colleagues who have experienced and witnessed his legendary performance, consistent outcomes (and in many a case even throwing a Hail Mary), passion, and care as perhaps the first in the world of medicine to rightfully be called the "GOAT of Eye Surgery."
---

The G.O.A.T.

I was diagnosed with Keratoconus about 3 years ago. My vision kept deteriorating daily. After being told "No" by several eye surgeons in Wisconsin that my vision could not be corrected due to my Keratoconus I found Dr. Arun C. Gulani. After hearing "no" so many times he was the only one that said, "Yes!" That he would fight for me. His LaZrPlastique procedure was quick and painless and today I am seeing perfectly without glasses or contacts! Dr. Gulani truly is the G.O.A.T. (Greatest of All Times). Keratoconus patients need not look anywhere else see Dr. Arun C. Gulani.

Mandy F.
Wisonsin
---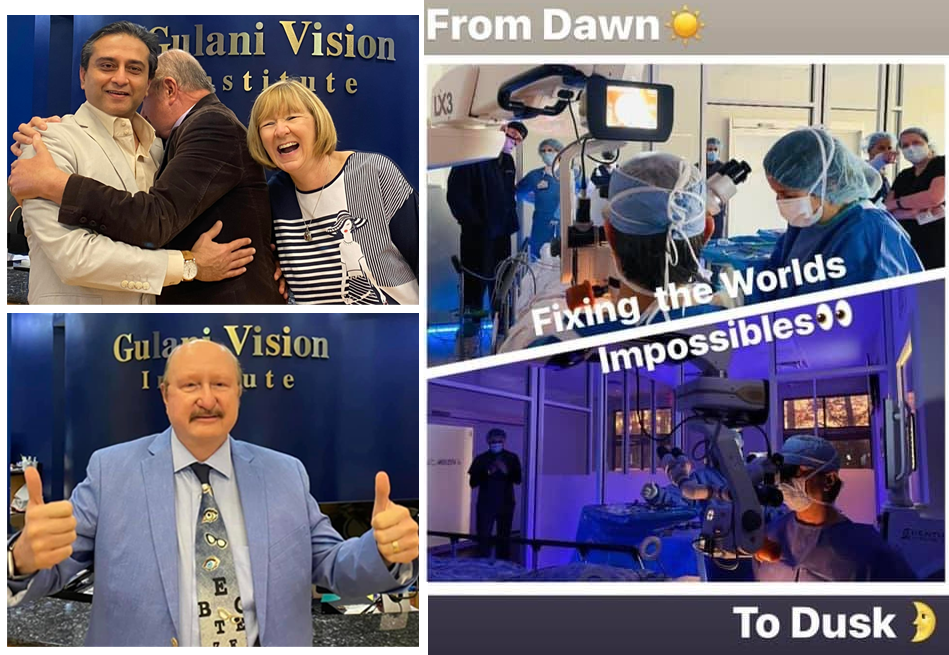 Truly the G.O.A.T. (Greatest of all Time):

Dr. Arun C. Gulani Having been left blinded for over 50 years in my Only seeing eye by numerous noted eye surgeons around the country, when the last of these eye surgeons sentenced me to a life of blindness I smiled. He was worried I wasn't taking this serious but I knew I had an appointment with the G.O.A.T. The one man I trusted, myself being an eye care profession for 50 years. Dr. Gulani not only empathized with my situation but performed the ultimate Hail Mary pass like only a G.O.A.T. could. Today, I am seeing perfect in this eye which allowed me to drive to Maine, boat, race cars, fly drones, and I am looking forward to snorkeling. Imagine this freedom for someone who was relegated to a lifetime of blindness with no hope! Thank God for the G.O.A.T. for giving me my life back.

Dr. Jim K.
---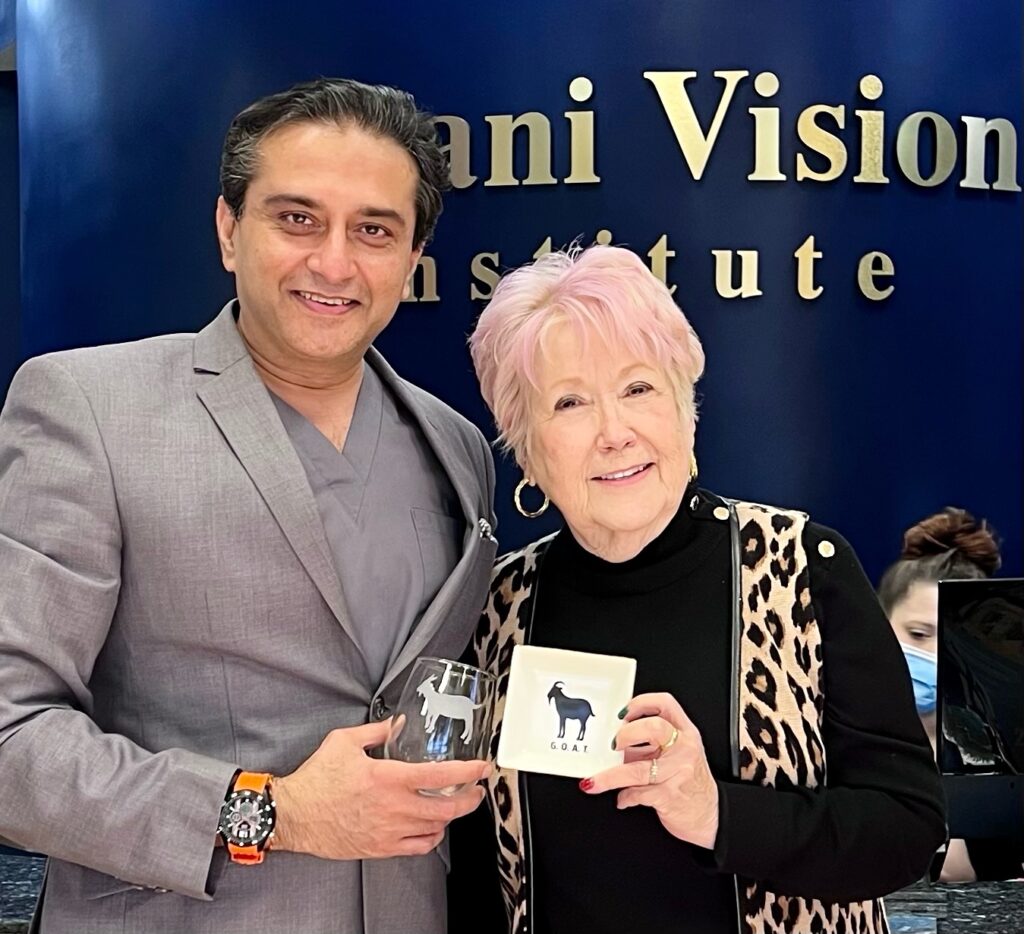 Have you seen the G.O.A.T.?

The G.O.A.T., ( Arun C. Gulani greatest of all time), who corrected my eye surgeons botched Lasik surgery to 20/20.

Give yourself the miracle of perfect sight and accept nothing less than the G.O.A.T. If you've had previous Lasik and now have developed Cataracts, don't be discouraged by doctors who tell you that you have to wear contacts or glasses again.

Come see the G.O.A.T. and have your vision restored beyond your dreams! I did and you should too!

Mary B.
---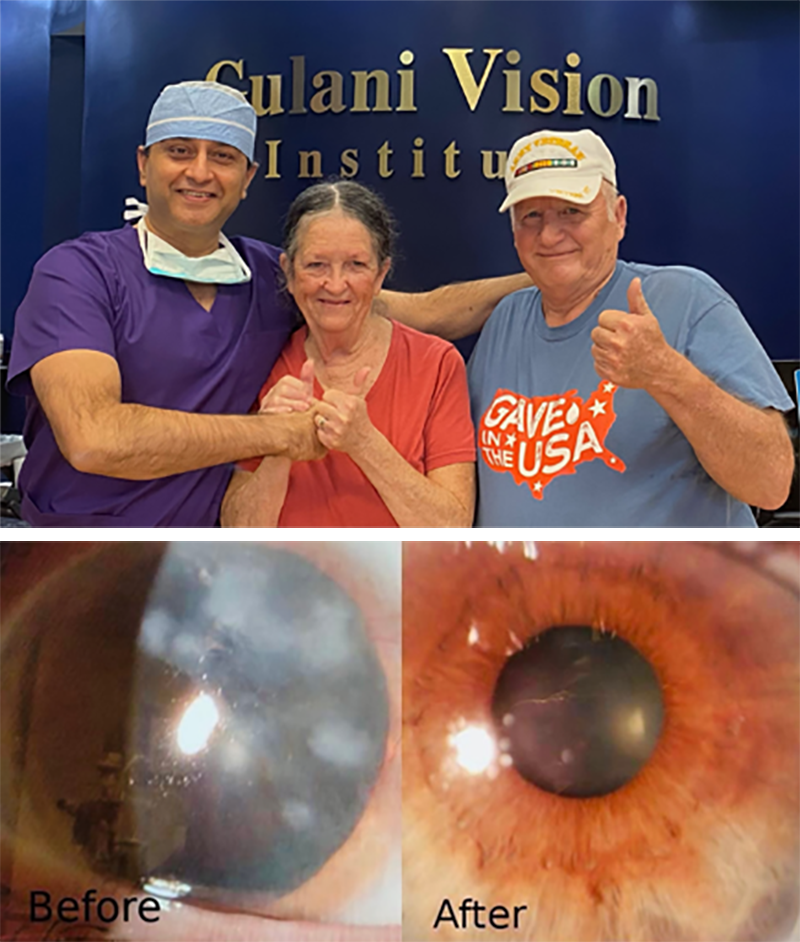 Dr. Gulani is the G.O.A.T. by definition

We've known Dr. Gulani for decades as our eye surgeon. He has unparalleled skill and compassion that have stood out from all other doctors we've been too. Not only has he saved my wife's vision after having been left with corneal scars from her previous pterygium surgery, but he did so while selflessly inspiring his colleagues. Dr. Gulani is truly the G.O.A.T. as he has decades of leading his industry. He has consistently brought miracles of Vision with Compassion. I still to this day, after many decades, am amazed how he took my wife from blindness to perfect vision. And I'm next! Thank you Dr. Gulani for everything!

Jim S.
---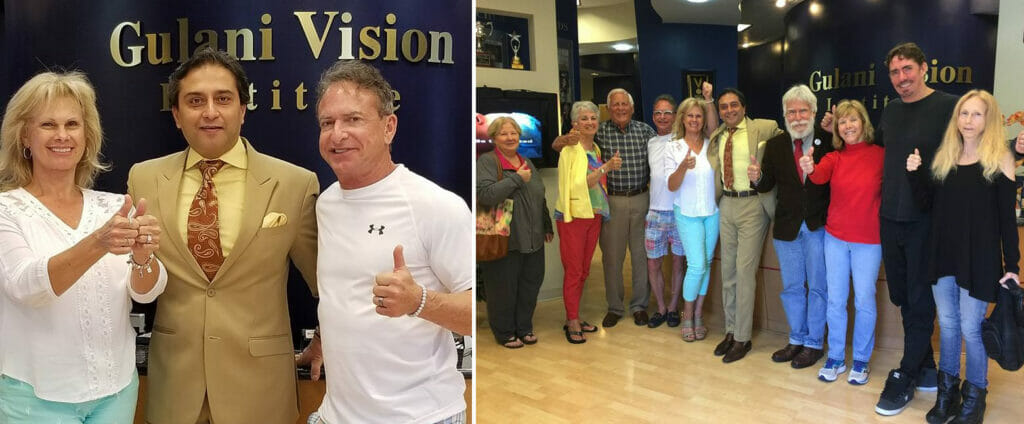 David vs Goliath!

Dr. Gulani raises the bar on the world of organized eye care, taking patients that other eye surgeons refused that nothing could be done to perfection. Today is Day 1 after Terry's complex Keratoconus surgery, with irregular astigmatism and complex cataracts and she doesn't have the words to express how ecstatic she is. She was legally blind and Dr. Gulani brought her complexity to seeing without glasses. We have seen other patients from all over the world, experiencing the same miracle. Dr. Gulani truly fights for the vision of his patients. It's not the size of the dog in the fight, it's the size of the fight in the dog, which comes from submitting to the power of the Holy Spirit which has taken him to levels beyond his expectations!

Wayne V.
---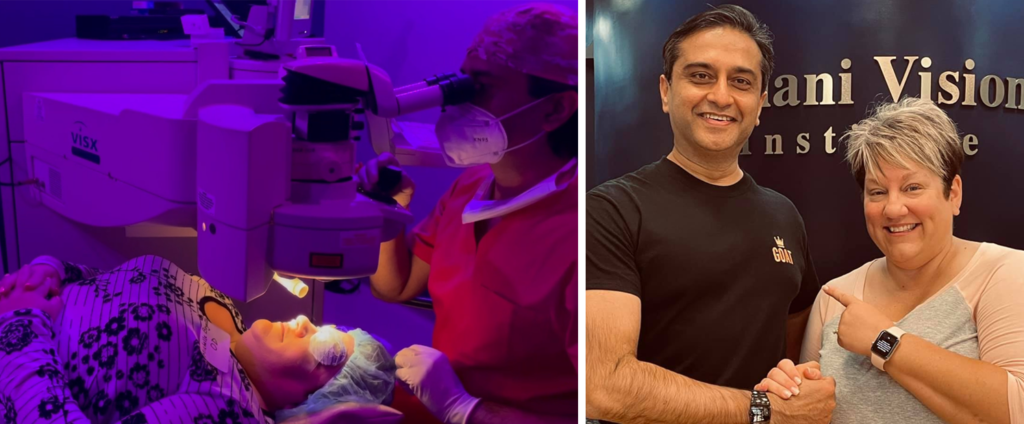 G.O.A.T.

As the Gators get set to kickoff, I can't help but take a moment to thank Arun C. Gulani and the entire team at Gulani Vision Institute. Without these amazing individuals I would not be able to SEE the Gators play. The journey from a Keratoconus shunning, uh I mean diagnosis, from a local lasik provider to VISION has been quite the ride, but when the greatest vision provider of all time is on your side you have hope. Thanks Dr. G and team for caring about me and my ability to SEE and not just settle.

To the remaining eye industry—DO BETTER.

#goat#sayyestovision#keratoconus#eyesurgeon#fall2021#windowsdown#crazyhair#allergypuff#2020vision#nomorefear

Michelle B.
---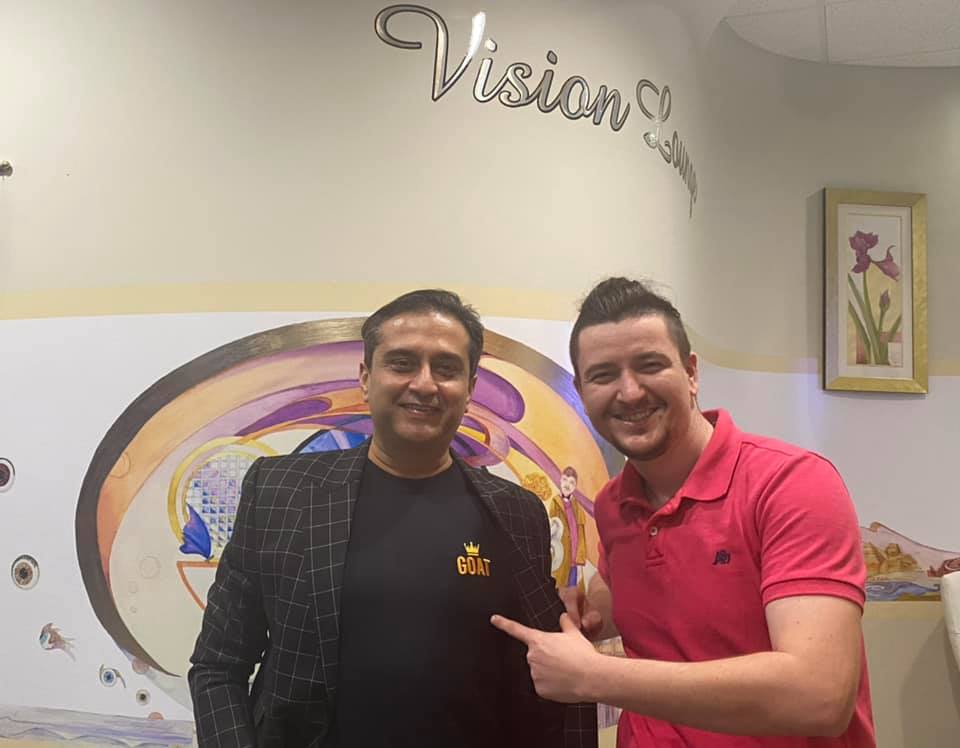 I've been trying to correct my vision for years, been in Germany, Switzerland, UK until I finally found the GOAT, 3 years post operation and my vision is perfect and beyond 20/20. This shirt gifted by a patients really fits the narrative Thank you Doc Arun C. Gulani

Godinama sam pokušavao da korigujem vid, pokušavao svugde, bez uspeha dok nisam pronašao Doktora Gulani-a, najboljeg doktora na svetu za očnu hirurgiju. 3 godine posle operacije, vid savršen. Ova majca ima stvarno značenje, nije šala. Hvala ti doktore

Srdan P.
Bosnia
---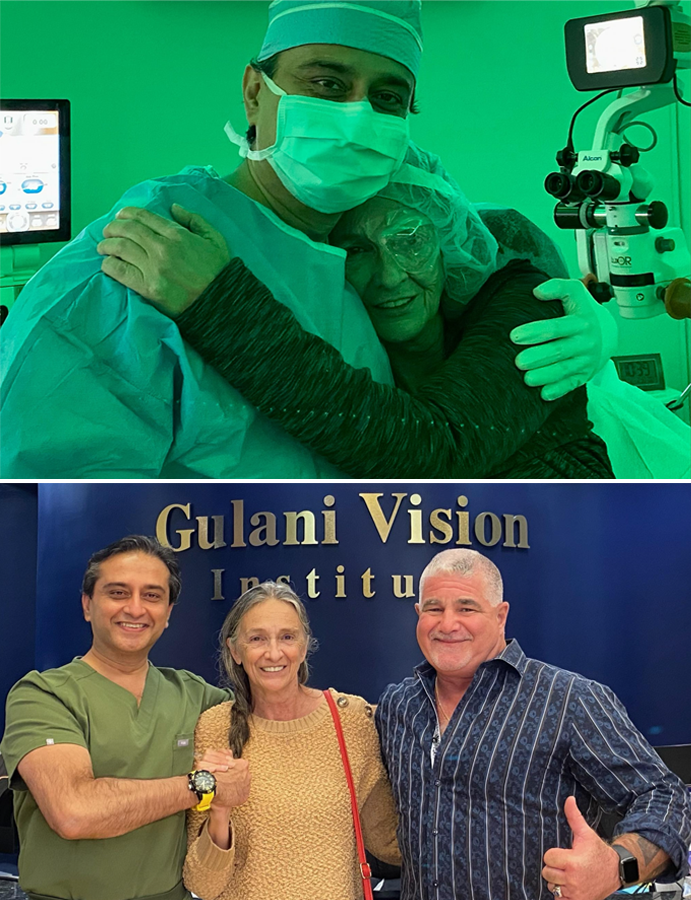 The Real G.O.A.T. (Greatest of All Time) of Eye Surgery:

Dr. Arun C. Gulani changed my life forever. He took my severe White Cataract and transformed my Vision to perfect 20/20 in a matter of minutes in his peaceful Surgical Suite. I was told nothing can be done for me by previous doctors, but like the G.O.A.T. he is, Dr Gulani fought for my Vision. He gave me the gift of Gulani Vision just in time for Christmas!

Penny K.
---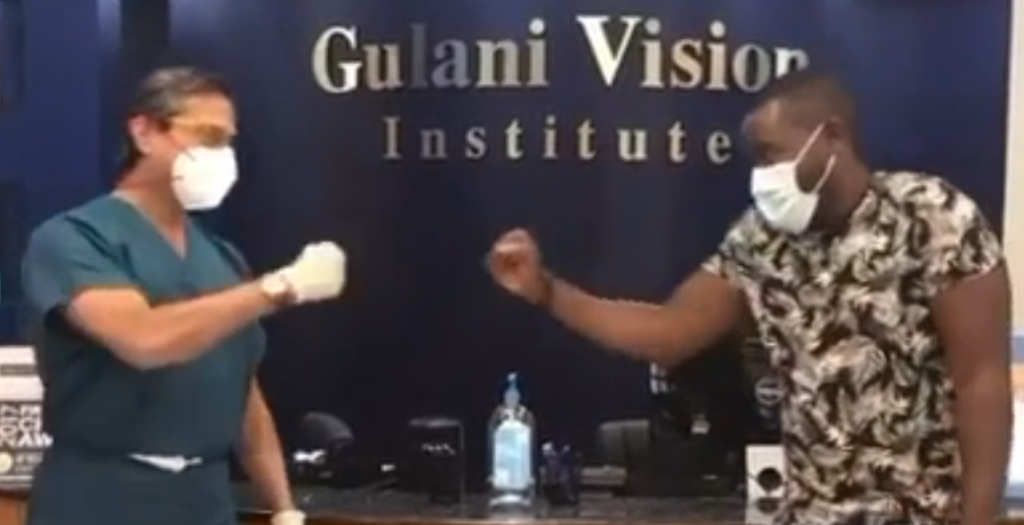 MUST READ! Hey Guys, Here I am doing the awkward corona fist bump with the worlds greatest eye doctor @dr.arungulani! Literally, doctors and patients fly from all over the globe to see him… I just lucked out that he actually lives in Jacksonville! Those who know me, know I have been struggling with an huge "stye looking" sore on my eye called a chalazion for over 7 years now . So many followers have DM'ed about and offering advice to the point where I started to wear glasses in my videos so it doesn't distract ppl. I've also learned how to hold my head and the camera just right so it doesn't show.

I've been through several painful eye surgeries and nothing seemed to work no matter how many times doctors chopped up at my eye lid. For the first time in my life I went to a doctor who actually cared about me as a patient, down to earth and SUCH an expert in his practice. He refers to himself as a designer more than a doctor … and I saw it first hand!

I can't explain this experience….@dr.arungulani was actually upset when he saw what the other doctors did to my eye lid! Instead of another surgery, @dr.arungulani offered a special technique he developed to naturally drained the eyelid.

I agreed! His energy was genuine and I trusted him! And… I was desperate …I woke up this morning and my eyelid already looking and feeling 100X better!!

Unfortunately, due to all my surgeries prior there may be some long term damage because of how these other doctors botched up my eye lid but I'm hopeful and….@dr.arungulani is the real deal! I am SOO BLESSED! More to come on my journey! FOLLOW the GOAT @dr.arungulani!

Paul P.
---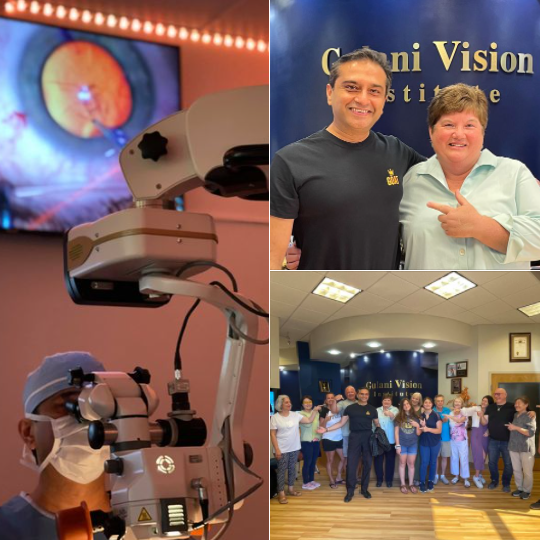 Today is day 1 and here I am already seeing with my Gulani Vision and celebrating with the G.O.A.T.

I have had Radial Keratotomy surgery in the past with scarring and complex cataracts, and could not find a confident surgeon in the country who could help my complex eyes. I traveled to Dr. Gulani. I underwent his custom designed cataract surgery in his out of the world surgery spa. And with no pain, no injections, and no stitches here I am already seeing. I saw patients here from all over the world and yet received a personal level of care not available anywhere in the world of medicine today. Dr. Arun C. Gulani truly is the Greatest of All Time (G.O.A.T.)!

Christina G.
---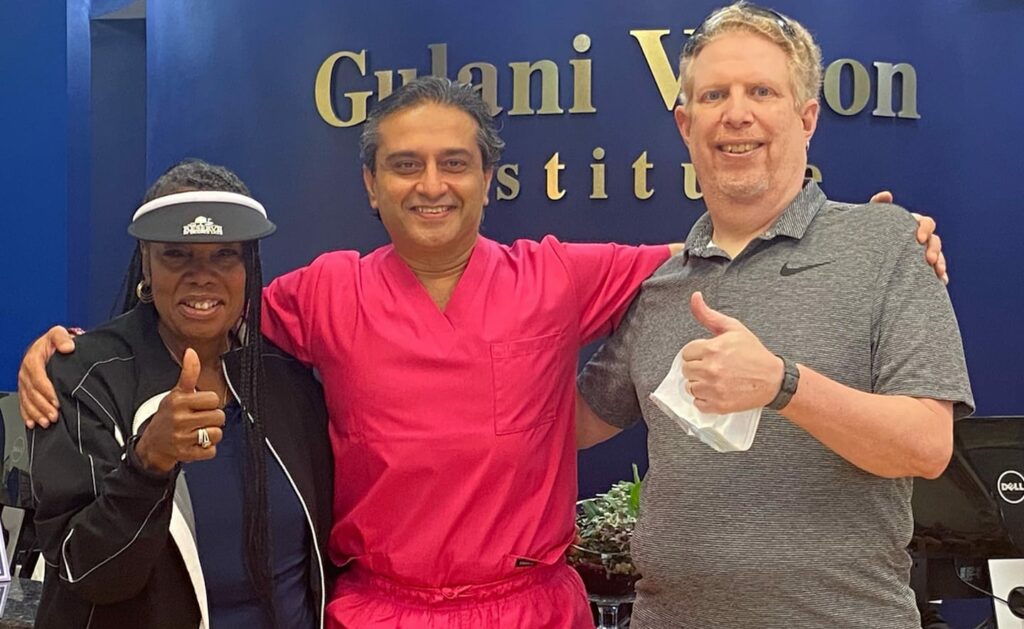 THE G.O.A.T. (Greatest of all time) of Eye Surgery: Dr. Gulani

What gifts can you bring to a man who gives the gift of Vision to the whole world?

He took my and my husband's impossible eyes to perfect 20/20 and lived up to his reputation, Then also finds the time to selflessly inspire his colleagues globally.

He truly is the G.O.A.T. of eye surgery. We among many are living examples of his ability, expertise, dedication and passion.

Ida W.
---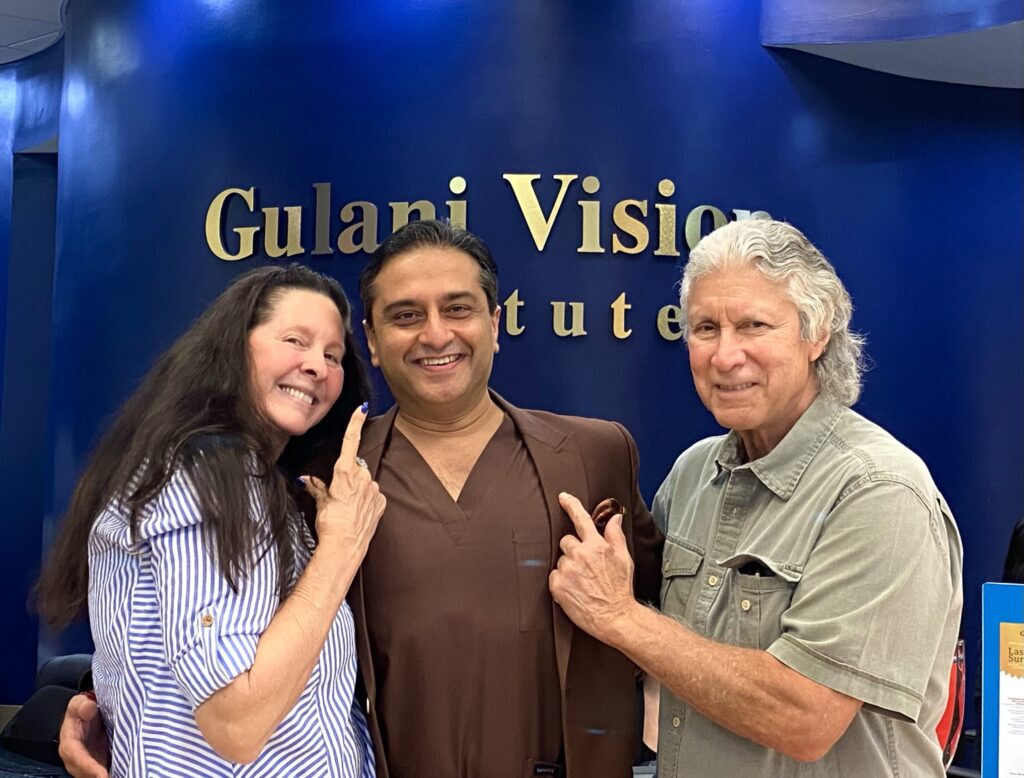 Just saw the G.O.A.T.!

Dr. Gulani is the Greatest Of All Time. Not only has Dr. Arun C. Gulani been correcting difficult cases for the last three decades but he has been able to correct complications of other surgeons to perfection.

Jill G.
---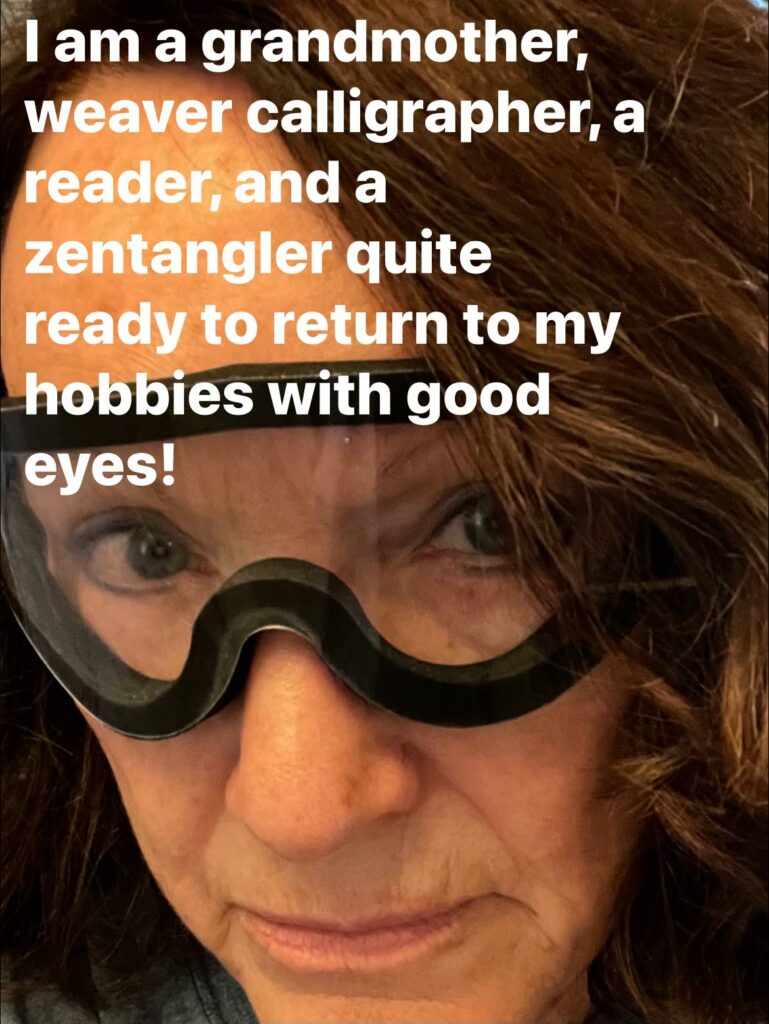 I have so much to say, but I want to say it efficiently. I have had 2 botched surgeries—lasik and Catatact—plus I have extremely dry eyes and astigmatism. Because my husband and i were willing, we often moved for his job. I am a retired educator, so I could usually find a job, once our sons started school. Flashback 15 years ago to my first true need for an eye doctor. Enter a doctor in Plano, Texas, who had done more lasik surgeries and had more endorsements than any other. I felt he could also fix me—WRONG. Note—bad surgery #1. Shortly after the Lasik, I had enhancements on both eyes to no avail. I have been through a series of doctors who concur that my corneas are horrible and my eyes are very dry. No solutions—just facts. Then we moved from Oklahoma City back to Texas to retire. I was on 10-15 eye drops per day to try to keep my eyes from blurring, burning, itching, etc. I had cataract surgery in Denton, Texas. After that I had another procedure to remove scars from previous surgeries. Nothing worked.

I was sitting in the living room of our Colorado Cabin late one night. I was so frustrated by poor vision. I prayed a short, simple prayer asking God to direct me to someone who could help me. I was at my wits end. When I opened my iPad and ran a search Dr. Arun C. Gulani's name popped up. I spent all night and most of the next day combing through the website.

I was used to being treated like I couldn't possibly know the issues I was enduring with my own eyes (so patronizing and placatimg). I was used to having to return to old protocols whenever we moved as I guess doctors have only a few tried (but failed)) tricks up their sleeves. However, my faith told me that Dr. Arun Gulani was different. I filled out paperwork and submitted it. Within a few days I had a response—an invitation to come to Gulani Vision Institute in Jacksonville, Florida. I visited with several of the ladies that work with Dr. Gulani, and each is a person of value and quality! Dr. Gulani—the first doctor in 15 years—told me he could help me. I could have cried. Someone could help me. Someone wanted to help me. Someone assured me he could fix me.

Dr. Arun Gulani is an enthusiastic, life long learner, who still loves what he does! He is a breath of fresh positivity to talk to. He not only talks the talk, he also walks the walk. Every ophthalmologist should be required to sit at the feet of Dr. Gulani and learn how to treat patients, how to go past the basics, and how to explain to their patients what's wrong and how it can be corrected. I feel like one of the luckiest ladies in the world. God directed me to Dr. Gulani. Paise be to God for His help.

I am now a patient and follower of Dr. Arun Gulani.

He began with my left eye. The first procedure he did was M.O.I.S.T therapy. I immediately dropped 15 eye drops in each eye .

Then he performed LaZrPlastique on me. I could watch him while he painlessly, with no blades or shots, took off all of the scarring and reshaped my eyeball! It is taking a bit longer to heal, but it was a complex procedure. Between my husband, Dr. Gulani and I talking through the healing process, with so many visuals of my left eyeball in real time, WE decided to postpone the right eye surgery for a few weeks. It was the right decision for me, and after ALL of the facts were discussed, a corporate decision was made. There was respectful conversation, absolutely no talking down to anyone, and a decision that is particular and individually correct for me! For anyone hunting for an eye specialist, who has been told "you don't qualify," there is nothing left for you to try, etc—believe them no more.

Gulani Vision Institute CAN help. And Dr. Gulani will see you, and set up a personal, individual plan just for you. No cookie cutter plan for this doctor! He believes each person is different, and therefore, no 2 plans are exactly alike. This man is the GOAT, but he's even more!!! He's a PEACOCK. I'll explain the PEACOCK in my next post.

If you know ANYONE who has eye issues, look up Dr. Arun Gulani/Gulani Vision Institute. The website includes the people he has treated, his education, and testimonials It is beyond obvious that Dr. Gulani loves his work and his patients!!!

Jan W.
Texas
---
Not only has Dr. Gulani successfully performed on patients from routine to highly complex cases, but he has consistently delivered these patients back into their lives with perfect vision. Today, Dr. Gulani continues to lead by example while hoping to inspire the future of the world of vision.