Wavefront Optimized Laser
There are many varieties of Lasik procedures used to correct vision problems such as farsightedness, nearsightedness, and astigmatism.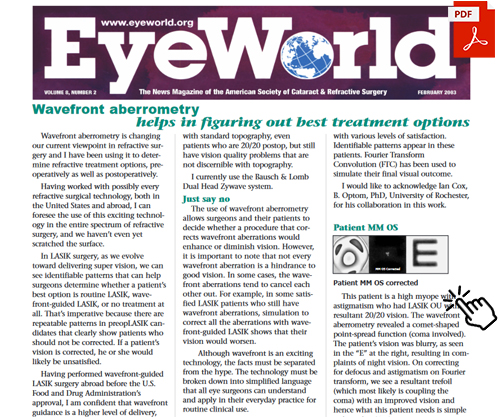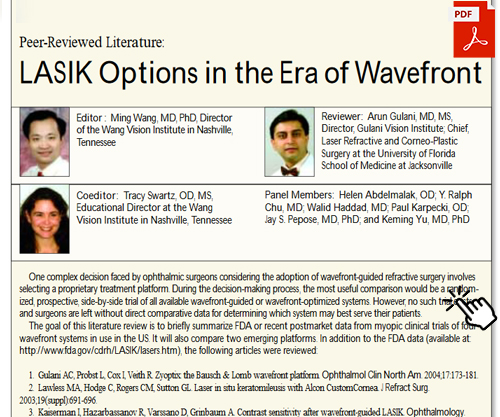 In wavefront-optimized laser procedures the curvature of the cornea is taken into account when applying the laser to the surface of the eye. This means that the peripheral of the eye has an increased number of laser pulses to reduce the induction of abnormalities.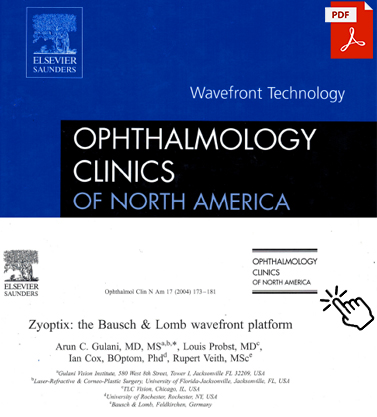 Wavefront-guided laser procedures utilize a wavefront-sensing aberrometer (a technology that quantifies aberrations on the surface of the cornea) which directly transfers information to the laser program as opposed to using a refraction (glasses or contact lens prescription) as in other procedures.
After going through your detailed evaluation and personal consultation with Dr. Gulani he will decide which technique or combination of techniques would be best suited to correct your vision.
Among the first in the world to apply Wavefront technology to Laser Vision Surgery, Dr. Gulani has written a prominent book chapter in Clinics of North America along with his co-authors from Cleveland Clinic.
For over three decades as a pioneer of laser vision surgery, Dr. Gulani has experienced possibly every technique and technology available in the world often years beyond other eye surgeons with his international privileges.
His signature style of going beyond "cookie-cutter" surgeries underscores his artistry to best fit your unique eyes and aim for the best vision he can no matter how simple or complex your case is. Dedicatedly continuing to evolve his techniques given his passion to make people see, Dr. Gulani has raised many kinds of LASIK surgery to a "No-Cut", "No-Flap" technique called LaZrPlastiqueTM.