It is my passion to help people see and as I continue to innovate in my desire to perfect vision, I shall always treat every patient like they were my own family and plan to customize every surgery in their best interest.
I respect the fact that many of you travel to me from thousands of miles away due to your trust in my services.
In keeping with my mission philosophy, I guarantee the following:
When you come to my institute, you shall meet with me personally, I shall make your individual vision plan and as your surgeon be fully involved in your care.
You shall have my cell phone and can always contact me directly
It gives me no pleasure just to do another surgery but it gives me tremendous pride to work with you and customize a plan to deliver the best vision I can.
I shall always aspire to help you see beyond 20/20.
It does not matter to me how many hours or days I have to put in to calculate and make an individual plan just for your eyes, I do not know any other way to execute my passion and shall not compromise either my integrity or your safety.
My desire for each and every patient is undisputed; perfect vision.
Despite my success that has been written about and mentioned all over the world, I do not guarantee results. Being human, what I guarantee is my desire to work towards that perfection in each and every patient.
Our website is a resource for you to understand that I do not support "Cookie-Cutter" surgeries and shall strive to remove the word ROUTINE from the dictionary of eye surgery.
Gulani Vision Institute
Welcome to Gulani Vision Institute, where helping people like you see more clearly is our passion; improving safety and results is our commitment.
"It's my passion to help people see," -Arun C. Gulani, M.D.
Dr. Gulani is a world-renowned Lasik surgeon (ophthalmologist) and performs an entire spectrum of advanced vision surgeries to reduce your dependence on glasses and contacts. He goes beyond just offering Lasik in Jacksonville, Florida.
By having such comprehensive experience in a wide variety of eye surgery techniques and technology, he can provide you the most personalized care to ensure your vision correction surgery is right for you. His unique style of "high tech and high touch" care makes all the difference for his patients and has truly raised vision correction surgery to an art.
Scroll to view all videos
This text will be replaced
For instance,
Laser vision surgery in every form (ie. Lasik, Wavefront Lasik, Custom Lasik, Epi-Lasik, Lasek, PRK, Advanced Surface Ablation (ASA)) can be modified and applied in varied forms to achieve the desired visual outcome, based on Dr. Gulani's selection.
Dr. Gulani has introduced CORNEOPLASTIQUE™- Patients who previously may not have been considered Lasik candidates due to corneal problems, like corneal scars, high astigmatism, pterygium, or due to previous surgeries like cataract surgery, corneal transplants, Lasik, radial keratotomy etc., may now qualify for Advanced Laser Vision Surgery.
If you have cataracts, Dr. Gulani may recommend intraocular lens implant surgery using monofocal, accommodating, or multifocal lenses to improve your distance and reading vision (presbyopia). Even if you have already had cataract surgery, he can also skillfully combine Advanced Laser Vision Surgery following your cataract surgery to complete the vision goal for your eye.
"Being a physician, I did extensive medical research to select Dr. Gulani for my Lasik. In the role of a patient, I was very impressed with the combination of his extensive knowledge, confidence and yet personable approach." -Dr. Sheryl Ashberg, Melbourne, Florida
If you have been waiting for the right time to have your Lasik surgery in Jacksonville, Florida, or didn't want to settle for just any Lasik procedure, it's time to discover what many patients call the "Gulani Vision" Experience!
See what a difference a more personalized approach to your eyes can make, and schedule a consultation with Dr. Gulani at 1-888-Lasik-16 or 904-296-7393. Or send our Lasik surgeon an email. We will respond promptly.
* * Click Here to Schedule Your Free Lasik Consultation
I look forward to seeing you and answering all your questions during your personal consultation with me.
* = required
Privacy Policy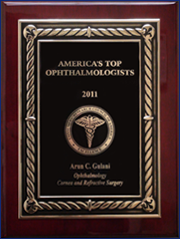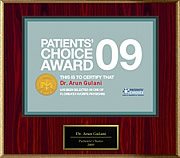 HNA
Want the latest news? Visit our Blog.
Always making News...
Advanced Vision Surgeries
Contact Us, Financing & Other Helpful Links
Gulani Vision Institute 8075 Gate Parkway (W) Suite 102 & 103 Jacksonville, Florida 32216
Map & Directions
1-888-LASIK-16
1-888-LASIK-16 Jacksonville, FL