Gulani Advanced Diagnostic Technology & Protocols:
Dr. Gulani's ongoing commitment for perfecting vision is actively complimented by his continued investment in advanced technology not only to provide his patients with the highest level of diagnostic evaluation, safety and education but also for his commitment to teaching and sharing his work with eye surgeons worldwide.
Given his international privileges and industry leadership, he is often among the first in the world to acquire cutting edge and futuristic technologies which he has assimilated in our Institute's Advanced Diagnostic Suite for painless, no-touch and rapid evaluations.


Leaving VISION on the Table!
Dr. Gulani feels it is a crime that patients are rushed into surgery with "minimal requirement" measurements thus leaving a number of aspects of their vision uncorrected and hence leading to a less than optimal outcome. Many a times the patient may not even be aware that their outcome could have been better. This concept of "Leaving Vision on the Table" should be unacceptable,
You can get a suit at any mall based on your waist and height and that is fine but what if you were measured in detail, down to your ankle? That suit would surely fit and look fabulous! So it is with your eyes"- Gulani AC
Armed with such a "Bespoke" attitude to vision, Dr. Gulani has dedicated himself to measuring every aspect of your vision applicable and then designing surgery to address them even investing his time in personally measuring patients for key elements of your optical system.
Pentacam® AXL: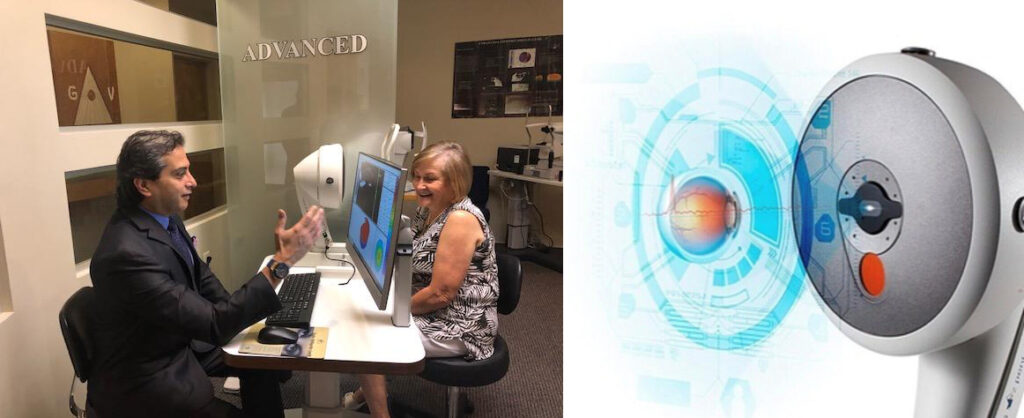 With one of the world's first PENTACAM® AXL system which utilizes a Scheimpflug imaging system that provides 3-D images of your eye like an MRI and Tomographic sections like a CAT Scan, Dr. Gulani can within minutes, analyze your entire optical system of your eye analogous to that of a camera.
This Advanced Computerized Pentacam analysis system, enables him to do a highly sophisticated study of the corneal topographical maps including 3-D analysis, and to detect any problem areas or pathology which would disqualify a patient thus raising safety of selecting surgical procedures that involve Cornea, like NexGen LASIK, LaZrplastique or lens based surgeries like Cataract, LenzOplastique, RLE and catching borderline cases that would otherwise go unrecognized.
Pathology can be present on either the front side or back side of the cornea. Dr. Gulani's Pentacam system and its unique software give him a detailed evaluation of both these corneal surfaces, in a test lasting just a few seconds.
Besides refraction that measures Nearsightedness, Farsightedness, Astigmatism and presbyopia, additional aspects like Wavefront, angle kappa & alpha and higher order aberrations in polynomials are also measured. Conditions like Keratoconus can be detected early and with higher confidence.
This next generation technology can also provide densitometry of your crystalline (Natural) lens and determine its impact on vision for Dr.Gulani to also review to see if that needs address besides your cornea in possibly a combined surgical approach.

Keratograph®: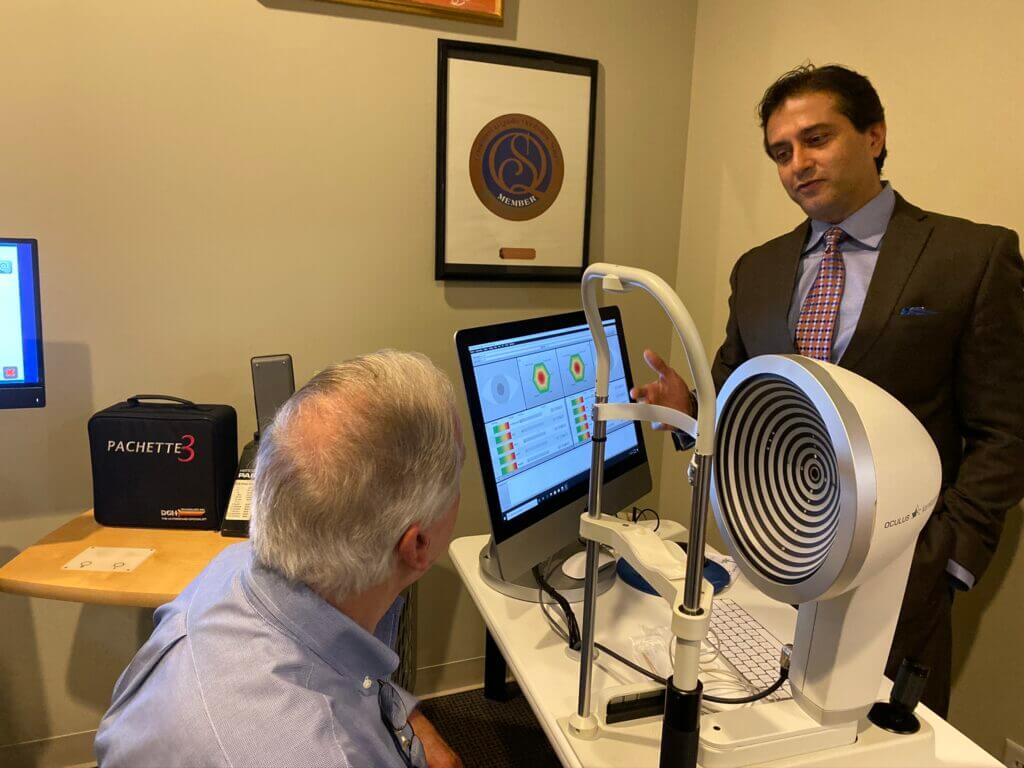 With one of the First Oculus KERATOGRAPH® system, Dr. Gulani meticulously studies your tear film and eye surface stability to look for dry eyes or any surface anomaly that might impact surgery or healing post-surgery. Once again , going beyond interpersonal bias, this technology documents all data in a report that can be compared in follow up . He then uses this report to plan his proprietary m.o.i.s.t.™ Therapy to help patients with dry eyes and chronic irritations as well as prepare them for future Lasik or cataract surgery.
KONAN CellChek®: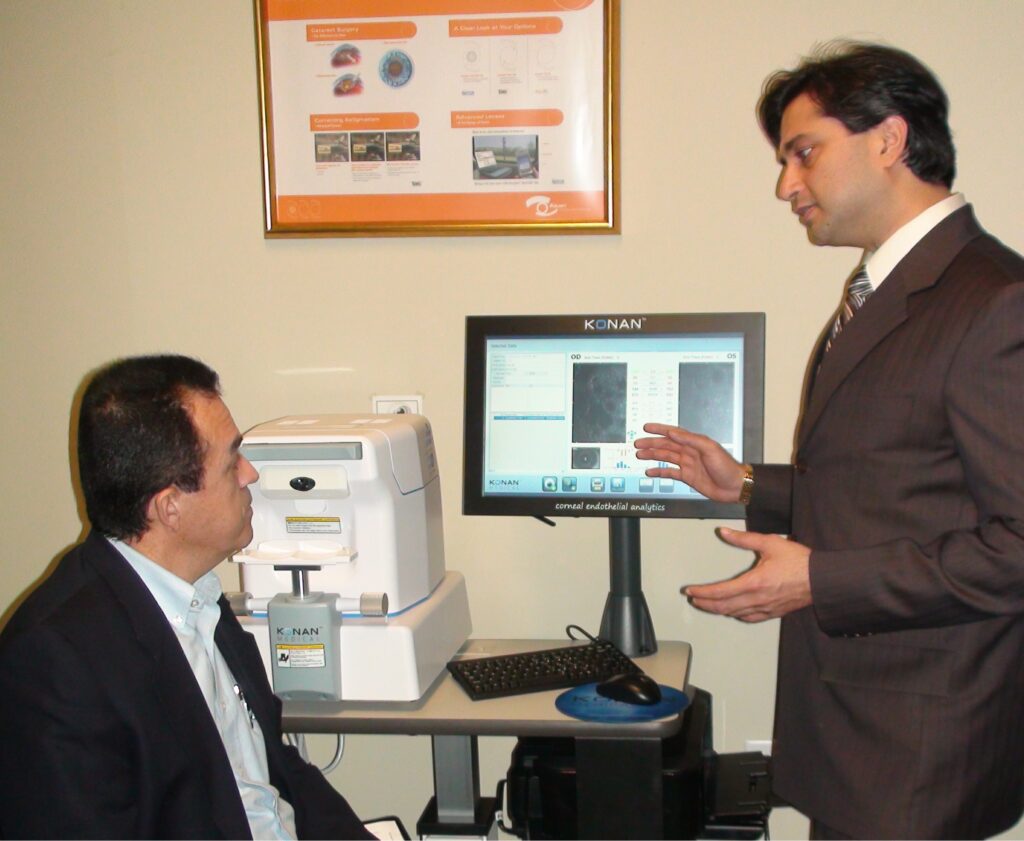 Using the KONAN endothelial analyzer, he looks at the minute micron-sized cells that determine the health of your cornea to determine if they are healthy enough to withstand impact of surgery.
Marco OPD-Scan III:
The Marco OPD-Scan III helps Dr. Gulani understand your glasses prescription or contact lens prescription and translate that information in synch with your visual system like pieces of a camera so the vision errors in your eyes that need to be corrected can be addressed in the most optimal fashion. Besides common refractive errors, he can also study minor irregularities of your vision that may have escaped man y an eye doctor who may have cared for you before him and thus address and correct all levels of vision errors to achieve your best vision target.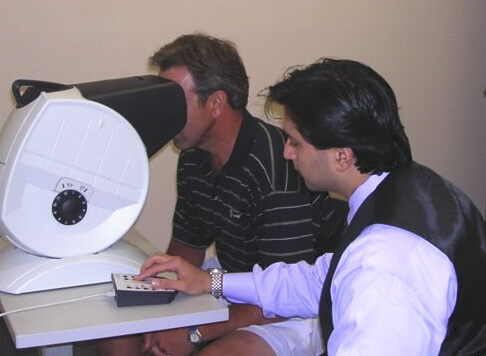 Ophtec 6500 – Beyond 20/20 Vision:
As Dr. Gulani endeavors to pursue vision beyond 20/20, he has incorporated the Ophtec 6500 to study vision beyond the traditional Eye chart.
He can measure Functional Vision, Quality of Vision and Contrast Sensitivity along with visual potential. Day/Night testing with/without glare and background luminance can all be used to assess patient visual quality.
This unique advancement in eye care also includes EyeView® Functional Vision Analysis Software which produces images of your patients' real-world vision and can also track the surgical outcomes of eye surgery.
OPTIVUE OCT:
The OPTIVUE OCT like a living pathology study allows breakdown of minute levels of anatomical understanding and correlate to other eye structures to determine surgical depth and structural abnormality if present.
ZEISS IOL Master® & QUANTEL A-Scan:
Infra-red (Zeiss IOL Master® – Germany) and ultrasound (QUANTEL – France) axial measuring devices determine lens impact and powers to plan for holistic or staged approach to vision corrective surgery and all forms of cataract, RLE and LenzOplastique surgeries.
Colvard Pupillometer:
Colvard Pupillometry (Colvard, DGH and OPD) using infrared and ultrasound devices determine your night vision planning with laser vision surgery.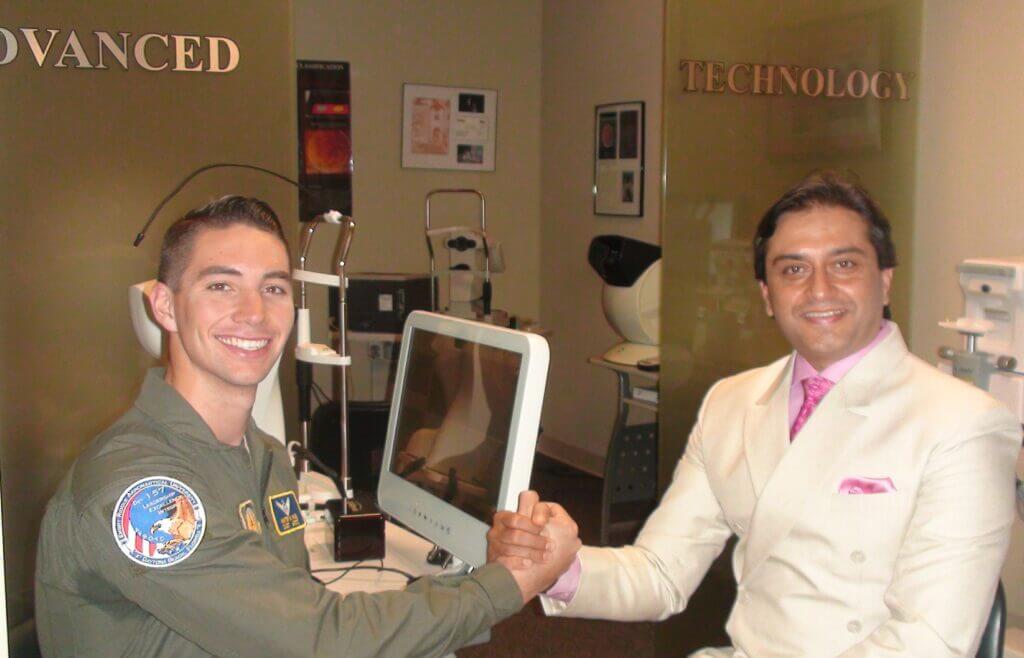 Epithelial Mapping systems (OCT) that have recently been FDA approved, allow Dr. Gulani to study how you will heal following a certain laser vision surgical procedure and enhances his knowledge about your eye beyond corneal topography.
DGH Corneal Pachymetry using Ultrasound and Epithelial study along with pentacam anterior chamber analysis allows Dr.Gulani to plan depth of laser surgery in correlation to safety of tissue removal for long term safety.
The TRS™ Automated Digital Refracting System and Exam Suite:
Incorporating this automated, digitally linked exam room is testimony to Dr. Gulani's desire for "High-Tech, High Touch" approach to patient care.
Diagnostic information is digitally transferred right to the patient's chair as this elegant, fully computerized visual testing systems interacts with patients to raise the bar on accuracy in a patient-friendly environment.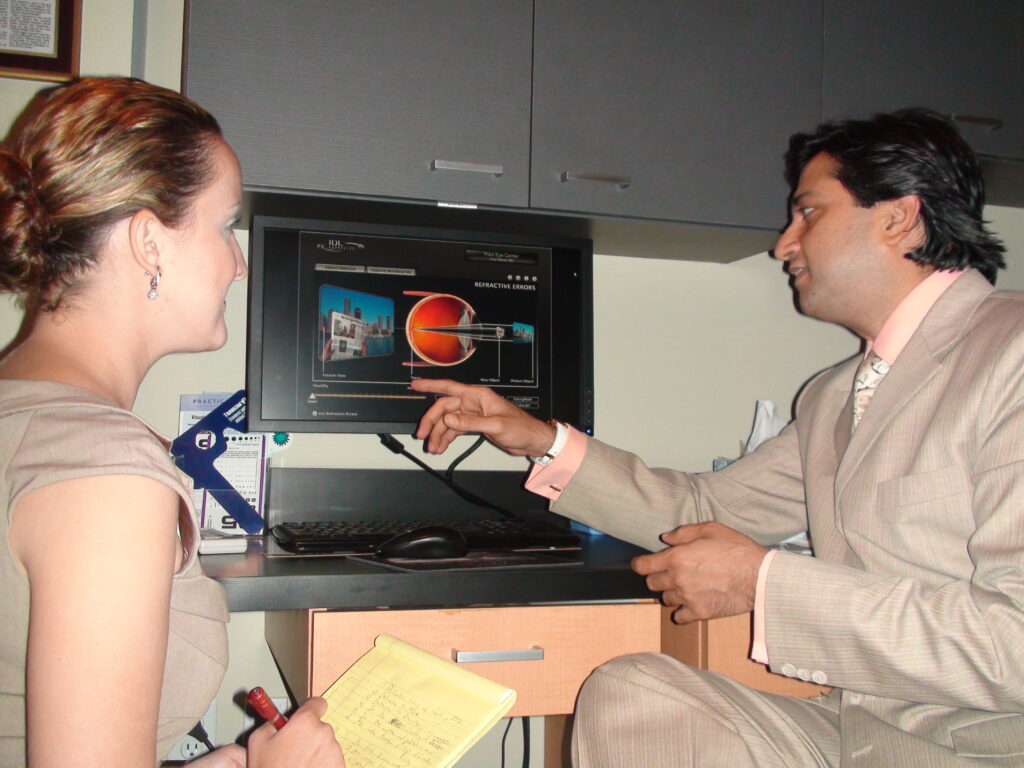 ReSeeVit™ High Definition Imaging System:
Dr. Gulani's desire to educate his patients with visual images of their conditions along with his constant commitment to teaching eye surgeons is complimented beautifully with this State of The Art Imaging system that uses High Definition imaging along with Advanced software analysis.
Patients can better understand their eye condition by seeing such highly defined photos in real-time and their families can also participate in decision making as Dr. Gulani plans his unique surgical approaches.
These images are used by Dr. Gulani to also educate visiting eye surgeons at the Gulani Vision Institute as well as in his numerous teaching publications and lectures worldwide.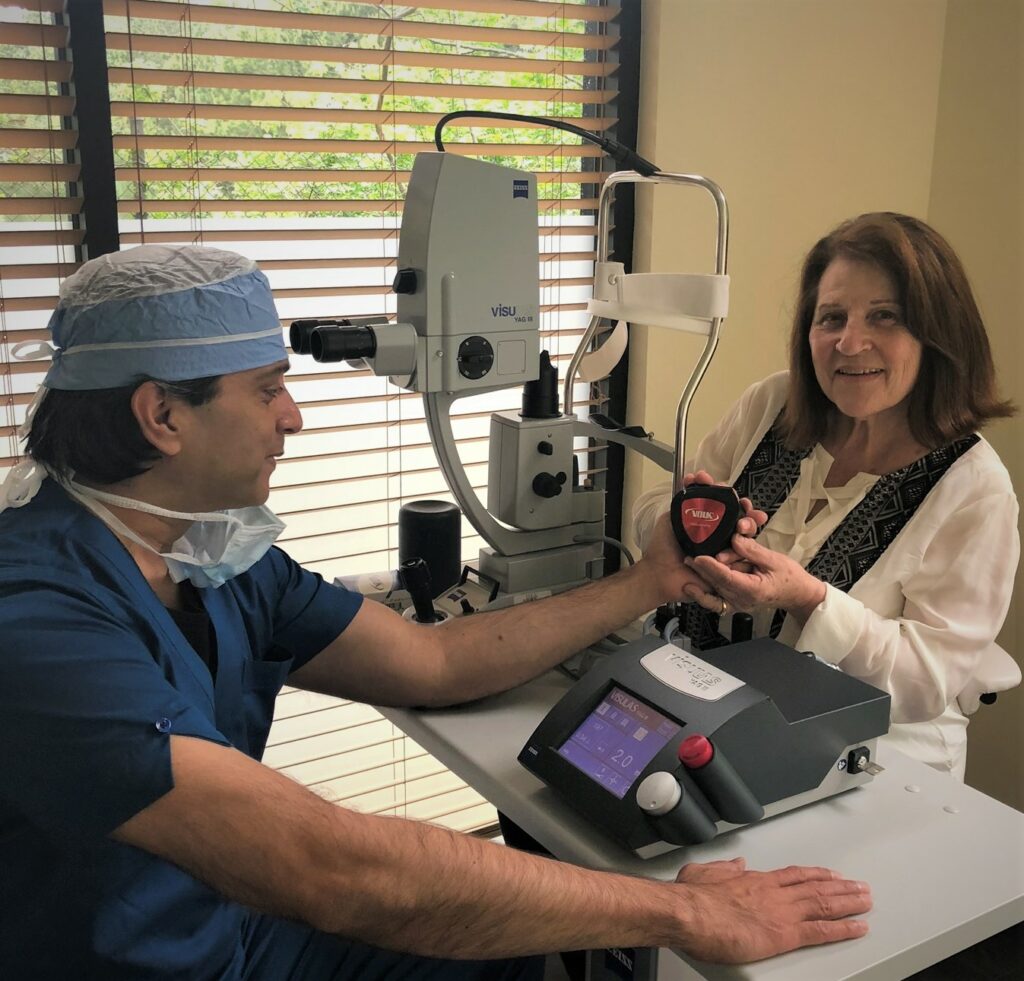 Volk™ High Mag Diagnostic Lenses:
Made by the leaders of optical lenses, these next generation diagnostic tools provide an in depth view the inside of the eye to complete a thorough eye examination prior to Lasik or CATARACT candidacy. Along with the ReSeeVit imaging system these lenses provide a detailed picture for in-depth evaluations and patient education.
Keeler™ Wireless Indirect Ophthalmoscopy:
Advanced binocular view of the back of your eye and greater mobility without any cables/wires adds to Dr.Gulani's creation of his Futuristic eye exam suite.
After diagnostic evaluation with these Advanced technologies and detailed interpretation by Dr. Gulani in a personal consultation with him, he shall then decide on what technique, technology and surgical plan he needs to design for your individual eyes in an attempt to take you to your best vision capacity for a life of vision freedom!