Robert L.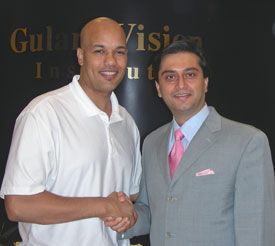 My vision in my left eye was such that I relied almost exclusively on the vision from my right eye. I had Keratoconus in my left eye.
My eye doctor in Gainesville, FL made me aware of Dr.Gulani's skills.
At GVI, I felt that Dr. Gulani and staff were very comforting.
Dr. Gulani, I believe has excellent people skills when dealing with patients to go along with his obvious medical expertise.
I am still in the process of assessing the improvement of my vision after Intacs surgery  but I am pleased so far and comfortable with how things have been explained.
Dr. Gulani strikes me as an individual of superior knowledge and confidence in his ability that makes me comfortable as a patient.
Robert Lanier – (Intacs®) – (Univeristy of Florida Basketball Coach) – Gainesville, Florida