Rhonda B.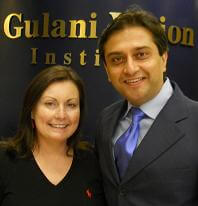 Very dry eyes, made my life miserable most days. I had Lasik with a surgeon in Orlando and have dry eyes since.
One of Dr.Gulani's patients spoke to me about her success with his dry eye treatments and I travelled to him.
My experience at GVI has been Very excellent.
Dr. Gulani is very personable, caring, knowledgeable. He performed MGP treatment for me and I am so much better, a lot more comfortable vision.
I give him excellent marks on all of the areas from surgical skills to personal touch.
"I couldn't find any doctor who could help me with this problem except for him. I had tried at least 5 other doctors first."
I already have referred people to him. Definitely.
Rhonda B.
Palm Coast ,Florida