Officer Lou D.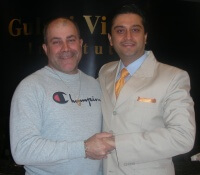 My vision was very bad. In my profession as a nuclear security officer I must re-qualify yearly with the weapons I carry. The surgery clarified my vision in my shooting eye.
I was referred to Dr. Gulani by my eye doctor in Ocala since I had a previous Lasik in my eyes which was unsuccessful.

I was tired of poor vision (double vision) and worrying if I would be able to keep my job at qualification time.
The staff of Gulani Vision Institute is very friendly and helpful. They make you feel at ease and answer all your questions.
Dr. Gulani should be the model that all doctors should follow.
He expects questions & answers them all. He is friendly and is a friend as well as a great doctor. I recommend him to all my contacts.
He corrected my previous Lasik surgery with Advanced Laser surgery and my vision is improved greatly from what it was. I can actually see road signs at a distance and don't worry at all about my weapons qualifications anymore.
Dr. Gulani is a concerned doctor. He doesn't play games with you. There is no gray area. He is straight to the point. He is just a good human being, a rarity.
I have and will continue to recommend any one who wants the best to him. It is worth the travel.
Lou D.
Nuclear Security Officer
Ocala, Florida