Officer Joshua O.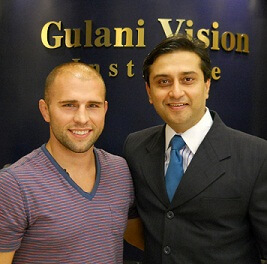 My vision was 20/20 in my left eye and 20/30 in my right eye. I had Lasik in 2004 with another surgeon and had a complication called an amputated flap.
I was in the military and due to this complication happening to my shooting eye it bothered me greatly. I was a sniper and this vision problem caused me a lot of concern.
My Lasik Surgeon recommended Dr. Gulani and said he was the best in the country and I should go to him.
My experience at GVI has been fantastic, Dr. Gulani and his staff are very professional.
Dr.Gulani Personifies professionalism and genuinely cares about his patients.
He performed Advanced Laser Vision Surgery on my Previous Lasik complication and the vision in my right eye is now 20/15 (better than 20/20).
I am due to go back overseas soon. And I feel safer more confident because of the improvement.
He is knowledgeable, professional and a master of his craft.
I have already recommended my sister and best friend to him.
Officer Joshua O.
Tallahasse, Florida