Officer Fred S.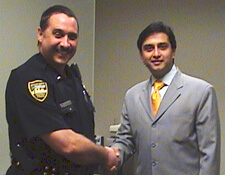 Before correction my left eye vision was 20/400. I had Keratoconus.
My personal and my business life suffered from my poor vision. I also had plenty of headaches from the difference in my vision.
My eye doctor was knowledgeable of Dr.Gulani's success with INTACS for Keratoconus and he recommended me to see him for an INTACS procedure
Dr. Gulani has been a blessing for my vision.
My vision is better and continues to improve. I told Dr. Gulani that I now see in "High Definition".
Officer Fred S.
Jacksonville, Florida