Officer Carl M. (Cuba)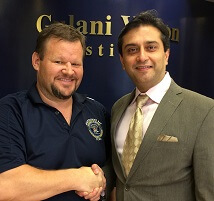 I was near legally blind due to my advanced Keratoconus, limits time during day that I can read/study which affects my engineering career/studies.
I was referred by my eye doctor who was a long time contact lens fitter for me as he was aware of Dr.Gulani's work in Keratoconus
Dr. Gulani performed a special, Assymetric INTACS surgery and it reduced cone of my Keratoconus, made it so I can read a book without contact lens. He is a Very professional, skilled corneal surgeon
I have and shall refer people to him. He has the best technology in southeast and understands when to use it.
Officer Carl M.
CUBA