Nurse Janet D.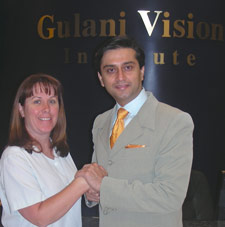 I was legally blind in my left eye. I had Keratoconus.
I would not drive after dark or in areas I was not familiar with. I could not take my children out after dark or drive to visit my mom in West Palm. It also interfered with my work.. I could not read the paper work.
My eye doctor was aware of Dr. Gulani's Advanced Laser Techniques for Keratoconus and asked me to see him. I was very nervous but I've seen my eye doctor since I was 5 years old so I trusted him.
My experience at Gulani Vision Institute was Great! Everyone made me feel like I was the only client and what I felt was all that mattered.
Dr. Gulani is the best! He takes great pride in what his patients feel.
I underwent Advanced Laser Vision Surgery on my Keratoconus and today I feel more independent. I was able to drive myself to the institute today in an unfamiliar area with confidence. Also I can take my kids out after dark. We don't have to work around daytime hours.
As for Dr.Gulani's skills and patient care, Word's can't describe it. He truly wants what is best for his patients. Extremely skilled, takes pride in teaching his patients.
-Janet D.
Orange Park, Florida
Nurse