Nurse Audrey N.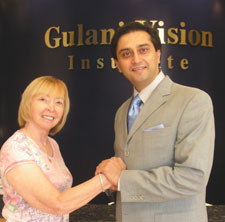 I had Lasik surgery with another surgeon and was legally blind in my right eye. Being visually impaired made it difficult to drive and see street signs far away. Being a nurse, it's important to see well.
Dr. Gulani is very professional and confident in his approach to remove the scar and give me better vision. He is extremely knowledgeable and advanced in his techniques for difficult visual problems.
He performed an Advanced Laser Vision surgery with scar peel off this eye. I feel better about the future of my ability to see the world clearer
Dr. Gulani's concern for his patients is obvious. His warmth, energy, and sincerity make you feel at ease.
I've already gotten my sister who lives in south Florida to see him for her eye problem.
-Audrey N.
Jacksonville, Florida
Nurse
---