Miles W.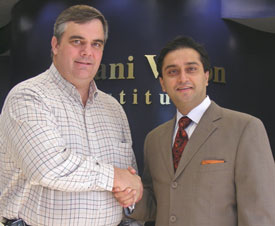 The vision in my left eye had a negative effect on my life daily. My job requires much time in front of a computer. I began having problems viewing the screen and focusing on what I was doing.
I was referred by my eye doctor at Fernandina Beach. After the initial visit and some internet research I knew this was the direction that I wanted to go.
This was the most personal and professional experience that I have ever had with a doctor. The results have been exceptional!
Dr. Gulani is always very professional. The time that he spent explaining the procedure made the decision much easier. I had Intacs® surgery for my Keratoconus.
Dr. Gulani is a consummate professional and all that I have read about him is true. He is truly a gift for all of us with poor vision.
I will definitely recommend the office to anyone that has vision problems. They are truly the best that I have found.
Miles W.
Jacksonville, Florida