Michelle M.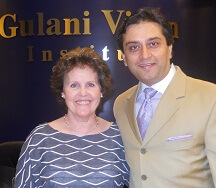 I had Lasik surgery with another surgeon and had to wear reading glasses.
"Dr. Gulani's patient and my friend, Bettina had her Laser vision surgery with Dr.Gulani and spoke so highly of him and she was extremely satisfied."
My experience at GVI has been Very good.
Dr.Gulani was able to correct my previous Lasik surgery with his Laser corrective ASA
I can see Very good now.
I have already referred 2 patients.
Maureen M.
Atlantic Beach, FL