Mara D.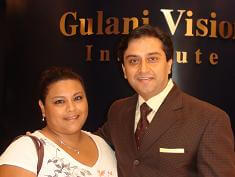 I have Keratoconus with very high Astigmatism. It was horrible, I deal with social security numbers all day, and not seeing those numbers clearly was aggravating and at night when I drove, I couldn't see clearly.
My Opthalmologist recommended me to see Dr. Gulani because my Astigmatism was at its max and I still had trouble seeing. He said Dr. Gulani was the "Eye surgeon's Eye surgeon"
I was very pleased how everyone at GVI here was friendly. How thorough the testing was done.
Dr. Gulani; Love him to pieces – Amazing and wonderful person – Man is a genius!
He performed a special Laser technique for my very high astigmatism and Oh my god!! 110% better and happier and the best no struggling in trying to make out numbers or letters.
Dr. Gulani is a Genius!!
I will most definitely refer everyone who wants the best – Hell Yeah!!!
Mara D.
Palm Coast, FL