Loretta S. (Beverly HIlls, CA)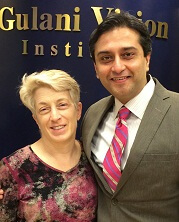 I didn't realize how very bad my eyesight was. Now I realize after Dr.Gulani's surgery, I was just making do, just getting by.
I had Cataracts with Keratoconus and Astigmatism.
I heard of Dr.Gulani from my friend whose high astigmatism was corrected to 20/20 by him. She insisted I travel to Dr.Gulani
At GVI, I was very well taken care of. The staff seems very caring and knowledgeable
Dr. Gulani is very confident and that confidence is reassuring.
He performed my cataract surgery through my Keratoconus with amazing results. I'm thrilled to be able to see better than I could with my glasses

Dr. Gulani is very skilled, his confidence is infectious. I was very reassured going into the procedure.
I am referring my husband to him next
Loretta S
Beverly Hills, CA