Linda L.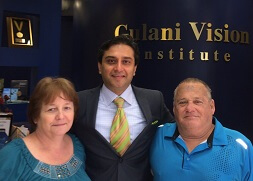 My vision was just awful, a constant issue. Eye glasses all over the place. Constantly on and off depending on situation. Couldn't wear contacts. Very frustrating.
I had Lasik surgery previously with another surgeon and just wasn't happy.
My eye doctor, Dr. powers said he had same problem I did and said I wasn't a candidate for anything he could do, but said the only person who he would definitely allow to touch his eyes is, Dr. Gulani.
At GVI, my experience has been Very nice. Everyone is so professional , yet kind and helpful. I can't believe how concerned everyone especially Dr. Gulani is. Not typical of most professional offices.
Dr. Gulani has changed my life. HE performed his Advanced Laser surgery on my previous Lasik surgery and I see 20/20 now.
He is very easy to talk to and explains everything- he doesn't just tell you to leave it up to him and not worry at details. He is confident and lovely person. I'm very grateful.

Dr. Gulani is obviously very gifted and has the graduation of a true healer.
His education and achievements are very impressive. I can't believe he is right here in Jacksonville.
I already have referred my own Step father from Europe and he was as ecstatic about meeting with Dr.Gulani as I was.
I shall refer everyone I know not only from the US, but other countries as well.
Thank You Dr. Gulani! I'm very happy and grateful to have met you. I hope to see you again.
Linda L.
Jacksonville, FL