Krista A. (New Jersey)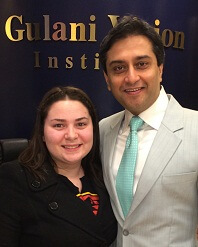 My vision was horrible. I was embarrassed to wear sunglasses in front of people because I would have to wear them over my glasses and I would always have to find my glasses after showers and sleeping, which was annoying. I also felt unattractive wearing glasses.

My grandmother searched for the best Lasik surgeon in the country and found Dr.Gulani and told me to travel to him from New Jersey. I wanted a doctor that was experienced and trustworthy since it was my first surgery.

My experience at GVI was amazing! The staff was so nice and polite and Dr. Gulani made me feel so comfortable and special!
Dr. Gulani is amazing! I'm going to recommend him to everyone I know! He made me feel so comfortable and like I was his favorite patient! Love him!
He performed my special Laser ASA surgery and I am so excited to start my new life and I am so grateful I found Dr. Gulani to help me see and now I feel like I can really experience life!
Amazing! I didn't know anything about what I was getting myself into not did I know how bad my eyes were. I really enjoyed my time here so much that I don't want to leave! Best doctor I have ever had!
Yes! I'm so excited to tell everybody! For the rest of my life I will tell everyone I meet with glasses to come and see Dr. Gulani!
Krista A.
New Jersey