Kathleen D. (Ponte Vedra Beach, FL)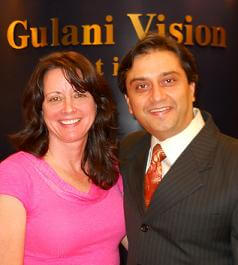 My vision was very bad due to my Keratoconus. It was BAD! Trees didn't have branches let alone leaves, they were just shapes. Lights of any kind were bursts instead of a single spot.
I have always been a difficult patient to fit for any corrective lenses, so I tried to find a medical type solution. I found an article on new advances in eye surgery in a News Paper and then went to the web.
I was trying not to be over optimistic in case my vision could not be corrected, but after viewing the website and talking to the staff. I was very excited. The staff are great.
Dr. Gulani is very confident. I really liked that because if he was sure he could help me, then I was sure that I could trust his judgment.
He performed INTACS in such a unique way that my vision is already improved and it has only been 3 weeks. I am looking forward to even better vision, perhaps to a degree beyond my expectations.
Dr. Gulani is very attentive and personable. I could feel his enthusiasm for his profession and talents. He always made sure that I understood what was going on and what the plan for me was regarding treatment.
I shall absolutely recommend my family and friends to him.
Kathleen D.
Ponte Vedra Beach, FL