Jasmine M. (Townsend, GA)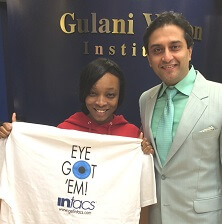 My vision was horrible from Keratoconus. I couldn't see nor perform well during my job and school.
My eye doctor referred us to Dr.Gulani for his world famous keratoconus techniques.
Our experience at GVI has been wonderful!
Dr. Gulani is very friendly, caring and concerned.
I feel amazing after he did my INTACS surgery and I'm very THANKFUL. =)
I was NERVOUS! But he made it to where I was comfortable. I absolutely LOVE Dr. Gulani.
He is AWESOME !
Jasmine M.
Townsend, Georgia