James D.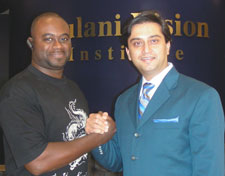 My vision was extremely poor. I suffered from Keratoconus.
My job entails extensive travel, so directions were difficult to follow because of my inability to clearly see street signs, highway signs, etc… My vision also impaired my ability to enjoy golf.
I was recommended by my eye doctor and his glowing recommendation of Dr. Gulani and his abilities made my decision a "no-brainer."
GVI is Extraordinary. The entire staff is professional, friendly, and courteous. The facility is noticeably technologically advanced, yet comfortable and inviting.
I feel that Dr. Gulani is decades ahead of his peers. He has the knowledge, courage and ability to do what is best for his patients. His drive to enable his patients to live better lives is his most valuable asset.
After my Intacs® surgery, My vision has improved noticeably. I saw the difference within two days of my surgery. I no longer feel doomed to a life of poor vision-a fate I had previously accepted.
I have the highest regard for Dr. Gulani's surgical skills. He thoroughly educated me on my procedure and the possible results. I felt fully informed and comfortable about the surgery.
In my opinion, Dr. Gulani is the only option if one is considering surgery to improve their vision.
-James D.
Jacksonville, Florida
---