Dr. Ludmila N.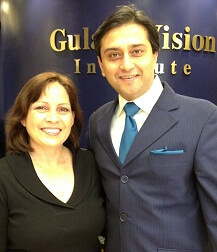 I would wake up in the morning to blurry vision and needed glasses or contacts all the time.
I researched Lasik surgeons and being a physician myself, reviewed various forums and procedures on the internet.
My experience at GVI has been Awesome!
Dr.Gulani performed my cataract surgery with ReStor multifocal lens implant and now I can see perfect without aid of glasses at all distances.
He is great. Very personable and caring.
I Love it!
As for Dr.Gulani, could not ask for better.
I have recommended all my physician friends to Dr. Gulani. I know two people and a possible third who have already made appointments.
Dr. Ludmila Nieves
Georgia