Ben P.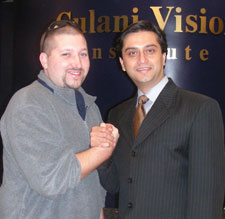 My vision was very poor in my right eye due to my keratoconus. I had many issues in my job viewing my computer screen and many times I would have to close my right eye just so I could see.
My eye doctor said Dr. Gulani could help me and he was the best at what he does
Everyone at GVI is so friendly and everyone knows who I am (I don't usually have to check in). Greatest experience I have had at a doctor's office
Dr. Gulani is a very thorough, excellent eye surgeon. He really knows what he is doing and on top of that he makes sure I know what he is doing and why.
He performed Intacs surgery for me and my vision is much better than it was before. I have gotten 10 times better and I know no longer have to close my eyes to see.
Dr.Gulani is an excellent surgeon, he knows what he's doing and makes sure you know as well. He is a very nice person and really looks out for his patients. He makes you as comfortable as he can in a possibly uncomfortable situation.
-Ben P. (Intacs®) – Jacksonville, Florida