Winnie P.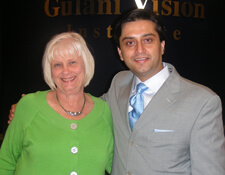 I had very blurry and faint vision. I had Fuch's dystrophy and was having a hard time reading anything. I feel my vision is improving each day. My eye surgeon referred me to Dr. Gulani.
My experience at Gulani Vision Institute has been Very positive! The girls in the office are very good, and helpful-very friendly also which is a plus.
I feel Dr. Gulani is very good, probably the best in my opinion. He always greets you with a smile and firm handshake.
I underwent Dr. Gulani's key Hole Transplant surgery. With the improvement each day I look forward to further improvements, and really getting my vision back to where it was once before. It really helps me to be more self confident.
Dr. Gulani's surgical skills, knowledge and patient care are all very positive. I would recommend to anyone he is also very helpful, and educates you on what he is doing.
Winnie P.
Jacksonville, Florida