Vi N. (Denver, CO)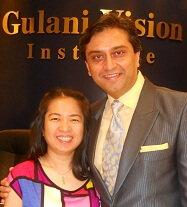 I had very bad astigmatism which negatively impacted my vision significantly.
I researched the best eye surgeon I could find for " Astigmatism" and found Dr. Gulani. After reviewing for months, I was convinced he was the best and travelled to him from Colorado.
Gulani Vsion Institute; We love it! Very friendly and professional. Dr. Gulani cares a lot for his patients.
He is an amazing doctor and has a wonderful personality!
He performed my Laser ASA surgery and I have Freedom from bad astigmatism.
"Dr.Gulani is Utterly Amazing! We are in "God's Gift" hands."
I already have referred my friends to travel to him and in fact, my husband shall be his patient too at the next visit. Definitely!
Vi N.
Denver,CO