Tim P.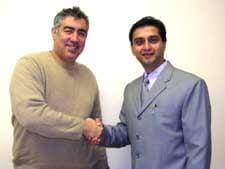 To wake up in the morning and see in front of me is amazing. I was never able to wear contacts, so my entire life I have had to wear eyeglasses. I feel like a new person physically and emotionally. I have a new outlook on life-literally.
I no longer have the pain of glasses resting on my nose. I no longer have loss of vision from the space between my eyes and the lens. And best of all I no longer have to a spend hundreds of dollars on new glasses every year.
And to make it even better Dr. Gulani made my experience so comforting. Everything was explained clearly step by step through my eye surgery.
It is really amazing. I recommend the procedure to anyone of my friends. I have a new level of confidence and it feels great.
-Tim P.
Consultant to Glamour Squads for Celebrities
Offices in Los Angeles, New York and Miami