Thomas W.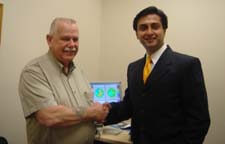 I had very poor with daily impediments caused by the inability to focus on normal daily activities and interest.
I hear of Dr. Gulani through my eye surgeon in Beverly Hills and that kindled a keen desire to restore vision in my eyes. At the Gulani Vision Institute, the staff is very professional and courteous.
Dr. Gulani is extremely personable, knowledgeable and has an ability to connect with patients. He has confidence in his work for expected outcomes. He explained in layman's terms which helped me understand the procedures and expected results.
After 40 years of wearing glasses, I will be free from the constraints and will be able to enjoy life without the associated problems of glasses.
Dr. Gulani is very competent, very thorough in his explanations, and has a personal goal to bring enhanced changes in the life of the patients through improved vision
Thomas W.
Beverly Hills, Florida