Terry G. (Ocala, FL)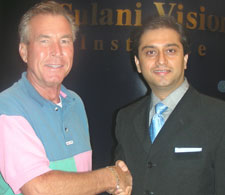 I had a Pterygium and had significant discomfort. My eye doctor referred me to Dr. Gulani, as he knew that his techniques were the best in the world. So I travelled to Jacksonville.
At Gulani Vision Institute, I could not be more pleased with my treatment by the physician and his staff, and with my results.
With Dr. Gulani, I am most impressed with his manner and passion to inform his patients about their condition.
Now that my Pterygium surgey is a success, I am looking forward to improving my eyesight with Advanced Multifocal Lenses following my cataract surgery.
Dr. Gulani is even more impressive in person than his credentials would lead one to expect.
-Terry G.
Ocala, Florida