Sara M.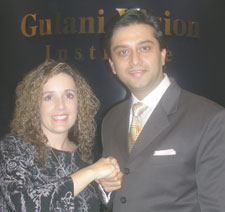 My vision was terrible. I was so nearsighted that I couldn't even see the big E. I wore contact lenses for years. One year ago, I had to quit wearing my contacts and wear glasses. It made my vision seem even worse. I didn't want to swim with my children anymore, because I couldn't see. Theme parks and sports became a nightmare because of glasses falling off or fear of getting broken.
I had been seeing my optometrist (eye doctor) for four months. I was having terrible problems with redness, burning, dry eyes, and even more blurry vision. I could hardly function. We didn't like the surgical option that the eye surgeon specialist, who he originally sent me to, recommended.
My eye doctor had been to a seminar that Dr. Gulani taught at, and was so impressed, that he asked me if I wanted to see another specialist. I thank God he sent me to Dr. Gulani.
Dr. Gulani implanted Visian ICLs in both my eyes and I can see clearly and feel free.
At Gulani Vision Institute, the staff is wonderful. Everyone is very professional and courteous. They make you feel welcome the minute you walk through the door.
From the first day I left Dr. Gulani's office, I knew that this was the doctor that I wanted to do my surgery. He is very patient, understanding and takes pride in his work. My husband was a little worried about me having eye surgery. He came with me to my pre-op appointment and left very impressed and relieved after meeting Dr. Gulani.
I will now expect all of my other doctors to be like Dr. Gulani. Although I think he will be hard to duplicate. I will definitely refer everyone to him.
Ms. Sara M.
Gainesville, Florida
---