Santosh M. (Plano, TX)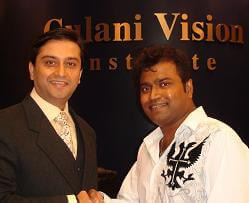 I had high Astigmatism for the last 30 years. I am 34, and don't remember a day without looking for my glasses before starting my day. I lose or break my glasses and that is the end of life for that day.
My extensive online research led me to Dr. Gulani as all eye surgeons I had seen all over the country could not and would not attempt to do my surgery because of my high Astigmatism and Thin cornea.
At Gulani Vision Institute, it feels like home, it was like I have known these people my entire life. The staff are extremely friendly and helpful.
Dr. Gulani performed Advanced Laser ASA and I see 20/20 at all distances. He is a visionary, no doubt about it. His confidence brushes on to the patients, definitely on me.
I didn't think twice after he said he could fix me. Most people scared me, but I was sure I was in safe hands with Dr. Gulani.
My vision today is Great, almost like I have been re-born!
My experience with Dr. Gulani is Excellent, Excellent, brotherly, as I said earlier, you feel like you are home through-out.
I have a close friend and cousin waiting in line and I am recommending him to fly from Oklahoma to Dr.Gulani.
Santosh M.
Plano, TX
---