Rubye J.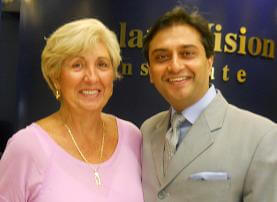 My Pterygium was painful and a constant irritation in the right eye.
I visited with many eye surgeons and they did not seem confident to me. I asked my eye doctor and he suggested Dr.Gulani's work that is world renowned
My experience at GVI has been Wonderful beyond my expectation.
"Dr. Gulani is a passionate, knowledgeable, and caring. I never thought I would ever meet a doctor that cared so much about his patients."
He performed his No-Stitch Pterygium surgery on my eye and my eye looks sparkling white.I have hope for a new way of celebrating with a new vision given to me.
Dr Gulani's skills are beyond my comprehension he is a MIRACLE WORKER. I'm so glad I found him.
Most definitely am recommending people to him.
Rubye J.
Yulee, FL