Rosemary D.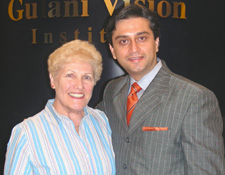 My right eye was very bad. I was unsure of driving; ie. Backing up and parking.
My eye doctor referred me to see Dr.Gulani.
My experience at Gulani Vision Institute was Excellent in every way.
I underwent Advanced Laser Vision Surgery for my scar.
Dr. Gulani is very knowledgeable and straight forward and pleasant. Very Outstanding and trustworthy.
Rosemary D.
Michigan