Rolando L.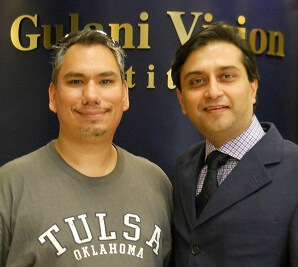 As the pterygium was spreading across my eye, it didn't take long for my vision to suffer. Trying to just read message on a computer or my phone made it different, with my dominant eye compensating.
After two attempts of pterygium surgery with other surgeons, it came back. I settled for the lack of vision since I was told a third procedure was risky. I did a search on the internet years later to find Gulani Vision Institute. If I was going to give it one more try, this was the Doctor I wanted to see.

"I was impressed with the staff and Dr. Gulani as soon as I got through the door. They made me feel like family, very caring all the time."

I never experienced a doctor like Dr. Gulani. He made me feel like there was always something that could be done about my vision.
He performed a unique technology using a Human placenta in a membrane. Everything is great now. I look into the mirror and see no more scar tissue. It's been nice.
I feel Dr.Gulani's skills and passion for the industry and patients are beyond measure.
I shall Absolutely refer everyone I know to him.
Rolando L
Orlando, Florida