Rick M. (Atlanta, GA)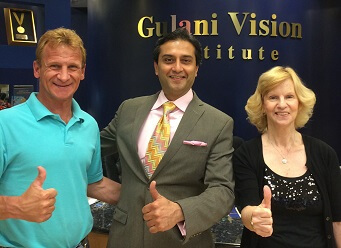 I had LASIK complication with my surgeon in Atlanta
I could not focus. I couldn't read without glasses and a magnifier and I had great difficulties reading in low light. I found it hard to see at any distance.
My mother was a patient of Dr.Gulani and felt he had miraculously retired her difficult eyes to perfect vision and she was really impressed. Dr. Gulani blessed me by providing his services for free.
At GVI, I feel like I am with my family truly blessed.
I would say Dr. Gulani is truly a man who is a true humanitarian and much more than a doctor he is a medical worker . He is "One in a Million".
Making me 20/20 with Lens based surgery to correct my Lasik surgeon's complication. I find it hard to believe how blind I was. Life is so much easier when you can see night + day is the difference.
Speaking from experience after having LASIK done with an Atlanta Lasik surgeon in 2001 which left me unable to focus from my eyes, and all other doctors could offer was a transplant.
Dr. Gulani restored my vision to 20/20; better than I was born with. My advice , Trust your eyes to the best.
Rick M.
Atlanta, Georgia
---